Biological Sciences Building ranks ninth most environmentally friendly university building in the world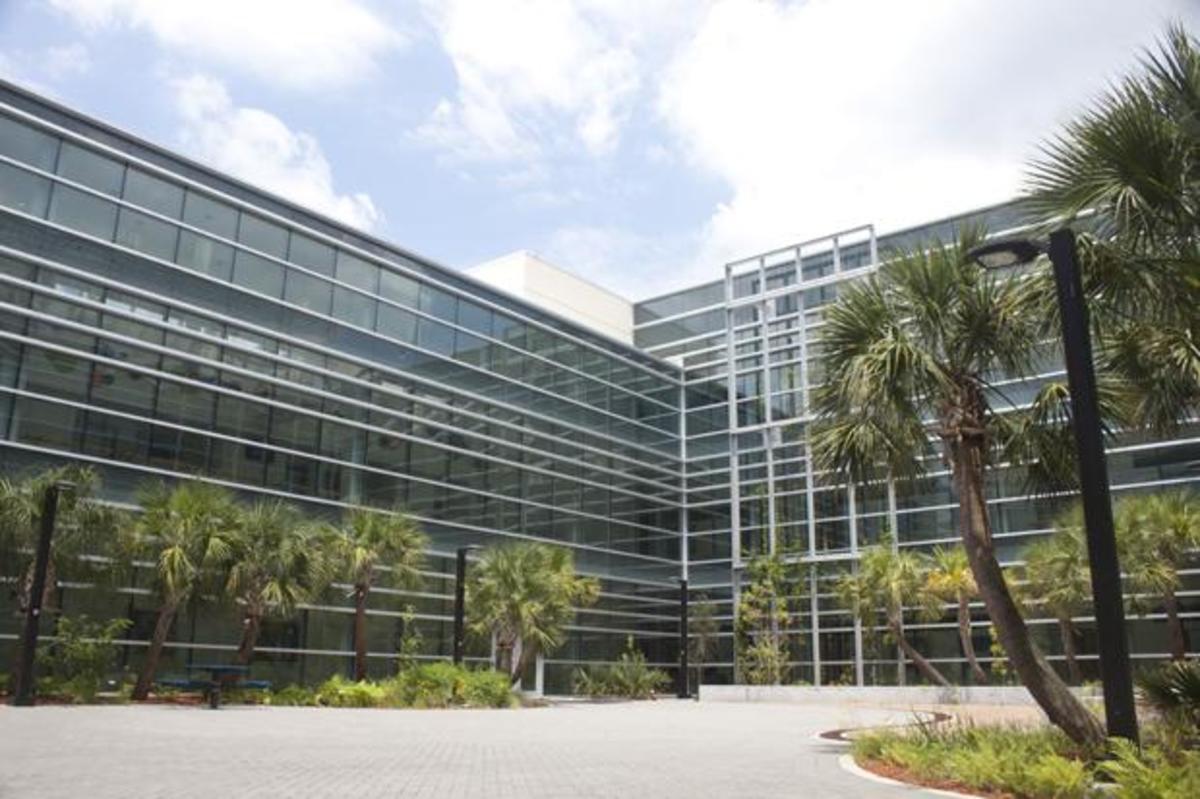 UNF's Biological Sciences Building ranks no. 2 in the U.S. and no. 9 in the world for "The 50 Most Impressive Environmentally Friendly University Buildings" list according to www.bestmastersdegrees.com.
Assistant Chair of the Department of Biology, Dr. Cliff Ross, said the building, which was completed in spring 2012, conserves electricity and water. He said the hallways have motion sensor lights and turn off after a period of time when no one is walking the vicinity. He also said the building saves on cooling costs because of the positioning of offices.
The building is water efficient too, he said, because the water from the greenhouse on the roof is recycled to water the plants in the courtyard.
UNF is one of only three U.S. schools in the top ten of the list.
UNF is the only school in the state of Florida to make it on the list.
Buildings on the list include academic buildings, technology centers, dormitories, and more from across the globe.
The Biological Sciences Building incorporates an animal care facility, a 20' x 80' green house, and labs and lecture halls. It achieved LEED Gold certification.
Architect: Perkins + Will / Harvard Jolly Architecture
Cost: $40.5M
Square Feet: 116,500
Completed: 2011
Green: USGBC LEED Gold
One Spark brings in $1.8 million from out of town residents
One Spark, the crowd-funding event that took over downtown Jacksonville from April 9-13, brought in $1.8 million from out of town residents, according to findings from the UNF Public Opinion Research Lab.
Andrew Hopkins, assistant director of the Public Opinion Research Lab, said these are good numbers and doesn't even include local dollars that impacted the community.
One Spark is an event featuring entrepreneurs, artists, innovators, and more showcasing their businesses and competing for funding.
He said that any time money can come in from far away is a good thing and that it will find a way to help UNF.
The University of North Florida may have a new chapel
An interfaith chapel overlooking the lake near the Herbert University Center is "in the design phase" according to Shari Shuman, Vice-President of Administration and Finance.
She said the project is anticipated to cost $7 million.
Even though the assembly center could be used for music recitals and religious organizations she said, it will mainly be open for students who want to meditate.
Email Brandon Thigpen at [email protected]