Senate Meeting approves parking pass exchange and Spinnaker doors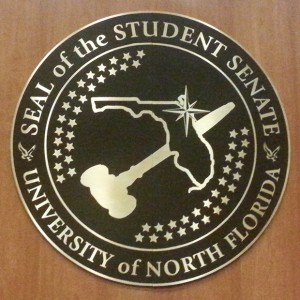 Senate approved a resolution allowing students to exchange their Blue parking passes for Gray ones, and be refunded the extra amount. The resolution is being forwarded to President John Delaney; Shari Shuman, vice president of Administration and Finance; Mauricio Gonzalez, vice president for Student and International Affairs; George Androuin, director of the University Center, and Assistant Director Neal Fisher.
Student Body President Joseph Turner said he has heard students say this is the worst semester of parking they've ever had at UNF. He said Blue parking passes were oversold this year, and that if this resolution helps one person, it will be worth it.
Turner said he is funding the request to bring Tim Augustine to campus out of the Executive Program budget. The request died when it was originally brought to Senate by the Student Leadership Advisory Board.
The Executive Program budget is $40,000 given to the President by Senate for discretionary funding. Augustine will speak at the Robinson Theatre at 6:00 – 7:30 p.m. on Oct. 1.
A glass store-front door for the Spinnaker Office was approved unanimously in the Sept. 29 meeting.
Announcements and events
Special Advisor to the President Dr. Edith Abdullah asked senators to take a survey which focuses on race and ethnicity diversity at UNF. She said 43 percent of faculty and staff responded to the survey, and now they are working on 11 specific things that were brought up on the surveys.
Abdullah said there was a perception among some faculty and staff that the diversity of UNF wasn't reflected in University administration.
Linda Quirk, founder of Runwell, said there will be a Runwell 4 Life Festival at UNF on Nov. 8*.
The festival will feature a trail 5K, ropes course and zipline. Quirk said the first 100 students to register for the 5K trail run will receive a general admission ticket to see Kristian Bush of the band Sugarland.
She said Runwell aims to provide recovery for addiction. By partnering sports and addiction treatment, the foundation hopes to keep people committed to recovery.
Chairman Chase Baker said there will be another Osprey Voice Oct. 14,15, and 16, and asked for question suggestions from the senators.
John Chwalisz of Osprey Productions announced the date of Homecoming, which will take place Feb. 22-28.
Turner said the program which would provide shuttle buses for students going to Jaguars games will be discontinued. He said he plans to talk to Senator Morgan Wolf about a way for the money to be reallocated to the Special Request budget.
Three Senate members requested constitution and statutes interpretations from Attorney General Matthew Harris. Interpretations dealt with campaign finance, absence policy, and the sitting of senators applying for appointment.
Email Saphara Harrell at [email protected]
* 10/1/14 at 6:11 p.m. – Date correction made.