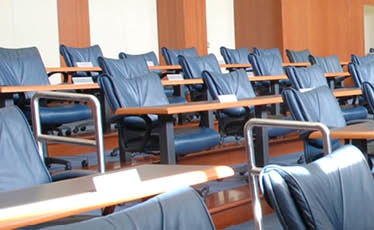 After three consecutive uncontested senatorial elections, 27** candidates are signed up to run in the upcoming Student Government senate elections with 20 open fall seats*.
The deadline to submit a letter of intent to run in the senate elections was Oct. 3, at 5 p.m.
Various members of SG have commented on the failure to hold contested elections.
Student Body President Joseph Turner said he thought the uncontested election was undemocratic in a Spinnaker article on March 4.
"While I'm president, I'm going to try as much as I can to ensure that we create an environment where there should be a contested election," Turner said.
Current SG Elections Commissioner True Rains said in a Sept. 15 senate meeting that if the interest in SG were increased, then students would find it more legitimate. He said the lack of elections last year was embarrassing.
This was because there were less applicants than seats available during last spring's elections.
"Last spring, there were 42 people signed up to run in the elections but because of the attendance requirement and signatures and all of the [other] various requirements, only 18 completed the process, so there weren't actually elections," Rains said. "I wanted to make sure that everyone who was interested could actually run in elections."
Rains said there is no longer a signature or attendance requirement to become a senator. He said under the old process an applicant had to attend a candidate seminar, a senate meeting and three committee meetings.
Now, an applicant must be an enrolled student with at least a 2.25 GPA to run for Senate.
Rains said he wanted SG to blow this year's elections out of the water, and SG Director of Communications and Marketing Gracie Lopresti said she absolutely believes this will happen.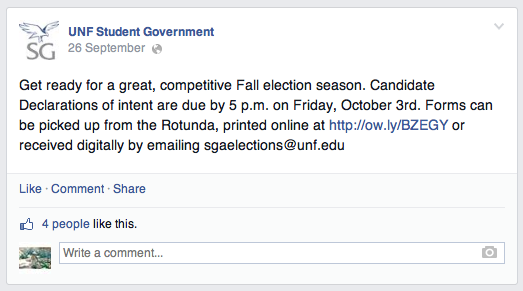 In a Sept. 24 interview, Lopresti said she planned to use Twitter and Instagram along with Facebook to notify students of the elections.
Of the three social media platforms Lopresti mentioned, there was one post on Facebook to remind people about the deadline to submit a declaration of intent.
This could potentially be the last year of a 52-seat Senate.
Attorney General Matthew Harris said, in a June 9 senate meeting, that there is a constitutional referendum on the ballot to eliminate 12 senate seats if passed. Those seats are normally set aside for two graduate students and two students from each of UNF's colleges. Students will vote on the referendum during senate elections. If it passes, it will take effect Fall 2015.
Rains said he has contacted club presidents, presidents of Greek organizations, and has spoken in classrooms to engage students about the senate elections.
"I've given out, I'd say, anywhere from 30 to 40 declarations of intent, whether that be in person or digitally. I've also had the link to download the file posted on a lot of different pages, so I would say that students have had a lot of chances to see the new format of elections and see what's going on," Rains said.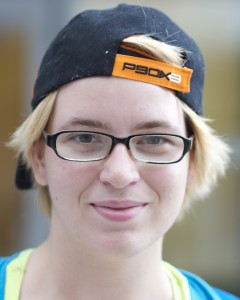 Biology freshman Heather Grow said she emailed Turner over the summer about being in Student Government, but she never got an email back. She said she would've been running if she had known about the elections.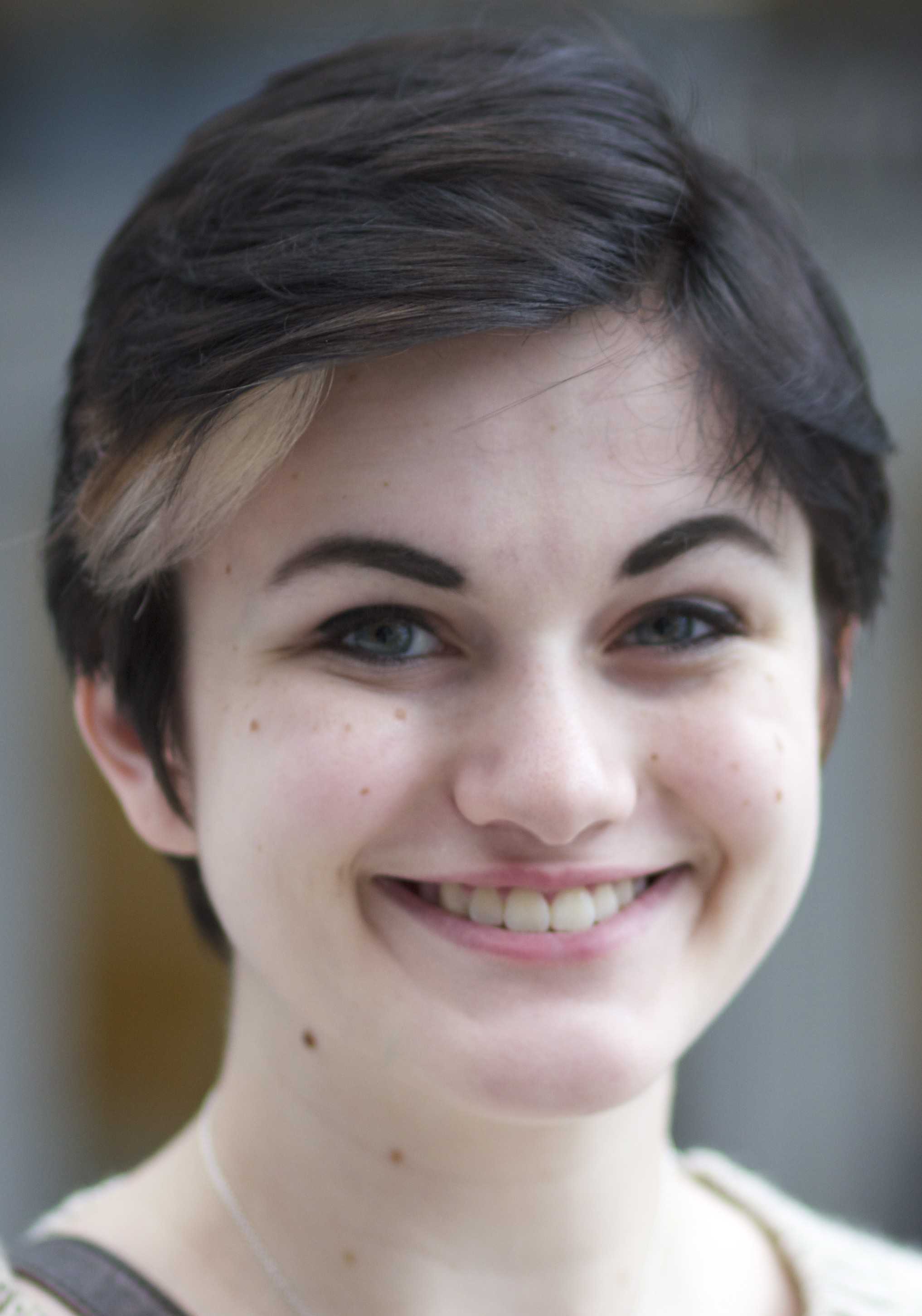 Christen Hancock, a sophomore majoring in English, said she knew elections were coming up because she has seen small flyers around campus.
The deadline to register a party was Sept. 19. The Red Party is the only party registered for this election.
The senate elections will take place Oct. 28 and 29. According to Lopresti, this is the first year students can vote online.
Students who are interested in learning what the candidates' goals and ideas are with SG can attend a candidate forum.
Email Saphara Harrell at r[email protected]
Email Erica Santillo at [email protected]
*10/13/14 at 3:50 p.m. – The three candidate forums were removed from the story due changes made by SG
*10/14/14 at 5:10 p.m. – Fact error corrected. Inaccurate numbers of candidates and available seats were originally posted.
**10/24/14 at 5:37 p.m. -Correction made to number of candidates because of inaccurate information from the source.