Lexi Thompson is on the upswing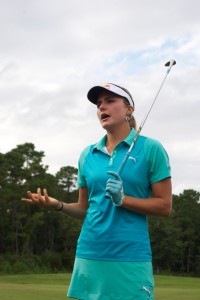 Imagine being 12 years old and playing with the best golfers in the world at the British Open. Now imagine being 15 and turning professional. You could say Lexi Thompson didn't exactly have the most normal childhood.
Originally from Coral Springs, Fla., the Ladies Professional Golf Association (LPGA) pro is coming off of her first major win last April at the 2014 Kraft Nabisco Championship, which was her fourth win on tour. In between tournaments, Thompson is taking time to give back to her fan base.
Red Bull Tee Time was started in 2010 when Thompson aspired to get closer to her fans and other golf enthusiasts by traveling the U.S. and sharing her captivating story of success at a young age. Spinnaker got a chance to sit down with her during the Red Bull Tee Time event last Friday, Oct. 1 at the UNF Golf Complex.
Charles White: What age did you start seriously playing?
Lexi Thompson: I started golfing when I was seven years old, but I started playing tournaments when I was eight.
CW: How many hours did you practice when you were that young?
LT: With elementary school I probably only got a few hours a day in the late afternoons but I actually did online schooling from the sixth grade through high school. I practiced for about five to seven hours a day.
CW: What were your goals when you were that young?
LT: Just to keep on improving on my game. I always played against older girls and always tried to beat them. Winning was my main goal but I had so much fun with it.
CW: How did it feel to be 12 and playing in the U.S. Open?
LT: It was incredible. I was just so excited to be there. I saw Annika [Sorenstam] there and Lorena [Ochoa] there. It was just so surreal and a dream come true for me. I signed every autograph, took all the pictures, even though I played pretty bad. But just to be there at age 12 was an accomplishment.
CW: Who were some of the golfers you looked up to during that time?
LT: I always looked up to both my older brothers. Looking up to them or trying to follow in their footsteps. I would say either Tiger Woods or Annika.
CW: How was it meeting Annika Sorenstam at the Open?
LT: It was inspiring. I've always looked up to her and always tried to be like her. I've gotten to meet her and talk to her a few times, so she is quite a role model.
CW: What's it like having two pros — PGA tour player Nicholas Thompson and LSU's Curtis Thompson — in the family?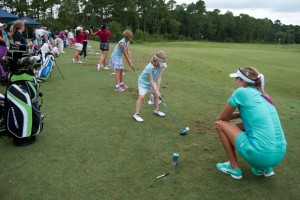 LT: It's amazing, just growing up with two older brothers that play golf. That's the reason why I'm at the level that I'm at. Living on a golf course helped too, but always having them there for competition and improving my game helped.

CW: You competed against them?

LT: Yeah, especially when I was younger we went out and practiced together, had contests, played for chores – made it interesting. We get to do it a little bit now but not as often.

CW: What was it like being under 18 on the tour?

LT: It was awesome. It has always been a dream of mine to play on the LPGA tour. It was different to get used to just because I turned pro at 15 years old and I wasn't able to play a full schedule. I was always used to playing every other week as a junior amateur.

CW: How did the older players treat you?

LT: They were very welcoming at first. It was great to see older players come up to me and say, "I'm here if you need any advice or help out there." That meant a lot to me.

CW: What was is like after your first win?

LT: It felt amazing, just having my dad on the bag and embracing my fans walking up to the 18th green was one of the best experiences of my life. Knowing all my hard work paid off meant a lot.

CW: Did you do anything special to celebrate?

LT: I got a Camaro SS. That was my one purchase. I would say just celebrating at home with my family and friends and embracing the moment.

CW: What would you call the highlight of your career?

LT: I would say either getting that first win at the Navistar LPGA Classic or getting my first major championship win at the Kraft Nabisco Championship.

CW: Did the major win change your expectations at all?

LT: Not really, I would say more my confidence level. I would say I'm just more confident going into every event after that.

CW: Do you think women's golf is rising in popularity?

LT: Yeah, I definitely think it is. We've gained more tournaments and sponsors throughout every year since I turned professional. We've gained three tournaments this year. We have 32 on the schedule.

CW: How many of these Red Bull Tee Times have you done?

LT: I've done quite a few. I started in 2010 when I first turned pro. I do at least 4 or 5 a year. It's a great way to give back to my fans, answer any questions that they have and give them a little swing tips.

CW: Do you have any advice for young golfers that want to follow in your footsteps?

LT: It takes obviously a lot of practice and determination to be at this level, but you have to enjoy what you're doing. So, have fun with it and just follow your dreams. It doesn't matter if its golf, in life or anything in general, you just have to love what you do and be determined to be the best.

Gallery photos by Camille Shaw

[doptg id="39″]

Email Charles White at [email protected]