Students choose their senators, vote on referendums
Today marks the first day of a contested Student Government (SG) election in two years, the last one being in Fall 2012.
On Oct. 28 and 29, UNF students can vote from the 10 Independent and 17 Red Party candidates to fill the 20 open general senate seats.
Newly available this semester is the option to vote online. Along with 27 senate candidates, the ballot lists two constitutional referendums.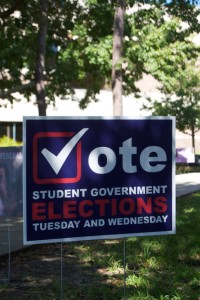 One referendum changes the number of senate seats from 52 to 40. The 12 seats proposed to be removed are currently reserved for graduate students and students of each college.
The other referendum changes the judicial branch members from nine to seven. It places a term limit of six years on members serving as a justice. Also proposed is a change in the official name of the judicial branch, which is formally known as the Judicial Council of Student Government. It would be changed to "Supreme Court of Student Government" if the referendum passes. In order to clarify position titles, the Associate Chief Justice would be changed to Deputy Chief Justice as well.
Students can vote at any of the three stations located throughout campus–Osprey Cafe, the Carpenter Library and the Student Union. Voting poll stations will be open from 9 a.m. until 7 p.m.
Online voting will give students who have restricting schedules a 34-hour window to vote. Students can vote online from 9 a.m. Oct. 28 until 7 p.m. on Oct. 29.
Email Lydia Moneir at [email protected]
Email Cody Quattlebaum at [email protected]