Abruptly adjourned: how months of tension led to impeachment charges
The following is an expansion on the events that occurred in Student Government this past fall semester, culminating in the senate meeting held on Nov. 10.
Senate President Pro-Tempore Shomari Gloster improperly ended the meeting, so none of the bills could be voted on. The elections could not be validated.
As events continue to unfold, both sides express a similar sentiment: the current conflict within SG is disruptive to the work they should be accomplishing.
There is only one regularly scheduled senate meeting before the semester ends and budget deliberations are in January. The budget deliberations are the beginning of finalizing the SG Budget for the next fiscal year that allocates the Activity and Service fee, which is $14.47 per credit hour.
The SG budget allows for the existence of numerous things for students: Club Alliance, Spinnaker, Osprey Productions, Lend-A-Wing, the Student Union, Recreation/Intramural sports and Student Wellness Complex.
If this conflict continues into the next semester it could jeopardize the entire budget process.
Senate President makes a stand
Senate President Kaitlin Ramirez made a motion to file articles of impeachment against Attorney General (AG) Matthew Harris. This follows numerous concerns she has raised regarding the interruption of regular senate business due to pressure from Harris and Student Body President Joseph Turner.
"We are here to cooperate with all branches and work for all students…we don't want the branches of government fighting each other," she said in early October.
She urged senators to "be powerful" and "do the right thing" after listing the reasons why she decided to bring forth the motion on Monday.
A pattern of "harassment"
In July, Harris sent an email to Turner saying it came to his attention there was "an issue involving noncompliance with the law." He was referring to Gloster failing to abide by Title IV, Chapter 408.4 §, which is a statute of their constitution that deals with updating records online.
Ramirez said, in order to alleviate the issue, the senate secretary was granted web access and she believed the matter was solved. She said the 11-day timeline issue was never brought up over summer.

Almost three months later, on Oct. 2, Turner issued a notice of noncompliance against her, citing the same statute.
Turner directed Harris to file a judicial complaint against Ramirez. Harris did, as a student. Then, as the AG, he found merit in the complaint and forwarded it to the judicial branch. At the hearing, which took place on Oct. 8, he would prosecute Ramirez as chief executive prosecutor.
Turner was not present. Harris, who sat to the right of Ramirez, shook his head as she said SG should be above partisanship and vendettas. Throughout the hearing, he was visibly distressed – sighing, shaking his head and objecting at least six times.
The AG emphasized that the constitution clearly defines passage and that it needed to be followed as written.
This is at odds with a more recent interpretation where Harris said people need to look beyond grammar. This was in reference to an interpretation he issued saying the UNF SG website qualifies as "a major student publication," fulfilling the constitutional requirement of publishing referendums.
The constitution states the referendums must be published on "the major student publication."
The judiciary found Ramirez guilty, and issued a statement saying, "we would like to see this resolved within 30 days…please have [the Constitution & Statutes Committee] consider the use of the word 'passage' and have it fall in line with what we interpret it to mean."
In response to the noncompliance hearing, Spinnaker requested several public records in response to these events. The records included "any electronic communication between the SG president, vice president, general attorney, senate president, senate pro-tempore and senate secretary regarding the noncompliance form issued Oct. 2."
According to Director of Public Relations of UNF, Joanna Norris, "the records are currently exempt because they are part of an investigation by UNF's Office of Equal Opportunity and Diversity relating to potential violation(s) of the University's Non-Discrimination, Equal Opportunity and Diversity regulation."
Norris' response to the request followed an incident in the senate involving Turner and Gloster.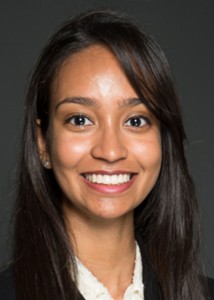 On Oct. 15, only two days after the judiciary issued their statement giving the legislature 30 days to rectify the situation, Turner issued a second noncompliance against Ramirez, citing the same statute.
On that subject, Ramirez said, "I don't see how this continued harassment by Joseph Turner on non-issues is anything but a personal attack to accomplish some hidden agenda, which is very disruptive to the work of Student Government."
Turner responded to that, saying, "the work of SG, as it relates to her, is getting records online…"
Per the judiciary's recommendation, the Senate unanimously passed a bill on Oct. 27 that clarified passage and extended the timeline for updating online records from 11 business days to 16.
Turner vetoed this bill on Oct. 31. He said he would "not sign any legislation into law that makes this organization less transparent and therefore less accountable to the student body that we serve."
Harris also spoke out against the bill; his "unsolicited legal advice" was not to change the timeline.
In committee he stated, "this is really getting away from [judiciary] recommendation."
Gloster replied, "Recommendation or order?"
Harris smiled and said "recommendation," before sitting down.
That interpretation took Harris four business days to complete.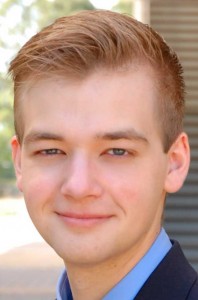 On Nov. 12, Turner asked Harris if "the Constitution and subsequent law and policy require legislative cabinet officers and other legislative officers to be elected after each General Election."
Harris issued his interpretation one business day later, on Nov. 13.
The interpretation states that the election of all officers, which are the senate president, senate president pro-tempore, senate parliamentarian, senate liaisons and the four standing committee chairs, must occur within one calendar month of the latest general election and that the deadline for Senate Officer Elections to take place is Nov. 27.
This interpretation follows the discussion he had with Gloster about legislative cabinet elections before an interpretation was officially requested.
According to Ramirez, "[the] precedence [is] that they occur in spring. This looks like an attempt to remove us from our positions. Seems awfully vindictive."
Harris said in an email addressed to members of Student Government on Nov. 13 that the Constitution, "as the supreme governing document of this body cannot conflict with itself."
Student Body President all fired up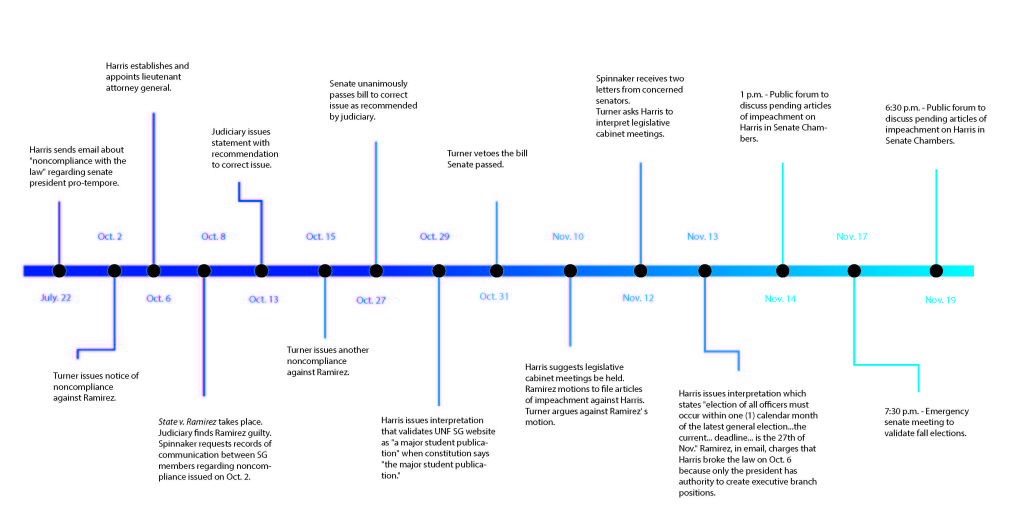 A senator asked Ramirez a constitutional question after she filed the motion to impeach and, while she was thinking, Turner spoke out of turn and said, "Matt might be able to answer that for you. If it's a legal question, he's probably got the answer."
Ramirez then said senate would look at the Constitution together, and followed with, "President Turner, you may speak when I recognize you."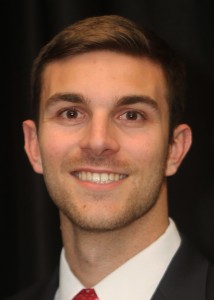 Turner later wished to speak again, this time waiting to be recognized by the chair. At that point, Gloster had stepped in as chair and recognized Turner.
He stood up and said, "Okay, so two things. First off, you all should know the place of this body in our governmental process. You don't determine whether or not there is an adequate interpretation of the law being made. You make the laws. If you have a question… ask the attorney general. That is his job. If you do not like what he says, then you can challenge that in court. There is a process for that as well. You do not impeach somebody or attempt to impeach somebody because you don't like what they say. That's not our process. This is very clearly something that is not. This is not Matt not being able to do his job. This is Kaitlin not liking getting called out for not doing hers. This is inappropriate. This is ridiculous. This makes me ashamed to be a member of this organization."
While Turner spoke, Vice President Anthony Stevens, who sat next to Turner, nodded his head in agreement.
As soon as Turner finished his defense of Harris, Gloster said, "As the chair, due to the nature of what is going on, this meeting is hereby adjourned…"
Turner was the first to start walking out of the Senate Chambers. As he was leaving he muttered, "bullsh–."
Ramirez called out, "Wait, everyone, let me check the Constitution…" but Turner interrupted, holding a pointed finger in the air and saying, "Your chairman adjourned the meeting."
Senators express worry
Spinnaker received two separate letters from anonymous senators on Nov. 12 who are concerned over this matter.
'Senator for Justice' said that by defending Harris in such a manner, validity was given to Kaitlin's argument. "The interpretation was obviously an attack against the legislative branch. The executive branch has been doing this for a few months now."
'Senator A' said that the interpretation "was a blatant attack on the legislative branch but it was most likely intended just for the senate president."
President addresses senators
Turner sent an email addressed to senators on Nov. 12 reiterating that "this motion for impeachment is wrong and blatantly in violation of the rights of an individual to due process of the law."
He said, "In the emergency meeting on Monday Ms. Ramirez will attempt to have a majority vote cast by you all in favor of having an impeachment hearing…" and he urged senators to see "through [Ramirez's] petty games…"
The only business item on the agenda for the emergency meeting is the validation of elections. In addition, Ramirez makes it a point in a reply to that email to negate Turner's claim and state that, "the senate emergency meeting is to validate the Fall elections…Nothing else will happen at this meeting."
In his email, Turner stated, "Ms. Ramirez [stated] Attorney General Harris appointed a Lieutenant Attorney General. This could not be more incorrect…"
Ramirez said it was indeed Attorney General Harris who appointed the Lieutenant Attorney General.
She also mentioned "this 'volunteer,' Daniel Koker, was an Associate Justice who resigned from his position so he could become a 'volunteer.'" An associate justice is a 10-hour paid position.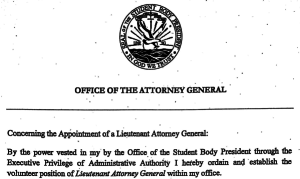 Ramirez cited in her email the statutes that outline only the president has the authority of appointment within the executive branch.
Harris created an executive branch position within his office in a dated Oct. 6. In that same document, he appointed Daniel Koker, former associate justice. "I [Harris] hereby ordain and establish the volunteer position of lieutenant attorney general within my office."
Chapter 302.1 of the SG Constitution says, "The Executive Branch derives its authority from the President and has no authorization, or power or authority to act unless specifically granted by the President or Vice President."
Chapter 302.2 says, "The President has sole power of appointment within the Executive Branch and may dismiss at his/her discretion, any appointment at any time with the exception of Treasurer and Attorney General."
Turner said he created the Lt. AG position, but said there was no official documentation to show he gave Harris authority to create the position because it was discussed verbally.
There was a forum to discuss the pending articles of impeachment on Attorney General Harris on Nov. 14 at 1 p.m. and there will be another on Nov. 19 at 6:30 p.m. in the Senate Chambers.
They are open to the public.
The final senate meeting of the semester will take place on Nov. 24. This meeting, like all other senate meetings, is open to the public.
The public is also encouraged to attend any senate meeting. Each UNF student has the right to speak for three minutes during "student remarks," which is usually sixth or seventh on the agenda.
Email Cody Quattlebaum at [email protected]
*11/19/14 at 4:48 p.m. – Updated with graphic depicting timeline of events.