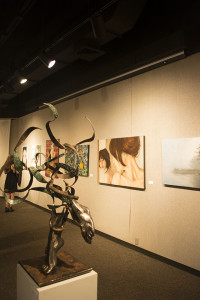 Five UNF Art and Design students received awards for their artwork in the 2015 Student Juried Annual Exhibition Jan. 22 at the UNF Gallery of Art. The award types include best 3D, best 2D, two merit awards and best in show.
Jessica Williams won the best 3D $100 award for her turquoise ceramics piece "Spoon Pot." Nina Avis won the best 2D $100 award for her oil painting on canvas titled "The Girl in the Mirror." The two merit awards went to Lana Fisher for her ceramics sake set, simply titled "Sake Set," and Paula Runyon for her photography piece titled "Florida Weeds." The best in show $200 award went to Amanda Rosenblatt's "Illustrations in the Flesh."
Sarah Alexander, gallery director at the Florida School of the Arts in Palatka, Fla., was the juror who selected the winning artworks. Alexander began judging the pieces shortly after the Jan. 9 submission deadline.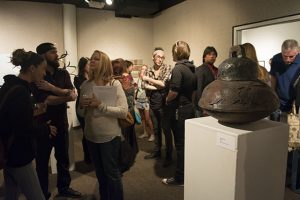 The Student Juried Exhibition includes artworks ranging from paintings and sculptures, to photographs and drawings. UNF curatorial practices students put together the exhibition and hosted the opening night of the event on Jan. 22.
The exhibit will be on display until Feb. 25. The UNF Gallery of Art, located in Founder's Hall (bldg. 2), is open to the public Monday through Friday from 10 a.m. to 4 p.m. The next Art and Design Student Juried Annual Exhibition competition will be held in Spring 2016.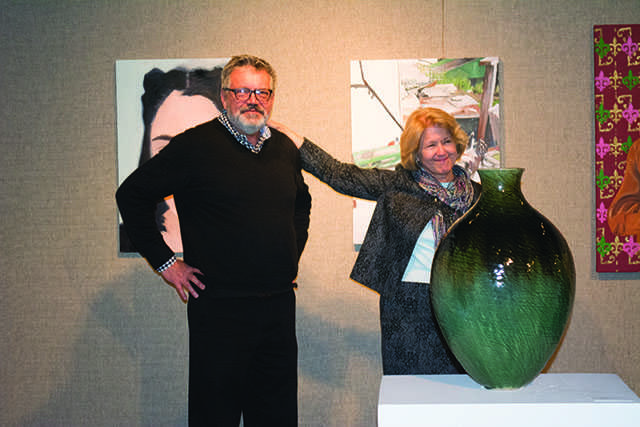 —
For more information or news tips, contact [email protected]; if you see an error in this story or have any compliments or concerns, contact [email protected].
*1/28/15 at 6:21 p.m. – Updated with video.