UNF baseball team goes 1-2 in season-opening series against Virginia Military Institute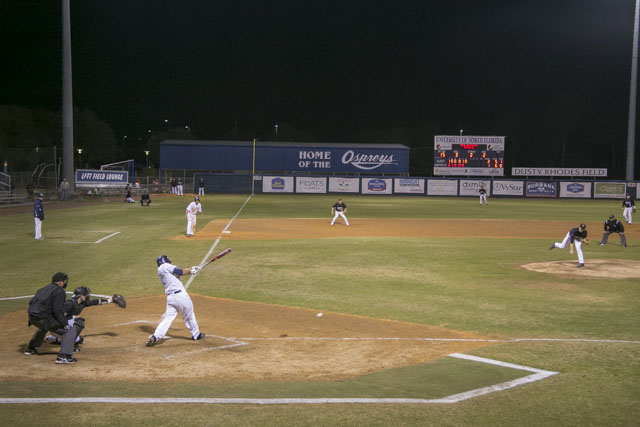 The UNF baseball team went 1-2 in its season-opening three-game series against Virginia Military Institute at Harmon Stadium this weekend.
In the first game on Friday night, Feb. 13, the Ospreys matched the Keydets in hits with seven, but VMI took the game by a final score of 3-1. VMI's second baseman Jordan Tarsovich led the offense for the Keydets, cracking a solo home run in the first inning. as well as racking up two hits and two RBIs on the night.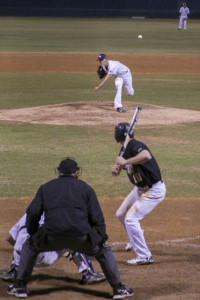 Taylor Edens came up with the save for VMI. He faced four UNF batters in the bottom of the ninth, and struck out two of them. The lone run for the Ospreys came in the bottom of the second when Nick Karmeris grounded into a double play, sending Keith Skinner from third to home to tie the game. The Keydets came back by scoring a run in the top of the fifth and another run in the top of the ninth.

Feb. 14's afternoon game was much more high scoring as UNF took the win 16-11. Leading the way offensively for the Ospreys were Ryan Roberson, Patrick Ervin and Donnie Dewees, each with three hits. Roberson went 3-for-6 with three RBIs, while Ervin went 3-for-5 with two runs and two RBIs. Dewees went 3-for-4 at the plate and drove in a game-high five runs.

UNF scored at least one run in every inning except the third. On the mound, Alex Smith took home the win, while Edens picked up the loss for VMI.

On Sunday, Feb. 15, the Keydets closed out the series with a 2-1 victory over the Ospreys. VMI scored in the top of the first when Matt Winn singled up the middle to drive Tarsovich home. The Keydets scored again in the top of the fourth as Ray Lopez's single to center brought Thomas Stallings in for the run. Hope seemed restored for the Ospreys, at least momentarily, when Trent Higginbothem hit a solo shot to left field, bringing the Ospreys within one run. However, the next three batters couldn't manage to get on base, sealing the victory for VMI.

The next game for the Ospreys is Tuesday, Feb. 17 against The Citadel at Harmon Stadium. First pitch is set for 5 p.m.

Gallery photos by Camille Shaw and Morgan Purvis

[doptg id="127″]
---
For more information or news tips, contact [email protected]; if you see an error in this story or have any compliments or concerns, contact [email protected].