Esprey Awards recognize campus community members' work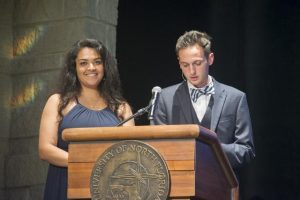 Several UNF students, athletes, musicians, an athletic coach and a Greek organization took home awards recognizing their achievements throughout the 2014-2015 school year tonight, April 15 at Student Government's first ever Esprey Awards. Students determined the winners by voting for nominees in eleven distinguished categories. Andrew Coconato and Mireille Smeen hosted the inaugural event.
Musician of the Year: Daniel T. Dickinson, music major and saxophonist
Vocalist of the Year: Kerra Simmons, who studies classical opera and has a full-ride scholarship to Texas State University for a master of music degree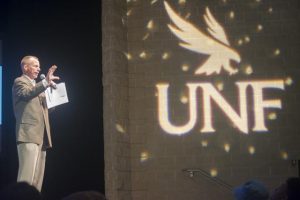 Volunteer of the Year: Matthew Silberstein, who created Osprey Social Hour for children with autism
Scholar of the Year: Brandy Mamo, special education senior at the College of Education and Human Services with a concentration in deaf studies
Club of the Year: Catholic Ospreys
Greek Organization of the Year: Delta Gamma
Athletic Coach of the Year: Men's basketball Head Coach Matthew Driscoll, for leading his team to its first NCAA Tournament appearance
Female Athlete of the Year: Megan Dorsey, women's soccer team goalie with 93 saves and a 1.73 goal average per game
Male Athlete of the Year: Beau Beech, men's basketball guard who averaged 13 points and 6 rebounds per game
Play of the Year: Chris Davenport's slam-dunk against JU Feb. 6
Osprey of the Year: Stephen Putnam, the Osprey Pep Band's baritone horn player who received national attention for his spastic moves at the men's basketball Atlantic Sun Championship game.
*4/16/2015 at 6:04 p.m.- Updated with additional photos and video
—
For more information or news tips, contact [email protected]; if you see an error in this story or have any compliments or concerns, contact [email protected].