United Party candidates sworn in
A small crowd of friends, family, students and Student Government (SG) members looked on as SG officials swore in Shomari Gloster and Hailey Guerra on May 1 as president and vice president, respectively.
Both Gloster and Guerra conducted themselves happily throughout the ceremony, with Gloster offering an official inaugural speech.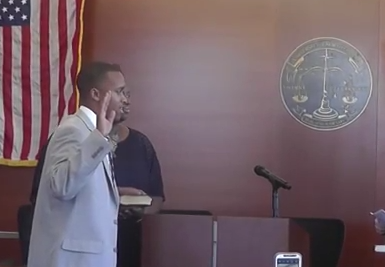 "University-wide study days preceding finals week, improving wireless internet service, improving safety, more dining options, predictable programming, and increased support of for our registered organizations are the top priorities of my administration," Gloster said during the inauguration.
While previous inaugurations have typically taken place at the annual SG Banquet, this year's inauguration took place in the SG Judicial Chambers. Afterward, Shomari invited the crowd back to his new office to socialize and grab some snacks. Meanwhile, Shomari sat down with Spinnaker to offer a comment.
"I just want the students [to know] that it's always been about them, and it's going to continue to be about them," Gloster said. "It's because of you all that I'm here."
—
For more information, news tips or if you see an error in this story, contact [email protected].