Meet Darrick Gibbs, the new head coach of UNF women's basketball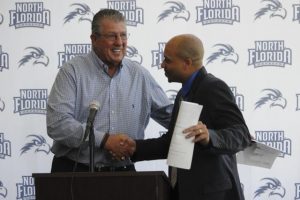 University of North Florida Athletics has formally introduced Darrick Gibbs as the new head coach for the women's basketball team. Described as highly energetic, Gibbs is the just the second women's basketball head coach in UNF's history. Before coming to UNF, Gibbs was an assistant coach at Miami under Katie Meier, who he credits as playing a major part in developing his life and coaching career.
For Gibbs, choosing UNF as his new home wasn't a hard choice. With the location and atmosphere of UNF, his interest was sealed. From a recruiting standpoint, the locale is beneficial to seek out new talent for the future of the program.
"First and foremost, we got to go to work," Gibbs said. "We got to go out and get players that fit what we want to do basketball wise and can meet our academics standards. We got to develop the players that are here. I think that recruiting is only half the battle."
A self-described player-coach, Gibbs has four points to his basketball coaching philosophy, which he plans to bring to the program: excellence, hard work and development, family and nurturing relationship.
Arriving with Gibbs are three new assistant coaches: David Lowery, Jessica Ridgill and MaryLynne Schaefer. Gibbs did decide to keep the current director of women's basketball operations, Charlsea Owen.
"I wanted to bring people that were good people first and foremost," Gibbs said. "Secondly, that weren't afraid to work; weren't afraid to pull up their sleeves, put on a hardhat and go to work and get things done. So, that was second for me. And then I wanted people that had a mentality that really care about the individual kids. I wanted people that were going to really take time to build relationships and get to know them and be committed to their overall development."
Lowery will work mainly with the swing and post players, as well as take the role of recruiting coordinator. Before coming to UNF, Lowery spent eight seasons with the University of Florida as an assistant coach. Lowery was a part of the coaching squad that took the Gators to the 2013-14 NCAA Tournament.
Ridgill will work mainly with the point guards. Before coming to UNF, Ridgill held the position of associate head coach for the women's basketball team at Wofford for several years. Ridgill played for Wofford in her collegiate days and still holds a school-record for third-most assists.
Schaefer will take charge of the wing players and help in recruiting international players. A student-athlete who graduated from Hartford in 2009, Schaefer most recently worked as a graduate assistant with Marquette University. Prior to that she was the video coordinator at the University of Miami, which is where she first worked with Gibbs.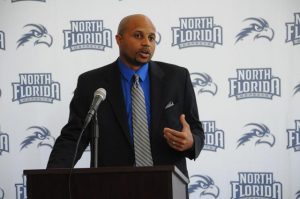 Owen will enter her third year as the director of women's basketball operations at UNF. Owen typically handles the day-to-day operational needs for the Ospreys, such as travel arrangements and equipment needs.
Some of the returning basketball players have already spoken out in agreement with the promises Gibbs' philosophy offers.
"I am really excited for what he is going to bring," said UNF's sophomore point guard Sierra Shepherd.
Osprey shooting guard/small forward Taru Madekivi, nutrition and dietetics junior, explained that she can already sense a change of atmosphere among the team and that in his relatively short time here has already brought some excitement and vigor.
—
For more information or news tips, contact [email protected]; if you see an error in this story, contact [email protected].