From sand to beach, NCAA creates 90th championship
Beach volleyball is officially the 90th NCAA championship sport. After six years of being called "sand volleyball," the new NCAA Beach Volleyball Committee decided to change the sport's name to beach volleyball and give it a proper NCAA championship.
The NCAA made this change because the name "beach volleyball" is widely used internationally over sand volleyball.
Even though the sport will be called beach volleyball, the UNF team will continue to practice in the sand area between the Wellness Center and UNF Arena. The Ospreys will continue to compete off campus.
UNF Beach Volleyball Coach Steve Loeswick said this change reflects the popularity of the sport. "We are really excited that the NCAA has taken over the championship to make it a true NCAA champ at the end of the next spring," Loeswick said. "Beach volleyball is this sport that's just exploding right now. Exploding at the high school level as well as exploding at the club level and obviously at the university level."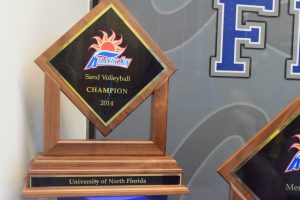 The championship will take place in spring of 2016 with an eight team bracket consisting of a double elimination format. Similar to tennis, there are five pairs of players that play the top five pairs from a different school in a set of matches. Whoever win three out of five would win the school versus school competition.  The location for the championship has not been revealed at this time.
"We've been lucky to be in the sport since its inception with the NCAA," Loeswick said.
Athletic Director Lee Moon said there is a plan in the works for building a new beach volleyball facility at UNF.
"We are trying to get people to get behind the beach volleyball program because we have the design to put a five court facility out behind the softball field," Moon said.
The Ospreys have previously hosted a home tournament in St. Augustine in front of home fans.
The Atlantic Sun Conference receives an automatic bid for the beach volleyball NCAA championship every year.
Many of the beach volleyball players also play on the indoor team during the indoor season in the fall. UNF's beach volleyball program will continue in the spring.
—
For more information, news tips or if you see an error in this story, contact [email protected].