UNF stumbles 2-1 against Georgia State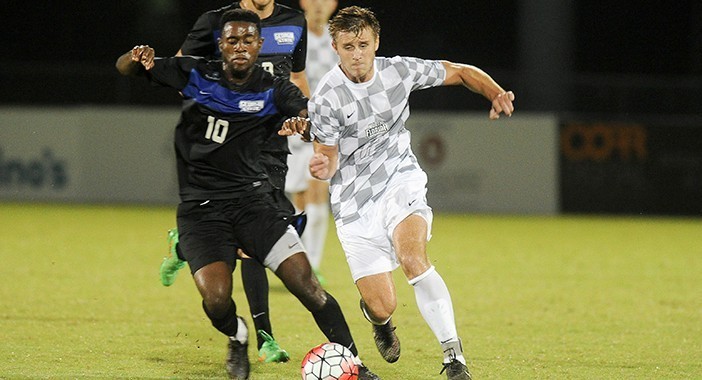 The Ospreys men's soccer team lost to the Georgia State Panthers 2-1 in the second rain-delayed game of the season on Aug. 30. All 3 goals were scored in the second half.
In the first half, both teams went scoreless with many missed opportunities. Each goalkeeper had a save in the half.
UNF Head Coach Derek Marinatos said the Ospreys (1-1) didn't capitalize on their shots.
"We didn't take our chances. We gave them two goals and made some mistakes in the back," Marinatos said. "When you can't finish your chances off against a team like this, who is going to hang around and wait for one chance over the top?"
At the 53:32 mark, Panther sophomore forward Jad Elkhalil scored the first goal with an assist from junior midfielder Casey Shultis. UNF would answer at the 62:05 mark with a goal from senior midfielder Drew Spragg.
"I was happy that we were back in the game and we had a chance to win," Spragg said. "That's all I was really thinking about, hoping I could get another one to win."
With just 2:23 left in the game, Georgia State senior forward/midfielder Andy Anglade scored the winning goal over the Ospreys.
Next the Ospreys will face UNC Wilmington in Wilmington, N.C. on Sept. 4 at 7:30 p.m. 
—
For more information or news tips, contact [email protected]; if you see an error in this story, contact [email protected].