UNF women's volleyball team opens tournament by beating Bethune-Cookman and Campbell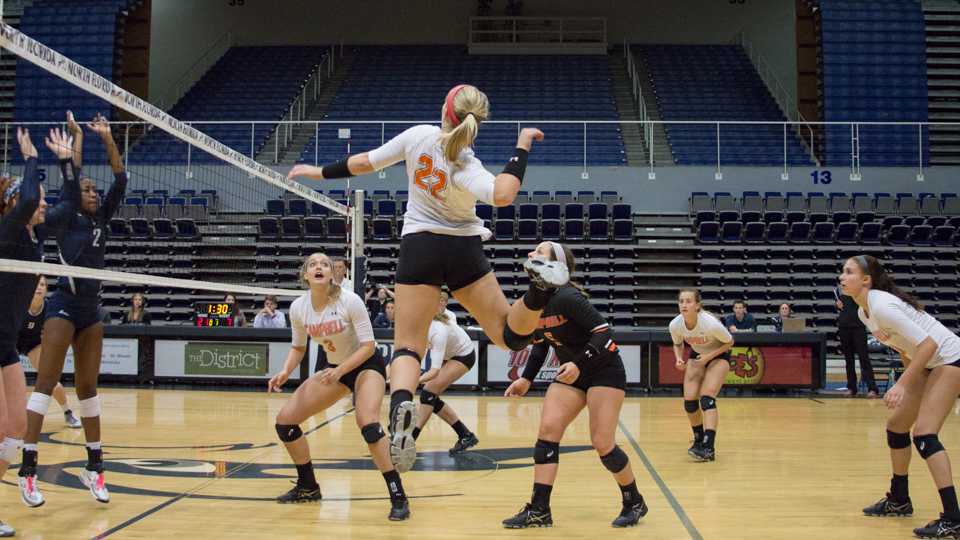 UNF volleyball beat both the Bethune-Cookman Wildcats (BCU) and the Campbell Camels in day one of the Courtyard Mayo Classic. The Ospreys (6-3) defeated the Wildcats 3-0 and the Camels 3-1 on Sept. 11 at the UNF Arena.
In their match against the Wildcats (2-6), the Ospreys never trailed in a set. UNF finished the match with 5 aces and 45 kills overall. BCU redshirt senior Delicia Pierre had a game-high 17 kills but committed 9 errors.
UNF Volleyball Head Coach Steve Loeswick said the Wildcats posed a challenge the Ospreys at the net.
"BCU definitely gave us some challenges at the net," Loeswick said. "They are pretty athletic and can make some pretty big plays."
UNF went back and forth in their second match of the day against Campbell (3-5). The Camels won the first game 25-21, but the Ospreys would rally to win the next three games and the match.
Loeswick credited Campbell's youth for their aggressive shot choices.
"Campbell's got a nice team," Loeswick said. "They've got some young kids and those young kids were taking some aggressive swings and putting some pressure on us."
Junior Abby Fesl earned a match-high 41 assists for the Ospreys while junior Kimberly Ferguson added a match-high 19 digs. Campbell's Rachel Harty had a team high 11 kills.
Fesl said her team's passing was a key to her success.
"It really came down to our passers having good passes and our hitters really executing, putting the ball away," Fesl said.
Next up for the Ospreys is the Florida Atlantic Panthers (6-2) in the final match for the Courtyard Mayo Classic Sept. 12 at 4 p.m. at the UNF Arena. The Ospreys lost their last match against the Panthers 3-0.
—
For more information or news tips, or if you see an error in this story, contact [email protected].