Franklin Matthews creates empathy and peace in "Lucida" exhibit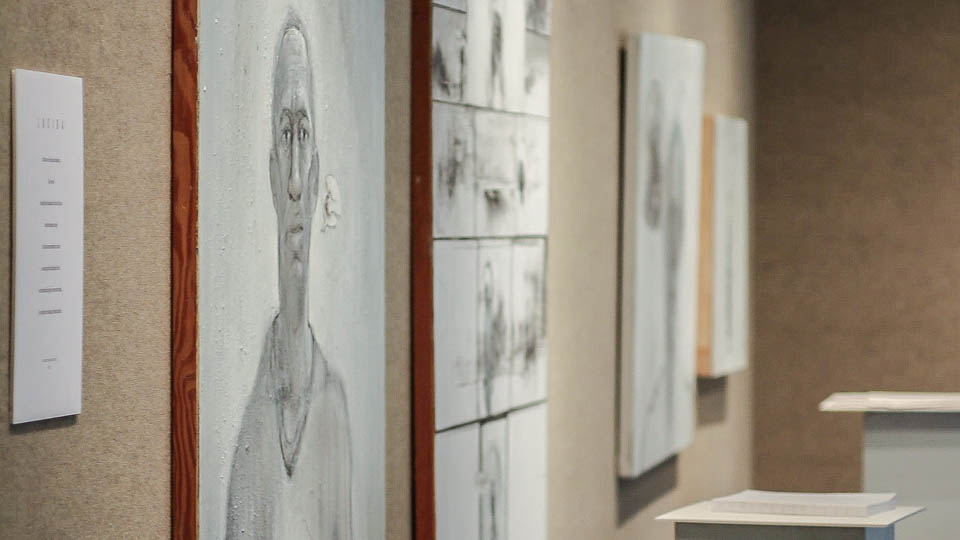 The "Lucida" exhibit, visiting UNF until Dec. 11, 2015, is the result of a man trying to create, visualize and experience empathy. The Lufrano Art Gallery is currently hosting pieces created by Franklin Matthews, a police officer and artist at heart. A room of chalk-white pieces with blue-black figures and landscapes fill the gallery.
"The natural thing for people to do when they see someone in pain is to feel bad for them," Matthews said. "But the problem with sympathy is that it becomes pity, and that can become rage or disgust."
According to Matthews, there were two primary causes that led to the creation of his artwork. First, there was the stress from his job as police officer.
"A lot has been said on the war on drugs," he said. "I can't comment on that. I don't think I take part in that as much as I take part in a battle against the problem that drugs cause."
As a police officer, Matthews said he's witnessed the effects of addiction on people he interacted with during patrol. Coming from a Christian, "defined" household, Matthews said the behaviors these people showed were tough to experience.
The stress then spilled into his home life when Matthews' youngest son died of heroin overdose.
"It kidnapped my life," said Matthews. "I had to deal with the horrible consequences at work, and then I go home where there's no peace there either. On one side I'm trying to push against the wall while on the other side there's an eagle trying to take one of my litter."
In an effort to move away from the anger, Matthews said he used the arts in order to transform sympathy into empathy. He wanted to understand the life-consuming qualities of addiction.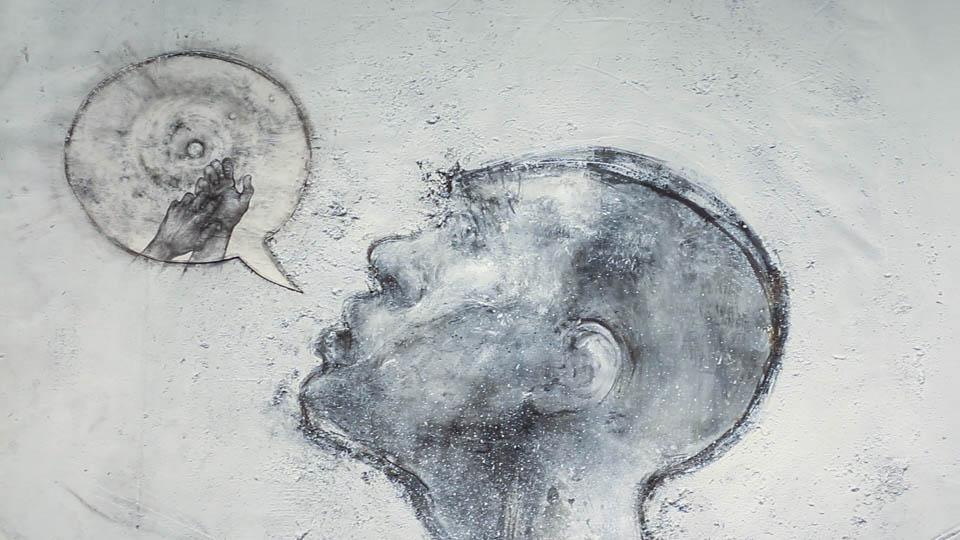 The first portrait depicts a man who had a drug addiction, and was Matthews' first stepping stone towards coping with his frustration.
The largest piece is as tall as the wall, and the large canvas trails outward on the floor. It is a long curtain with a charcoaled profile sketch of an African American man. Arrows puncture the figure who wears an indifferent expression.
Matthews created the giant piece as a second version of the painting hung beside it. Matthews said it represents the destructive cycle of addiction, and how it brings temporary peace.
"The larger piece," said Matthews, "was an apology for the first piece." He said he didn't want the figure in the smaller version to appear pathetic, so the larger version serves as an allegory for prayer.
"I love the material that I've worked with. It shows how I think and how I feel," said Matthews.
Matthews said he is most emotionally connected to a painting of his titled "The Prodigal Son". He said it originally started as a representation of the Prodigal Son, but then the image shifted to refer to Jacob wrestling with the angel.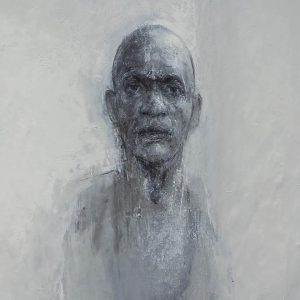 In the original biblical story, Jacob betrays his brother and waits for him one night while also wrestling with an angel. Jacob realizes that he cannot defeat the supernatural being but continues to persevere. The angel dislocates Jacob's hip, but Jacob eventually wins the battle. Matthews painted his interpretation of the fight by trying to express the blessing of perseverance.
This scene represents Matthews' desire for his son to wrestle with the personal angel and to have the moment that would end his addiction.
At the Wednesday night reception, Matthews spoke with UNF students about art and passed out some of his personal drawings, mostly sketches of dainty flowers.
The creative process helps him to understand the destructive cycle of addiction. Matthews finds peace through his artistic endeavors, and allows audiences to see his thoughts emerge from the canvas.
—
For more information or news tips, or if you see an error in this story or have any compliments or concerns, contact [email protected].