Seeback takes watercolor strokes all the way across the pond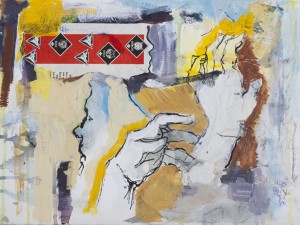 Laura Seeback, a 22-year-old painting and drawing senior at UNF, is making her way to Provence, France to find fresh inspiration on unmarked waters this summer, courtesy of the UNF Art and Design Department.
From May 29 through June 5, Seeback embarks on an educational experience featuring European foliage and a bustling city during her Plain Air Paintings class taught by painting professor Louise Freshman Brown, who offered her the scholarship which afforded the international opportunity.
The Plain Air Paintings class, a radius workshop, allows students to absorb their surroundings through careful observations of Provence's landscape and cityscape.
"Students are painting [from] 9 a.m. to 5 p.m.," Brown said.
Seeback's scholarship, The Friends of Art and Design Scholarship sponsored by the Cummer Foundation, is valued at $3,000 and covers the price tags of the workshop, tuition and a portion of her plane ticket, she said.
Brown, who has been teaching workshops abroad for over 12 years, handpicks two to four of her students to receive the scholarship.
In order to be considered for the international opportunity (which isn't readily advertised) one must have two or more classes with Brown, have a solid A grade and demonstrate a serious work ethic, Brown said.
Seeback, who has been student of Brown's for over two years, anticipates dabbling in drawing with hopes of garnering an increased portfolio as she tests out the waters of watercolor, replacing her usual oil and acrylic medium.
With two of her pieces on display at the juried UNF student show at the Museum of Contemporary Art Jacksonville through April 30 and three pieces featured in the 2010 Senior Show at the University Gallery on campus, Seeback finds solace in her constantly revolving inspirations including American painter Richard Diebenkorn and collage artist Larry Rivers.
Seeback's photographs featured at MOCA, "Supersecuneation" and "Postlapsarain," are hand-manipulated silver gelatin prints with bleach painted and drawn on.
Seeback, a photo minor, leaves no artistic stone unturned having experience in the realms of painting, drawing and collage construction.
"I'm at the point where I try to incorporate all of my skills into whatever I'm doing," Seeback said.
Approaching graduation, Seeback said she feels the art and design faculty has been accommodating to students through personalization.
"There has been an open-door policy [with the faculty]," Seeback said. "You can always stop in their office and ask for their opinion or just talk."
With dreams reaching beyond Provence and into her readily approaching future, Seeback feels resolute to pursue a career in art, continuing what she has done throughout her life.
"People have misconceptions about art — you really can make a career out of it," Seeback said. "It's just a matter of willpower and dedication."