Spinnaker Record Club: Majical Cloudz get sentimental on Are You Alone?
Spinnaker Record Club is a weekly selection of music releases designed to introduce students to sounds they may not find elsewhere.
---
When I saw Majical Cloudz open for Grizzly Bear in June of 2013, they said the venue, the 2,642-seat Fillmore Miami, was the biggest they'd ever played. A year later, they were opening stadiums for Lorde. Clearly, it was an enormous jump for the two-man project, made up of synth programmer Matthew Otto and lyricist/singer/modern-day-beat-poet Devon Welsh, and as evidenced by their latest LP Are You Alone?, it was a transformative one.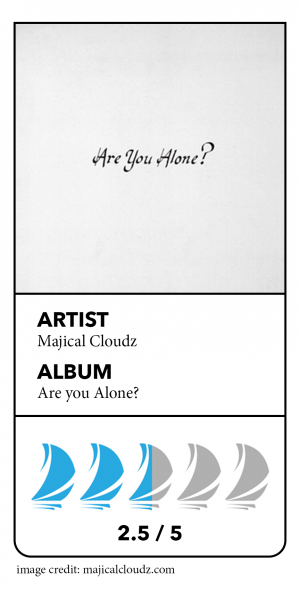 Despite being the first band I ever saw live, Majical Cloudz remains the most interesting. Otto's pulsating instrumentals reverberated across the spacious theater, providing a backdrop for Welsh, truly a performer of a different cloth. He wore a shaved head, white t-shirt and black pants. He moved his hand up and down like a hammer in time with the tempo. It appeared as if he was struggling to get out a message he felt would be ignored.
And yet that message, encapsulated on 2013's Impersonator, was simply too raw to be cast aside. Here's part of the opening verse from a single off that album, "Childhood's End":
Someone died / Gunshot, right outside / Your father, he is dead / I see him in my head
Delivered in Welsh's searing, sonorous baritone voice, the words are a punch in the gut. Impersonator is filled with moments like these, from the similarly mournful "Bugs Don't Buzz" to the intimate "I Do Sing For You." They were what made the group unique and impactful, and on Are You Alone?, they are thrown out completely.
Here's the first verse of leading single "Silver Car Crash":
I never show it / But I am always laughing / I want to kiss you / Inside a car that's crashing
Delivered in a much softer, slightly higher variation on Welsh's baritone, the words are something you'd find on a greeting card. Are You Alone? is filled with moments like this, from the irritating singsong melody on "Easier Said Than Done" to the title track, a sickly-sweet spin on Radiohead's "Motion Picture Soundtrack." The harsh, yet tastefully stated profundities on Impersonator have been replaced with simplemindedness, and any lingering darkness in the lyrics is sucked up by Otto's breezy, downtempo instrumentals. The bass that shook the Fillmore has been blown away. Even the timbre of Welsh's voice makes it feel like punches are being pulled.
I would never accuse Devon Welsh of being disingenuous – in fact, he seems more confessional with his lyrics than before – and it would be foolish to simply say a band's new material is bad because it's not the same as what they've done before. But the new direction lacks any sort of effectiveness. Sentimentality rarely does artists any favors, and we unfortunately get a heaping helping of it here. These songs are limp, robbed of the stirring power of their previous work. Overall, Are You Alone? proves that the cheesiest songs don't always end with a smile, but with a snooze.
---
Two years ago, Deerhunter followed up their already-classic LP Halcyon Digest with a muddy, gritty garage punk album called Monomania, named for the tendency to do one thing over and over. Clearly, frontman Bradford Cox wanted to avoid making "diminishing returns records," as Pitchfork put it, but the left turn into the kind of junkyard dog, "Bad to the Bone" biker gang fetishism you might see in a Kenneth Anger film did them no favors. However, with their latest album Fading Frontier, they've corrected course. From the moment we whir into aptly-named opening track "All the Same," it's as if Monomania never happened. Bradford Cox and Deerhunter are back to their old selves, with some slight variations.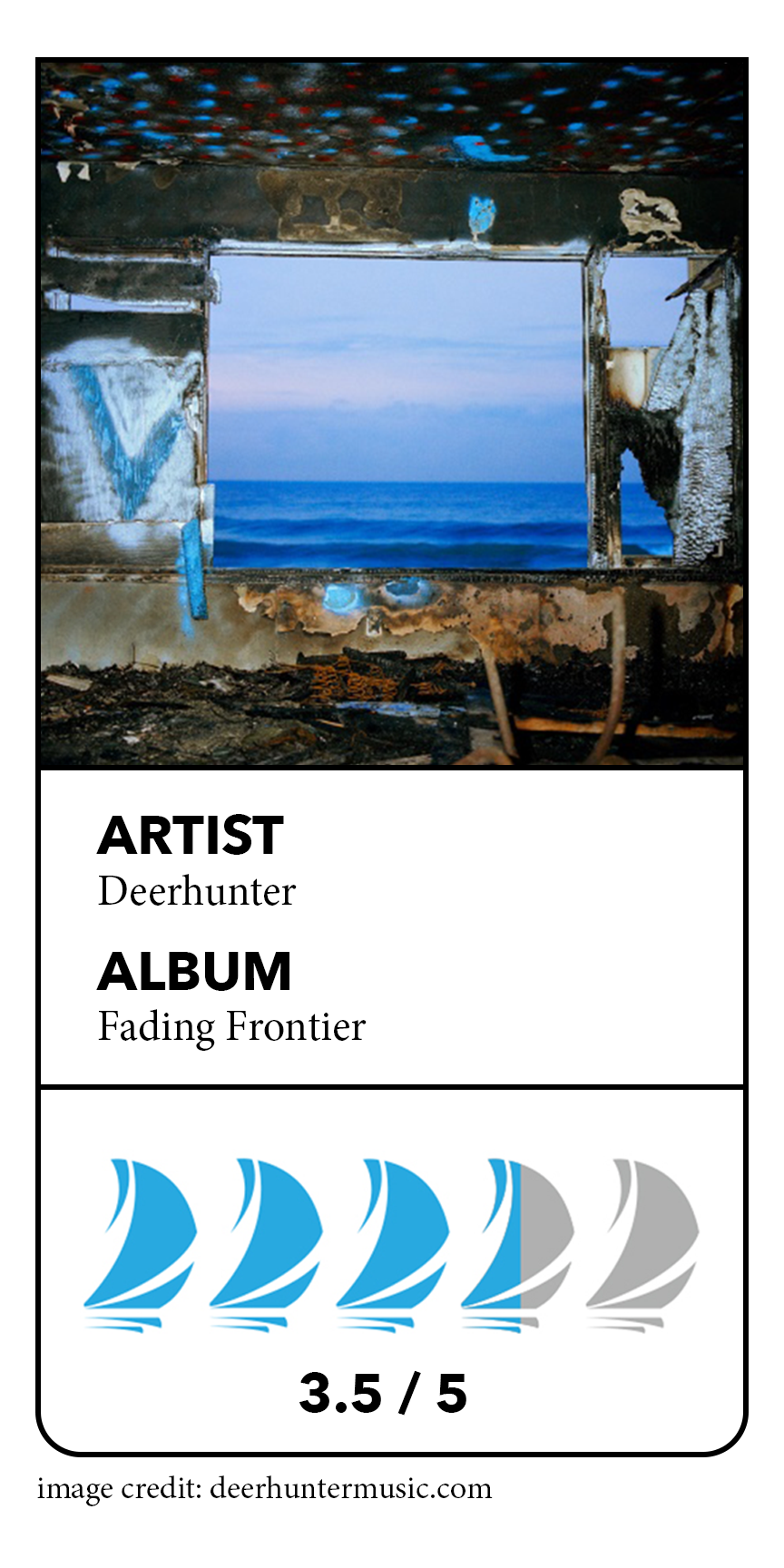 By the time the placid "Living My Life," it becomes clear that not only is the band ditching the crusty vibe of their last release, but spinning their style into pop. "Breaker," the best track on the album, epitomizes this, with verses steeped in shimmering synths and jangly guitar all over. The excellent chorus, using ocean waves as a metaphor for mental obstacles, is a joy to sing along to. Its breezy tone carries across the album, setting us upon an ocean shore, sea air flowing around our faces. Similarly, "Ad Astra" carries over the beachy vibe, sounding close to chillwave.
Even if it is pop, however, Fading Frontier is conceptually sound, with most of the songs expressing a certain anxiety about the future. Cox has said the title refers to the "diminishing expectations" people have begun to have. "Remember when we were young and there was this excitement about what was going to happen next? And now, honestly, do you really want to know what happens next?" He has a point. Look at your phone. Look at the news on your phone. There were better times before, but it's become harder and harder to imagine them coming again.
The one detour we get from this is "Snakeskin," a swaggering take on plastic soul that could find room on Bowie's Station to Station. Like Beach House's "Sparks" and Depression Cherry from earlier this year, it's the one moment on the album that hints at a totally new direction, with the rest not exactly repeating what the band has done before, but coming close. Fading Frontier is Deerhunter signaling that they're ready to start making albums of similar, but not diminishing returns. The Halcyon days are over; it's time to settle in for the rest of the ride.
---
Beach House – Thank Your Lucky Stars: Speaking of Beach House, this is the second album they've released in the last two months. The biggest difference? This one will put you to sleep even faster than Majical Cloudz, partially because it's very relaxed, but mostly because it's dreadfully dull.
(2 sails) (Official Album Stream)
EL VY – Return to the Moon: Side project from Matt Berninger of the National and Brent Knopf of Menomena. Full of esoteric songwriting slightly reminiscent of Tom Verlaine of the band Television, but tries a little too hard to be cool and fun at once, and thus lacks the sincerity of Berninger's main band. His distinctive, disaffected baritone isn't well-suited to the creepy, vaguely funky instrumentals, either. Still, an interesting diversion. Hopefully it inspires some boos and ghouls to start a new microgenre of "halloween indie." Hallowindie? Halloweendie? I'm about a week late with these jokes, I know.
(3 sails) (www.elvy.co)
Fuzz – II: Are you, like me, bummed that the new Guitar Hero is full of all the same terrible dad-rock that you mastered on Expert mode in 2007? Do you want to hear something similar and better? So does Cali garage rock savant Ty Segall, who founded Fuzz out of a heartfelt desire to produce the same 70s heavy rock riffage that we all grew up virtually shredding. Their second album is longer and louder than the first. Tune up your air guitar.
(3.5 sails) (Fuzz – "Rat Race")
—
For more information or news tips, or if you see an error in this story, contact [email protected].