Video by Michael Herrera
The UNF women's basketball team lost 53-48 to South Carolina State Bulldogs on Dec 19. 16 turnovers and poor shooting from the field had the Ospreys playing catch-up in the second half.
UNF (4-8) got off to one of their best starts of the season. The Ospreys outscored their opponent 16-6 in the opening period, with a majority of South Carolina State's (4-5) points coming near the end of the first quarter.
The second quarter got off to a grim note for the Ospreys, as junior guard/forward Taru Madekivi exited the game with an ankle injury.
Madekivi got off the court unassisted, but had to be taken into the locker rooms before reentering the game. UNF women's basketball head coach Darrick Gibbs said Madekivi's injury was minor.
"She's had ankle tweaks, in and out [of injury]," Gibbs said. "She tweaked her ankle, came out, she was fine to go back in and then we just put her back into rotation. She's fine."
Things got worse for the Ospreys, who scored just three points in the second quarter. The score was 23-19 by halftime in favor of South Carolina State.
South Carolina State continued their flip of the script by outscoring the Ospreys 22-13 in the third.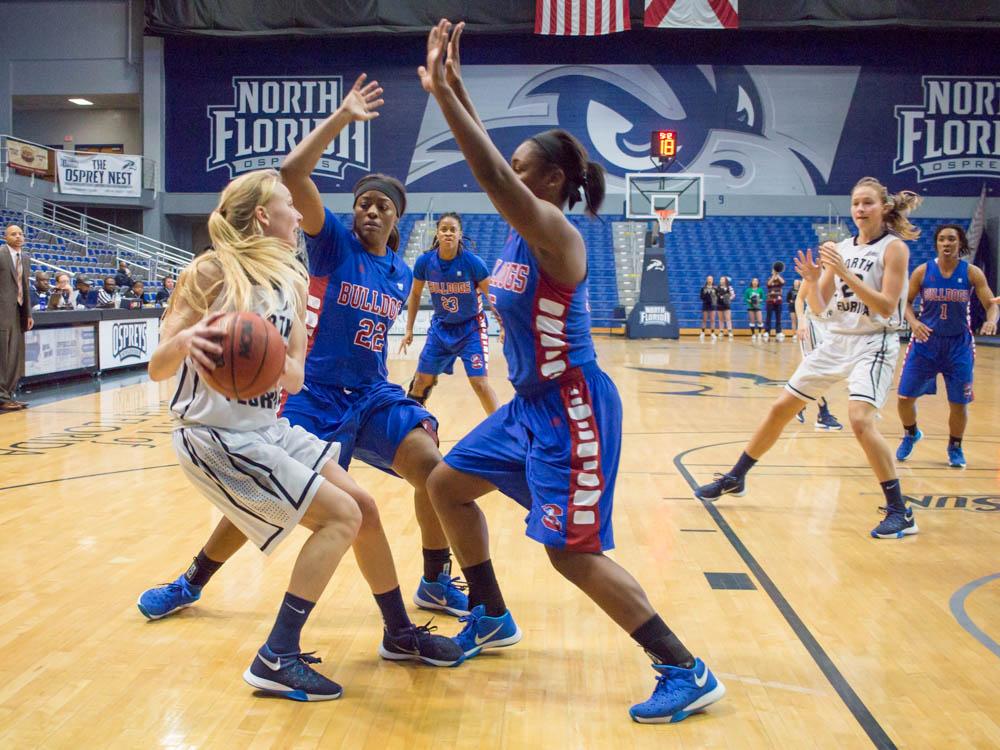 The Ospreys started the final quarter struggling to stay in the game trailing 45-32. But when all hope seemed lost, the Ospreys went on a rampage.
Madekivi and junior guard Claire Ioannidis helped push a run and several key three-pointers from the Ospreys helped trim the margin to two points with one minute left. However, in the closing moments of the game, the Ospreys missed on two three-pointers, resulting in the 53-48 loss.
"We got an opportunity to get back into it," Gibbs said. "We finally defended better and rebounded the ball better. From an execution standpoint, of that, we need to execute better."
UNF guard Sierra Shepherd finished with a game-high 14 points and also led in assists with four. Ioannidis finished with eight points and three assists.
The Ospreys play against the Campbell Camels on Dec. 20 in the UNF Arena. This will mark UNF's last game before the holiday break, and just two games remain until the conference opener against Jacksonville on Jan. 9.
—
For more information or news tips, or if you see an error in this story or have any compliments or concerns, contact [email protected].