Men's basketball trounces Florida A&M 87-70, remains undefeated at home
Video by Michael Herrera
Men's basketball (10-4) sealed an 87-70 victory behind late free throws in a physical matchup against the Florida A&M Rattlers (4-8) at the UNF Arena on Dec. 19. Throughout the first half, the Rattlers went to the free-throw line 19 times.
Technical fouls would be assessed to forward Beau Beech and later UNF Men's Basketball Head Coach Driscoll in the middle of the first half.
Coach Driscoll said the Ospreys were a bit more aggressive than usual.
"I thought honestly the guys came out very very good intensity in the first half," Driscoll said. "Obviously held them to 23 percent [shooting in the first half], we fouled a little too much, they got to the line a lot in the first half which is really uncharacteristic of us."
Guard Trent Mackey hit back-to-back three pointers late in the half to keep up the Osprey lead. As the clock expired before the half, guard Dallas Moore connected from behind the arc to send the Ospreys to the locker room with a 46-26 lead. Moore led all scorers with 25 points, and tied team-highs with seven rebounds and six assists.
Chris Davenport opened the second half with a three-pointer, and went 3-3 from behind the arc for the game. UNF drained 12 shots from downtown for the game and the Rattlers made seven of their own, knocking down six in the second half.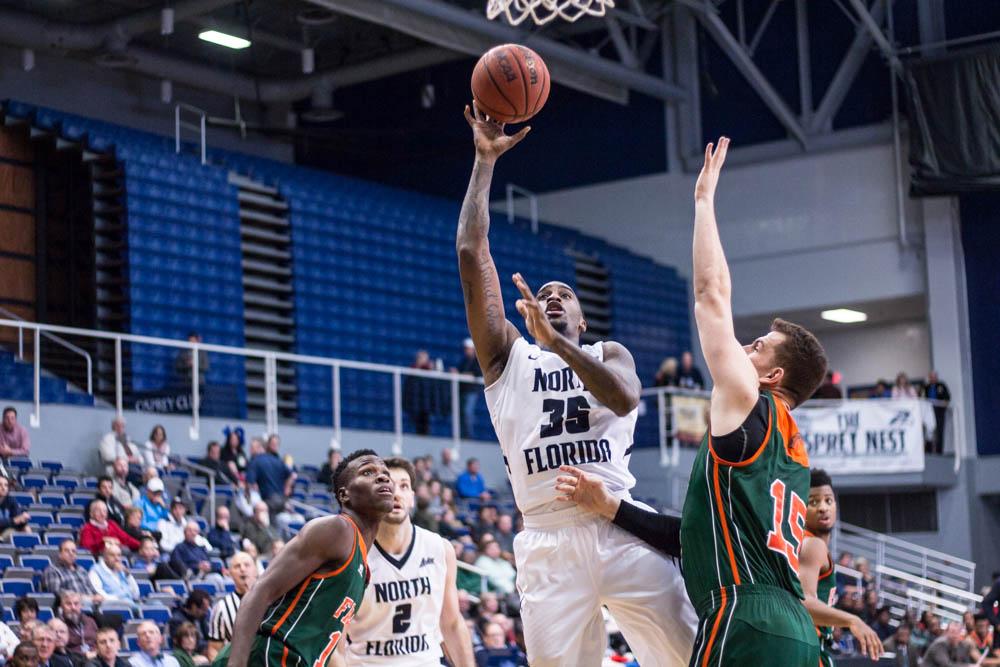 Similar to the Rattlers in the first half, the Ospreys went to the free-throw line often in the second half, taking 12 shots at the line. Late in the half, Beech hit all four free-throws on consecutive plays to pad the Ospreys' cushion over the Rattlers.
Beech said defensive stops led to offensive points for UNF.
"Outside shot wasn't falling and you know guys just got me the ball in positions where I had a chance to drive,' Beech said. "The reason we were getting heavy opportunities offensively was because we got defensive stops those possessions."
Beech finished with 17 points and he went 7-7 from the free-throw line. FAMU guard Justin Ravenal finished with 16 points.
Next the Ospreys face the Arkansas Razorbacks in the Bud Walton Arena in Fayetteville, Arkansas on Dec. 22. The game will mark the first of a four-game road-trip.
—
For more information or news tips, or if you see an error in this story or have any compliments or concerns, contact [email protected].