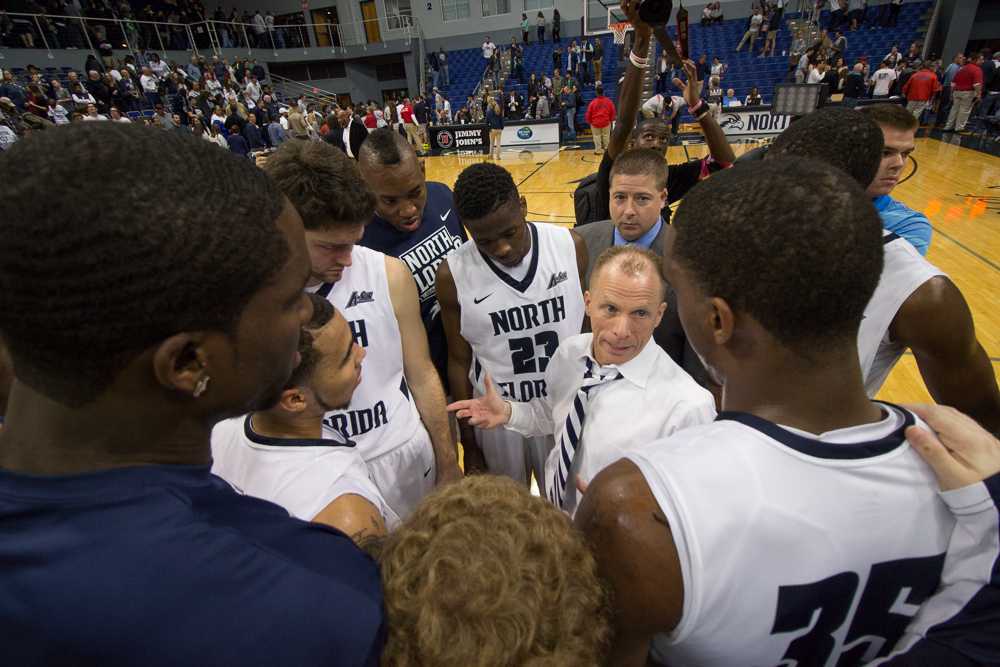 UNF men's basketball( 18-8 overall, 7-2 A-Sun) fell 81-65 in a rematch with the Florida Gulf Coast Eagles (14-11 overall, 5-4 A-Sun) on Feb. 6 in Fort Myers, Fl. Foul trouble and a rough night of shooting plagued the Ospreys.
The Ospreys trailed the majority of the first half, struggling to connect from the field early. The Eagles jumped out to a 9-0 lead before UNF guard Nick Malonga scored the first points for the Ospreys. After a run by the Eagles, UNF guard Aaron Bodager made a layup to start the Ospreys' run.
After being 0-6 from downtown, UNF connected 6 times to cut into the Eagles' lead.
In the final seconds of the half, UNF forward Chris Davenport completed a layup before knocking down a free throw to give the Ospreys a 35-34 lead.
After helping in taking the lead, Davenport blocked a three-pointer from Eagles' guard Christian Terrell on the next possession to send the game into the locker room for the break.
FGCU exploded out of the half time to re-take the lead. The game would be tied up 40-40 early in the half before UNF guard Trent Mackey dropped a three-pointer to stop the Eagles' run, cutting the deficit to one 44-43.
With 4:09 left in the game, UNF forward Demarcus Daniels fouled out with 5 points and 1 rebound.
The Ospreys had no answer down the stretch as the Eagles pulled away for the victory.
Beech, Mackey, Davenport and forward Karlos Odum all had four fouls during the game.
UNF completed 35 percent from the field compared to the Eagles 51 percent. The Birds of Trey made only 10 three-pointers, with four coming in the second half . UNF's bench contributed 11 points to the Eagles' 29 points. The Ospreys add 11 points off of fast breaks to Florida Gulf Coast's 2.
Six Eagles tallied double figures over the Ospreys.
Eagles' guard Julian Debose finished the night with 16 points and 5 rebounds.
Beech finished the night with leading the game 20 points and 9 rebounds.
Next the Ospreys will face the Kennesaw State Owls (7-18 overall, 3-6 A-Sun) on the road on Feb. 11. UNF is tied for the top spot of the Atlantic Sun with the Jacksonville Dolphins.
—
For more information or news tips, or if you see an error in this story or have any compliments or concerns, contact [email protected].