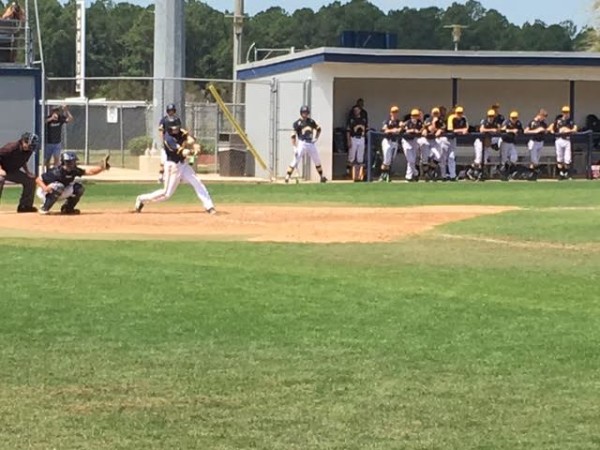 Despite overwhelming odds, late-inning heroics continue to yield winning results for the Ospreys. North Florida's (13-9) latest comeback was a 6-5 series-clinching win over Quinnipiac (6-10.)
Game 1
In the first game, the Bobcats And Ospreys played a very low scoring game. The only three runs of the entire game came from Quinnipiac in the third and fourth inning, including a homer by Quinnipiac second-baseman Ryan Nelson. North Florida head coach Smoke Laval called out his team's selective focus.
"It seems like the bigger the team, the more focus we have." Laval said. "When it gets serious and it's late in the game the focus comes back and you can't play like that. You gotta have an even-keel, straight focus."
The Bobcats took the first game 3-0 despite being out-hit 8-7 by the Ospreys. The next game was a whole different story.
Game 2
Coming off their 3-0 loss to Quinnipiac on March 18, the Ospreys needed to make a statement to get back in the series. In the first inning, they did just that.  
Thanks to four RBI by the Ospreys, including a two-RBI double by redshirt junior first baseman Christian Diaz, the Ospreys went up 4-0 in the first inning. The Ospreys continued their scoring burst in the third inning when North Florida added three more runs and made it a 7-1 game.
The game seemed all but over going into the ninth inning with the Ospreys leading 12-4. However when North Florida put in freshmen pitcher Trace Norkus to make his NCAA debut, the Bobcats almost made them regret the decision.
The Bobcats scored four runs, including a homer by third baseman Joseph Burns, and made the game 12-8 before the Ospreys swapped in senior pitcher Daniel Moritz to finish the game. Moritz retired the final batter to give the Ospreys the 12-8 victory.
Game 3
The Bobcats came out with a vengeance in the final game. They scored fast and often and managed to take a 5-2 lead going into the bottom of the eighth.
The Ospreys  rallied in the bottom of the eighth, as four players drove runners home, including the eventual game-winner from redshirt junior second baseman Patrick Ervin.
"I knew the [pitch] count was 3-1 [and that] I was going to get a fastball," Ervin said. "I just tried to hit something hard and give the team a chance to win."
The game went into the  top of the ninth with the Ospreys leading 6-5. Senior star Corbin Olmstead took to the mound and retired two batters to set up a pop fly catch to seal the win.
The Ospreys have now won six of their last seven games.
The team will next travel to Daytona Beach take on Bethune Cookman on March 22.
—
For more information or news tips, or if you see an error in this story or have any compliments or concerns, contact[email protected].