Softball opens Conference Play against Stetson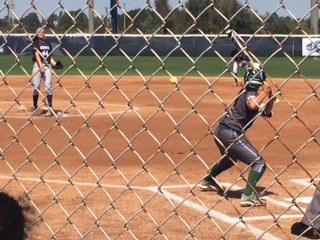 North Florida Softball (12-18) ended the weekend with back-to-back losses to the Stetson Hatters (23-12) to close the three-game series. Late-inning runs sealed the defeats in both games.
Game One
Ospreys 6   Stetson 4
In the opening game, both teams held tight offensively and defensively.
Lexi Taylor broke the 1-1 lead with a single during the second inning. During the next inning, Stetson strung together three runs to take a 4-2 lead. In response, Shelby Duncan's RBI double tied the game 4-4 all.
In the fourth, Duncan hit another RBI along with a fielder's choice by Stacy McClelland to score Navia Penrod and lead the Ospreys to victory.
Duncan went a perfect 4-4 at the plate, and Penrod scored three runs for the team.
Game Two
Ospreys 3  Stetson 8
Power hitting and strong pitching allowed Stetson to win the second game of the doubleheader.
The Ospreys took the early 1-0 lead behind McClelland's RBI double. In the third inning, Stetson brought in five runs of their own. With two outs in the fifth, Duncan hit another RBI single to bring the team within a 5-3 margin.
Runs in the sixth and seventh by the Hatters pushed the lead out to eight for the final. The Ospreys would not manage to score again, leading to the 8-3 defeat.
Katie Mandigo went a perfect 3-3 at the plate and scored a run.
Game Three
Ospreys 0  Stetson 8
The Hatters offense broke out in the third game, causing the run-rule to come into play in the series clinching victory over the Ospreys.
The Hatters got on the board first with an RBI double from Kayla Drury. The Ospreys managed to get runners in scoring position but were unable to bring them home.
In the fifth, the offensive gate burst open with seven runs by the Hatters. Ashly Smith and Brittany Hawn both had RBI triples, clearing the bases for the runs.
UNF had three hits and two errors to Stetson's eight hits and no errors.
The Ospreys have a ten-day break before facing Florida A&M on the road in a doubleheader on March 30.
—
For more information or news tips, or if you see an error in this story or have any compliments or concerns, contact[email protected].