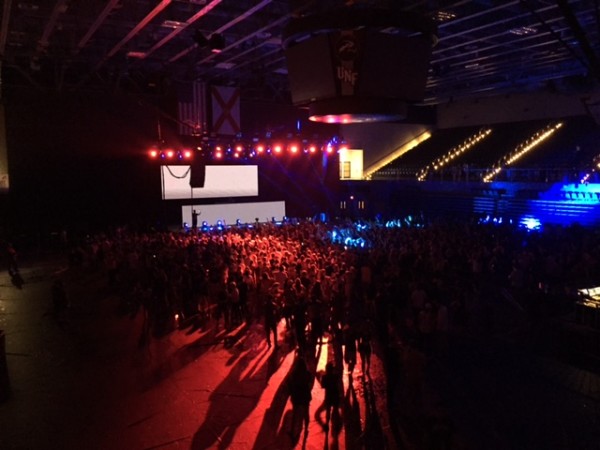 I don't listen to EDM.
Never been to a show, don't know what to wear to them, all that jazz. I listen to a lot of punk music. So, you can imagine I felt like I was going to be a little out of place at the Steve Aoki concert Friday night.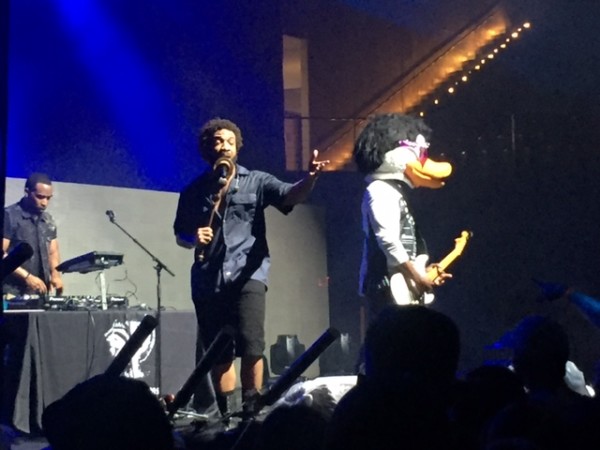 But to be honest, I went and had the time of my life. There were no overly-drunk students, no girls in fuzzy rave boots, and the weed smell was surprisingly dull. No one in overly-revealing clothes, no extra dirty dancing on the dance floor, none of that to make you uncomfortable. For a night, we were all just college kids having a good time at a dance party in the Arena.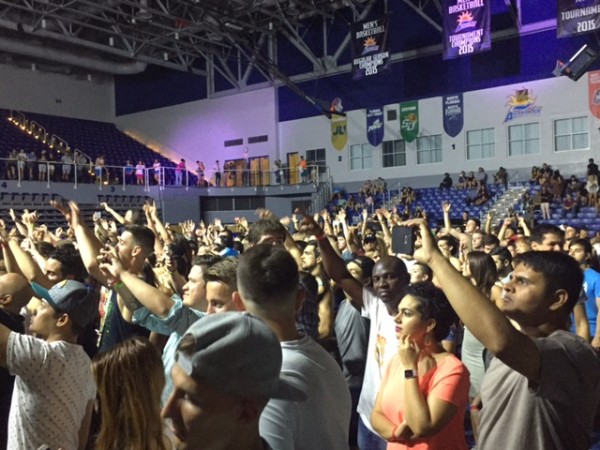 I was bummed that there weren't more students attending. To estimate, I would say maybe 500 to 600 students and others went. (This is me saying you missed out if you didn't go.)
Aside from the mushy feelings of "belongingness" around my peers, this show was genuinely entertaining. Openers Watch the Duck got the crowd nice and hyped up for the main act. Before the show, I listened to these guys on Spotify, and was surprised to see that they sounded more exciting than Aoki himself. I am no good judge of EDM, but I'd like to think I know a good beat when I hear it. When it came down to it at the show they were good hype men, but I don't know how serious of musicians they seemed. Nothing looked like it was live, and the member dressed in the Daft Punk style duck head was holding a white electric guitar. Notice I say holding, not really playing. Overall Watch the Duck was an entertaining opener, and they played their popular song "Poppin' Off." They also had their own rendition of Oasis' "Wonderwall," which wasn't impressive at all.
My prediction was totally incorrect that Watch the Duck was going to be better than Steve Aoki. The guy knows how to throw down, and I don't even know what DJs are supposed to be like.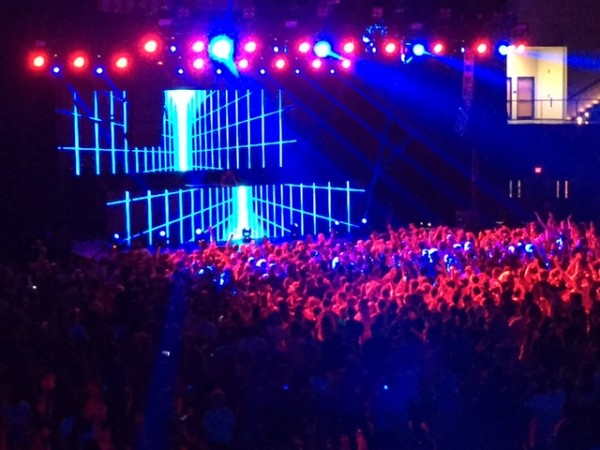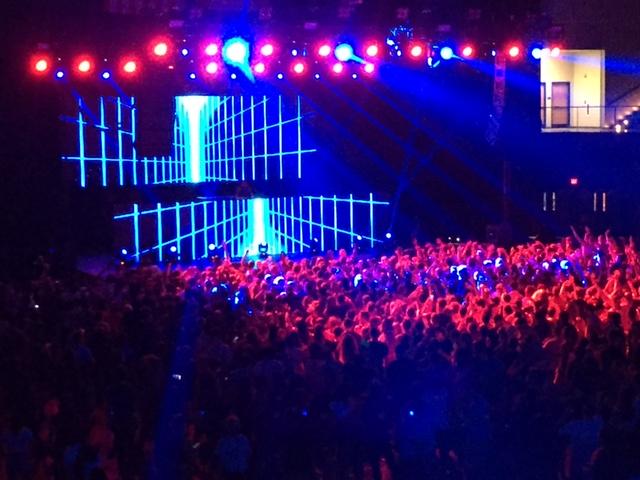 His set started with a dramatic countdown displayed on the huge LED monitors behind and in front of his turntables. At the end of the countdown, the party started and didn't stop until it legally had to.
At all the punk shows I go to, the artists normally just play songs followed by awkward pauses in between. I was refreshed to experience that apparently at EDM shows, the music in the set is nonstop. There aren't really songs, just a long mix of a bunch of songs that sound like one. Aoki sampled popular songs like "All I Do is Win" by DJ Khaled, and even brought back to life "Soulja Boy" by Soulja Boy Tell Em'. Much of the crowd was excited to relive their middle school days of wondering who actually knew the moves. He even went for the Adele mashup and put down a thumping version of "Hello." Not gonna lie, I jammed. In a more cultured manner, he mixed some Daft Punk songs and Kid Cudi's "Pursuit of Happiness."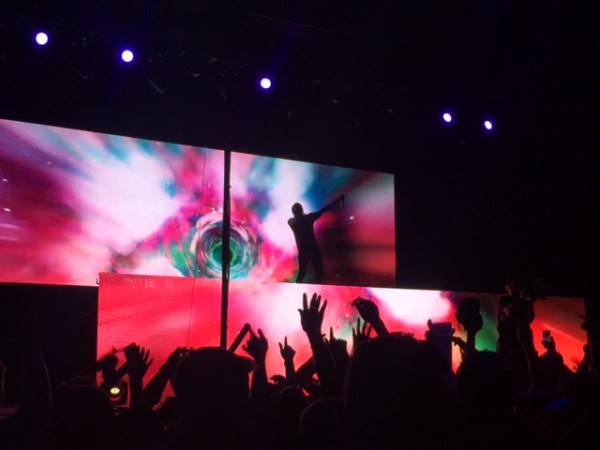 Then, the moment we all waited for, the cake toss. Everyone knew it was coming when the opening notes to Aoki's most famous song "Cake Face" played, they were in for it. Throughout the song, he threw a total of nine cakes into a very sticky crowd. But hey, they loved it. And since the show was on university grounds, we missed out on the champagne spray feat. It also looks like the blowup boats didn't make it past the final contract rider, because there was definitely no crowd surfing.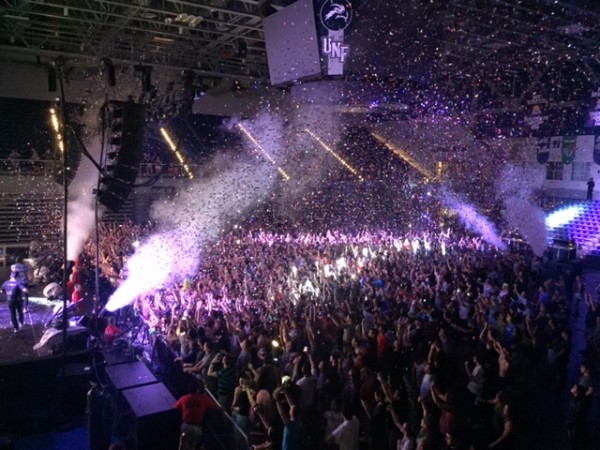 Curious about how much of this music Aoki was actually playing live, I went upstairs in the Arena to watch from above and behind his turntable booth. I wasn't shocked to discover he pressed maybe four buttons the whole time.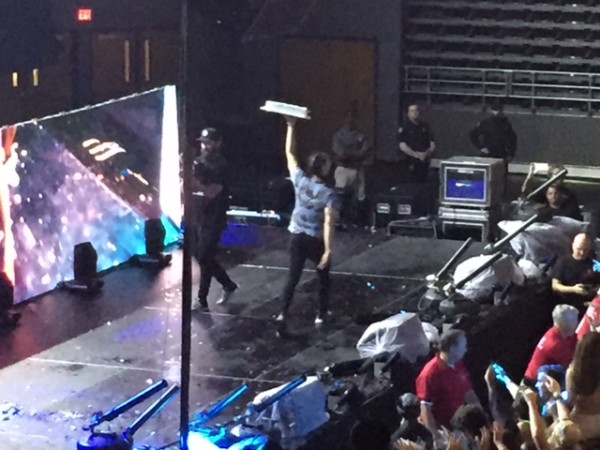 But another thing I noticed from my perch was something really, really cool. There wasn't a single person not moving their arms up and down with him when he signaled it, or at any other point. It was impressive to see how involved everyone was in his performance, and how they all had a great time.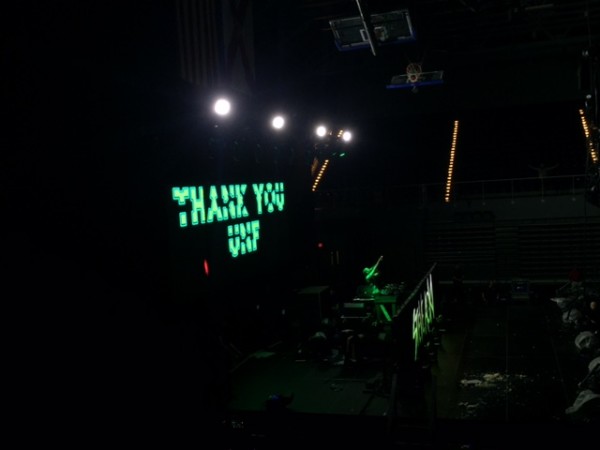 I never thought I would appreciate an artist who doesn't play live music, or real instruments for that matter, and who's music consists mostly of sampling other artist's work. Steve Aoki may have made me a Steve-leiver in EDM.
—
For more information or news tips, or if you see an error in this story or have any compliments or concerns, contact [email protected].