Beloved percussion professor retires after 30 years
The lights are dimmed and the air is electric in the Andrew Robinson Theatre. The percussion ensemble awaits the beginning of their final rehearsal of the year last Tuesday night, and their last with beloved conductor Charlotte Mabrey before she retires after over 30 years.
Hours of hard work and practice laid the foundation for what would turn out to be an entertaining showcase. This concert marked the final performance for Mabrey with her dear ensemble.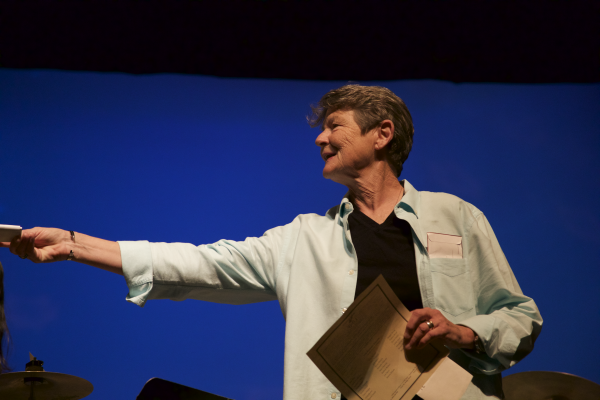 Anneliese Tucker, a music education major, tried to come up with a word accurate enough to describe how much energy goes into practice.
"So much energy," Tucker said, "focusing on practicing and specifically what you're doing—that takes a lot of energy."
Freshman Chris Harper said that he probably spends about an hour and a half practicing each day. Harper starts by carefully dissecting the new music, searching for the the most difficult parts. He then splits those parts into smaller sections, practicing each little piece to perfection before putting the whole back together again. The last step, he says, is memorization.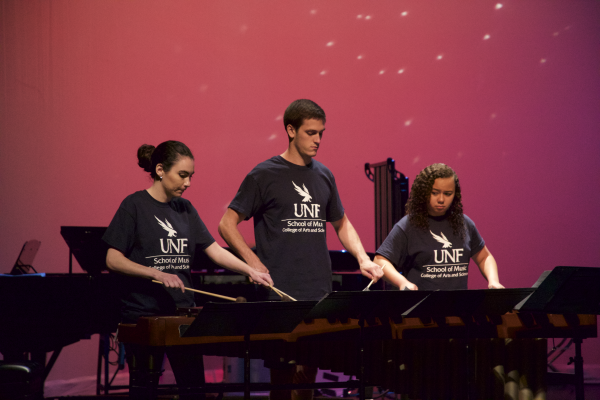 The mind of a UNF percussionist before a big concert can be a busy one with feelings jutting sharply from anxiety to enthusiasm, according to the percussionists. For exchange student Tsean (Maggie) Sheng, feelings can range from "nervous" to "relaxing." Sheng even took on piano on an upbeat piece called, "Hands Up." Mabrey believes Sheng, as well as another exchange student, has a significant influence on the ensemble.
"The whole studio has gotten better because they practice all the time," Mabrey said. She also said that one of the reasons the ensemble can play at such a high level is because some students will practice beyond regular rehearsal hours, which are Tuesdays and Thursdays for about two hours.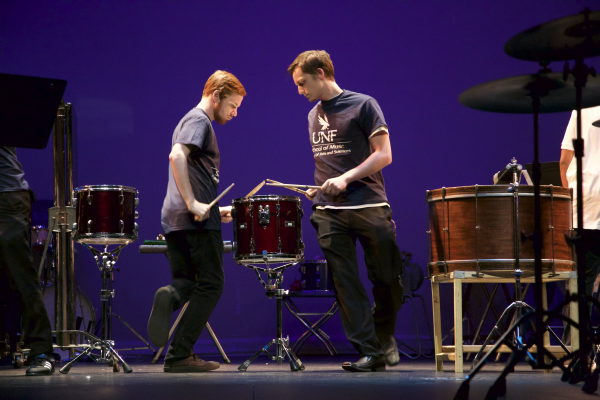 The concert concluded with Mabrey, herself, playing alongside her students, something she says she tries to do regularly. As the audience was filing out, Mabrey's students danced with her on stage for the last time as "Shut up and Dance" came on the audio system and the entire ensemble celebrated their final concert.
"This is my joy," Mabrey said.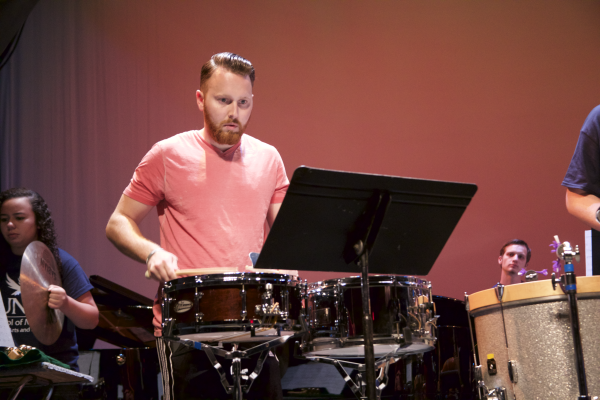 She added that it would be a while before she returned as an audience member.
"It's too painful," Mabrey said. "It's hard for me to let go of this."
She concluded by saying that she wants the new conductor to have all of her ensemble's love and devotion because "that's what they give off."
Mabrey's last official concert will be with the UNF orchestra and will be held on Apr. 13 at 7:30 p.m. in the Lazzara Performance Hall.
—
For more information or news tips, or if you see an error in this story or have any compliments or concerns, contact [email protected].