Amy Taylor: Record Breaker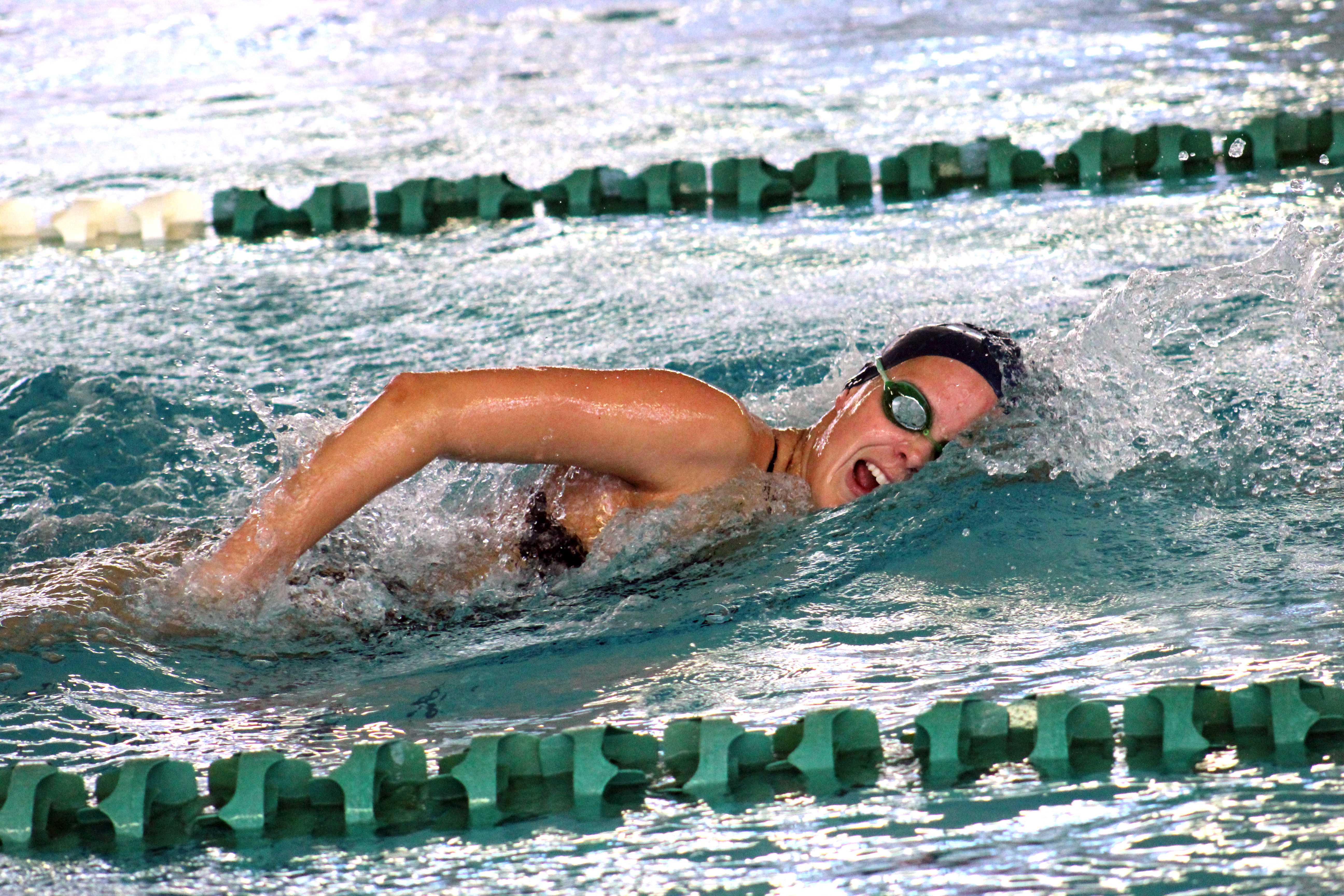 While the sun is still down and people are tucked away in bed, she starts the day with her teammates. It's 5:30 a.m. and Amy Taylor is off to the pool, where she swims for two hours. Lap after lap, minute after minute.
A native of Plant City, Fla, known for its famous strawberries, Taylor has been swimming competitively for over ten years. While at Newsome High School, she dominated and was a state qualifier in swimming during her final three years.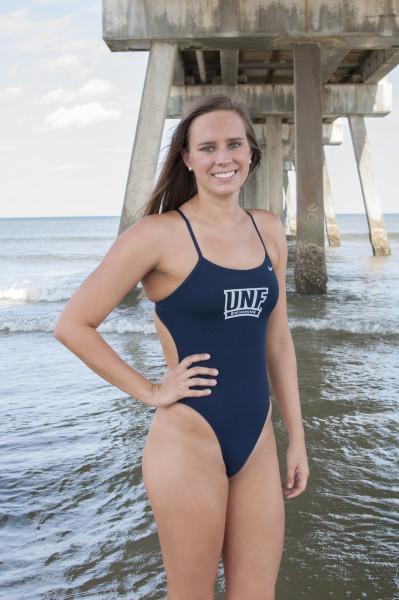 Her older brother Jason, who swam for the University of Florida, inspired her to pursue swimming in college.
"My brother and I are the first athletes in our immediate family but [I] definitely got into swimming because of him, Taylor said. "He set the tone so I really wanted to go to a division one school and then he helped with the process, but I found UNF on my own."
The atmosphere is what made Taylor decide to attend UNF for the 2012-2013 season.
"I chose UNF based on the atmosphere," Taylor said. "I had my recruit trip here, and I was looking at a couple of other schools but I really liked the team, I really liked the school itself and the academics were where I felt like I fit in."
Taylor's goal for herself coming into her freshman season was to break a school record. Three years later she holds five school records and is continuing to improve and set new personal bests.
Before this season, Taylor broke two program records. In the 2012-2013 season, she was a member of the 800 freestyle relay team who secured the time of 7:32.66. At the 2015 Florida Tech Invite, Taylor grabbed the record for the 200 fly with a time of 2:03.52.
UNF swimming coach Ian Coffey said Taylor has left an impact on the program.
"Well, she impacted the program really well, since she's been here you know," Coffey said. "You pretty much saved the best for last. You can say that all of your individual school records and you know relay records that she has, you know that is a pretty deep impact on the program. You know those records will be tough to break so what she done here is very impressive."
As a captain, Taylor has pushed her teammates to exceed expectations and been positive through it all.
In a season that started on the first day of classes and wrapped up in February, there were many chances to break a record, but Taylor made her mark on the last day.
It was February 20. The last day in the Coastal Collegiate Sports Association Swim Championships in Athens, Georgia. The last time Taylor could make her mark in the record books. And she did, by capturing three records: the 200 butterfly, 1650 freestyle and 1000 freestyle, as well as the 400 medley relay the day before.
In the 200 butterfly, Taylor broke her own record twice in the same day, with a time of 2:02.45 in morning preliminaries, then with a 2:02.05 time in the finals that evening.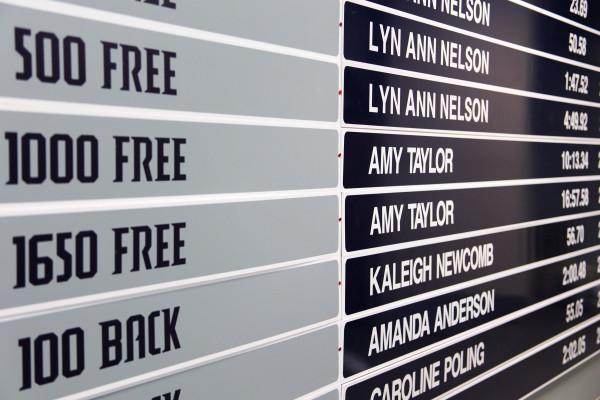 Coach Coffey said the conference meet was the best moment in Taylor's career:
"What stands out to me, I would say would be Amy's last day of the conference meet. She had the tough triple as I call it. She swam in the morning with the 200 fly at the end of the trials, then came around a couple hours later and swam the mile and then swam the 200 fly again and then led off the 400 freestyle relay to finish out the meet. So that's four really tough swims in one day, and you know, she went after it and broke three records in one day so I think that's quite an accomplishment."
When asked to describe Taylor in one word, Coach Caffey took a moment to think, years of success running through his mind before saying one word. Determined.
Taylor has left her mark with three Coastal Collegiate Swimming Association Swimmer of the week awards. She became the first Osprey to become a four-time member of  the CCSA All-Academic Team, all while working towards a health science degree.
Amy Taylor is able to say she accomplished what she set out to achieve when she started her journey at UNF. She is a successful student, the captain of the swimming team and a leader to those around her.
Even after she graduates, her legacy will remain.
"I think my legacy is definitely having my name on the record board," Taylor said. "Hopefully future swimmers can look at my times and accept that it's a standard and go after my times and hopefully beat them pretty soon."
—
For more information or news tips, or if you see an error in this story or have any compliments or concerns, contact [email protected].