Sport Weekend Recap: A-Sun Championship Edition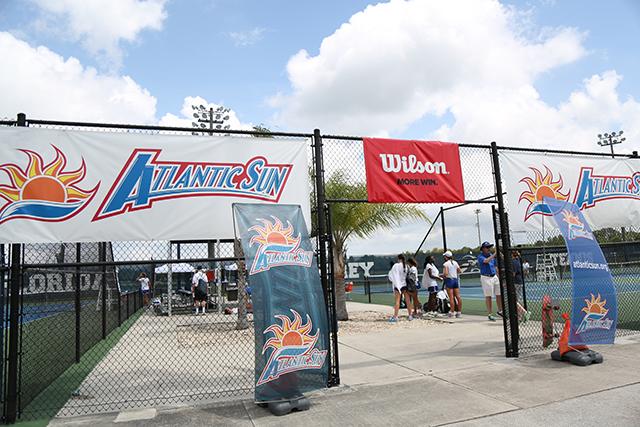 North Florida earned three more Atlantic Sun Championship titles to its trophy case over the weekend, thanks to beach volleyball and men's and women's tennis. The women's golf team also claimed its first title earlier this month.
Beach Volleyball: Upset Alert
The Ospreys came out and upset top seeded Stetson 3-2 in the final round to bring the championship home on April 24 in Emerson, GA.
Both teams battled on the sand-filled court, with Stetson grabbing the first points. North Florida answered back and continued its fight for the title until the last match.
It would come down to Lauren Ford and Kimberly Ferguson at the No. 2 spot. After splitting the first two sets, the last set was the decider. With a 15-13 victory, the Ospreys walked out of the sand with their third conference title.
Now North Florida must wait until May 1 to see if their name will be called during the NCAA.com Selection Show at 9 p.m. The beach volleyball collegiate championship has three teams from the west region and three teams from the east region. Along with those teams, there is two at-large teams.
Men's Tennis: First Time Champions
On the tennis courts in Spartansburg, South Carolina, men's tennis claimed their first Atlantic Sun title over the USC Upstate Spartans.
Sahil Deshmukh closed the match with a 4-0 victory after earning two back-to-back wins.
In doubles play, the No. 3 match was the decider. Deshmukh and Julian Bradley battled, and the match went down to the wire tied at five. The pair grabbed two more points to seal the victory.
With the title, North Florida earns an automatic bid into the NCAA Championship. On May 3, the Ospreys will learn who they face.
Women's Tennis: Perfect Run
Top seeded North Florida claimed their second-straight Atlantic Sun Championship title over the Florida Gulf Coast Eagles.
Luise Intert sealed the 4-2 match at the USC Upstate Tennis Complex.
In doubles play, the two teams split points on the No. 1 and No. 3 spots before Intert and Rafaela Gomez earned the final double points on court two.
During singles play, the Ospreys had a 3-0 lead when the Eagles began their rally to bring the score to 3-2. Intert won her sets 7-5 and 6-3 for the title.
Now the Ospreys will wait until May 3 to see who they will face in the NCAA Championships.
—
For more information or news tips, or if you see an error in this story or have any compliments or concerns, contact [email protected].