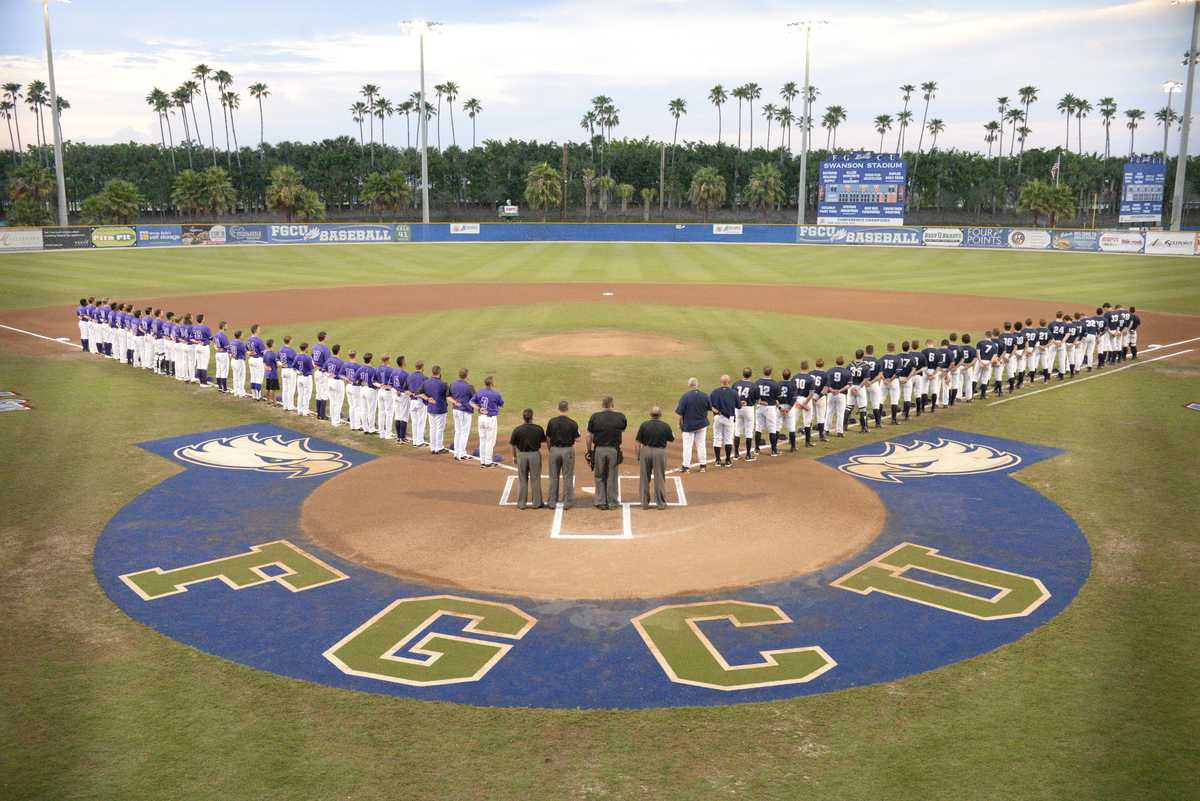 Corey Fehribach's solo homer that clanged off the scoreboard in the top of the ninth was the winning run in FGCU's 3-2 ASUN semifinal win, leaving the Ospreys still searching for their first ASUN title.
The Ospreys had already faced FGCU in the first round of the tournament, beating them 12-6 thanks to an offensive onslaught and the Eagles capitalized late.
UNF received good news prior to the game when they learned FGCU's ASUN player of the year Jake Noll would miss the game with a strained oblique muscle.
In the first three innings, the Eagles had little trouble getting runners on base against UNF pitcher Matt Vaka. UNF's defense had to turn inning-ending double plays in the first and third to escape without giving up a run, and in the second, an FGCU runner was tagged out at the plate.
UNF loaded the bases in the third inning and stranded two in fourth inning, but only squeezed one run out of both innings. In the third, Dakota Higdon's single scored Chris Berry from second base, then a Nick Karmeris single drove in Corbin Olmstead from third in the bottom of the fourth.
FGCU took a 2-1 lead in the top of the fourth. Gage Morey got an RBI single with the bases loaded, then Stefano Belmonte scored off a Corey Fehribach sacrifice fly to deep center field.
Hitters struggled against Ospreys pitcher Daniel Moritz and FGCU pitcher Christian Townsend over the next four innings. Moritz was pulled for Olmstead in the top of the eighth inning. Olmstead, a First Team All-Conference selection at pitcher, floated a breaking ball high in the zone for Fehribach, who hit the first home run off Olmstead this season.
Then a set of near identical circumstances– like their 7-6 loss to Stetson— unfolded for the Ospreys in the bottom of the ninth. Third baseman Alex Merritt reached first on a error and was switched out for freshman Dalton Board. A sacrifice bunt and a ground out pushed the tying run to third. With two outs, Kyle Brooks grounded out to second and Board was stranded at third, again.
FGCU advanced to the ASUN championship the same night they lost to Stetson 5-4.This marked the first occasion where the two lowest seeds in the tournament had played each other. Had the Eagles beaten the Hatters, they would've had to play them on Sunday as well.
The Ospreys finished their 2015-2016 campaign with a 39-19 record.
—
For more information or news tips, or if you see an error in this story or have any compliments or concerns, contact [email protected].