Player Profile: Garrett Sams
Leading up to the start of basketball season, the Spinnaker will be profiling the incoming recruits for the 2016-2017 season.
Garrett Sams is a 6-foot-6-inch guard from Martin, Tenn., who chose to sign with UNF over Union University during the early signing period last November.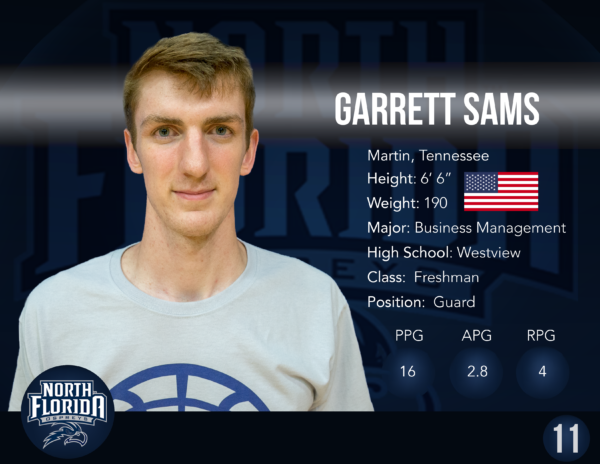 Strengths
Sams is an assassin from anywhere in the gym. He has exceptional length for a guard, which allows him to make contested shots over defender's outstretched hands and create his own shots. His range goes a couple steps beyond the three-point line, which spaces out the defense and decongests the lane for quicker teammates. Sams can finish gracefully with the left or right hand around the rim and rarely gets his ball sent into the stands. An 84 percent free-throw shooter, Sams gives you an automatic two points when he's sent to the line.
Weaknesses
At 6 foot 6 inches and only 190 pounds, the young guard should be given a key to the UNF gym. Thicker forwards will box out the string-bean freshman and own the boards if he can't fill his uniform out before the start of the season. His lack of size makes him un-intimidating as the screener in a pick and roll set, which handcuffs the offense. Another area of concern is his lack of quickness at guard. Offensively, he'll have trouble getting open looks and attacking the basket if his feet are stuck in concrete. Defensively, if his feet aren't fluid enough to stay in front of shifty guards, and he doesn't have enough size to protect the rim from bulkier forwards, he could become an unaffordable liability that opponents expose.
How does he fit?
When Beau Beech and Trent Mackey graduated last year, the 'Birds of Trey' had their wings clipped. The two starters combined for 605-career threes and led the Ospreys to consecutive regular season championships. Needless to say, the team will be looking for a player to step up and fill the void created by their departures. With Aaron Bodager likely getting starters minutes this year, I can see Sams filling the role Bodager played last year – a consistent backup who can knock down a corner three and play smart defense. As long as he isn't a turnstile on defense, his shooting makes him a valuable asset off the bench.
Comparison
A good pro comparison for Sams is Channing Frye. Frye is a lights-out shooter with size, but lacks the athleticism required to see starting minutes. Frye's size and shot make him a tough matchup in a pick and pop play, even though he's not a threat to roll to the basket. Sams has the potential to develop his game and become a more pure scorer, but right now he should work on making his shot automatic, and fill a roll similar to Frye.
—
For more information or news tips, or if you see an error in this story or have any compliments or concerns, contact [email protected].