Women's Soccer Earns First Victory After Second-Half Surge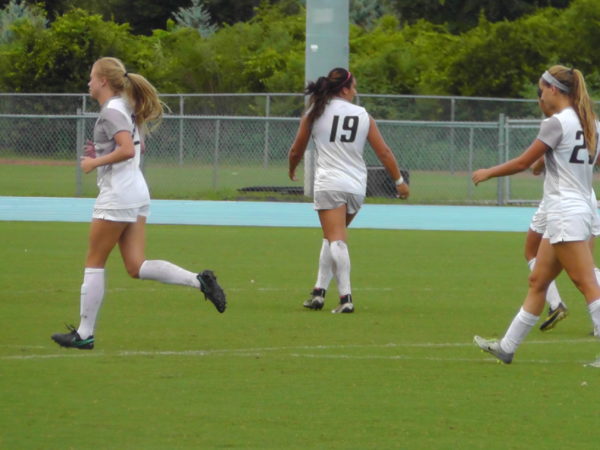 Women's soccer earned its first win of the season Sunday afternoon, with a dramatic 5-4 victory over the Alabama State Hornets in Hodges Stadium.
Senior midfielder Alexis Bredeau put the Ospreys on her back, scoring three of the team's five goals.
The Ospreys jumped out to an early lead at the 8:26 mark, when Bredeau scored the first goal of the match and her first of the season. With an assist from Krista Colubiable, she was able to cross from outside the box for a diving header.
23 minutes in, Alabama State answered with a goal from Ariela Lewis, who was assisted by Aaliyah Lewis, knotting the score at 1-1. The Hornets took a 2-1 lead at the 35:57 mark, when Inma Martinez scored a goal on a turnaround shot from long distance.
The Hornets furthered their lead at the 40:57 mark, when Emily Fleming's shot ricocheted off the UNF's goalkeeper's hand for Fleming's first goal of the season.
The Ospreys came out of the halftime break strong. Bredeau ended UNF's drought early in the second half with her second goal of the game. A little over a minute later, Bredeau scored her third goal, tying the game at 3-3.
"[It's] amazing, I don't think that I've ever scored three goals in a game in my life," Bredeau said.
She went on to describe how their play changed after the break.
"We struggled a little with our unity, we got each other's fire going again then we came back in and capitalized." she said.
After a penalty kick by Martinez at 58:14, the Hornets retook the lead at 4-3.
The Osprey's continued their second half surge, when junior midfielder Sarah Wasser scored her first goal of the season at 62:42 and tied the game at 4-4.
Junior midfielder Katy Mixon scored her first goal of the season and UNF's fifth of the match for the game winner.
Coach Robin Confer described the team's effort in the comeback win.
"It wasn't pretty, we had to really work hard for it," she said. "They could have put their heads down after going down 4-3, but we found a way. I'm proud of the team and their fight."
Next, the Ospreys go on the road for a Friday night matchup against Furman in Greenville, South Carolina.
—
For more information or news tips, or if you see an error in this story or have any compliments or concerns, contact [email protected].