The Week Ahead: Sept. 5 – Sept. 11
Monday Sept. 5
It's Labor Day! Don't. Do. Anything.
Tuesday Sep. 6
Opening Reception for UNF Wood-Fired Ceramics Invitational
When: 6 p.m. – 8 p.m.
Where: Student Union, Building 58E, Room 2401
Event was supposed to happen last week. THANKS HERMINE. Here's what I wrote last week: "Check out what UNF art students are making. This time, it's ceramics made from a wood furnace." The exhibit lasts from Sept. 5 – Oct. 15, 2016.
Twisted Tuesdays featuring Fishy Friends
When: 6 p.m.
Where: Osprey Plaza
Campus Life giving away fish (as pets). Too bad they don't have any feelings.
Wednesday Sep. 7
Pizza on the Plaza
When: 11:30 a.m. – 1 p.m.
Where: Plaza between buildings 51 and 59
Another event that got rescheduled — the College of Arts & Sciences is giving out free food in their welcoming event to students.
Osprey Productions Presents: Now You See Me 2
When: 6 and 9 p.m.
Where: Student Union Auditorium
Thursday Sep. 8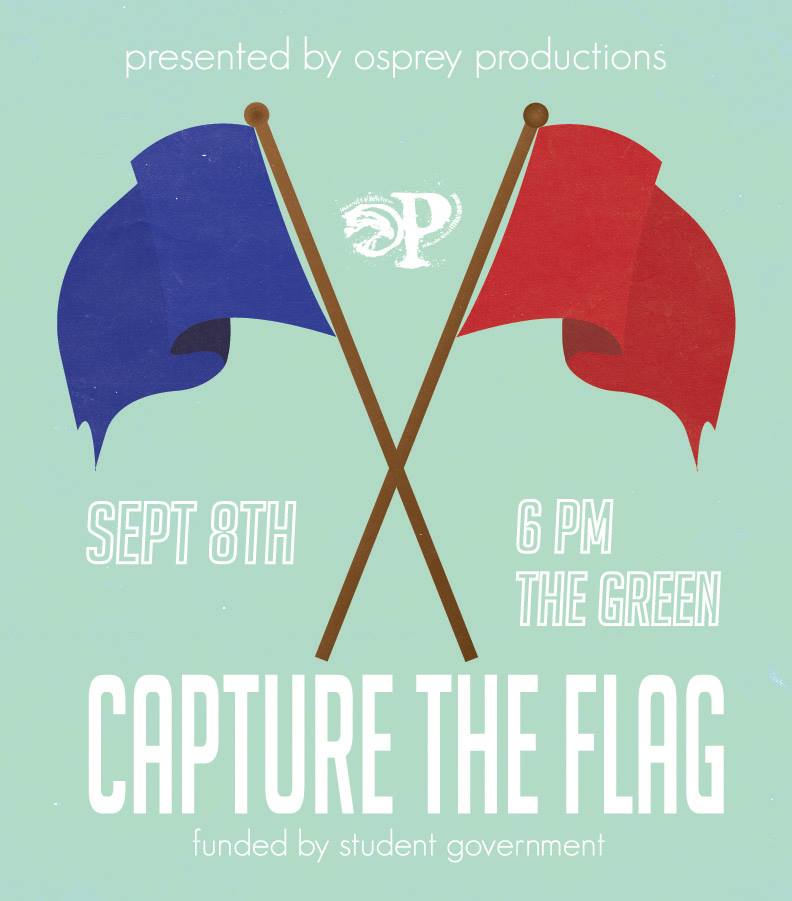 Osprey Productions Presents: Capture the Flag
When: 6- 8:30 p.m.
Where: The Green
Osprey Productions will play multiple rounds of this student-favorite at at the Green
Zika 101 Update
When: 3:30 p.m. – 5 p.m.
Where: Student Union West, Room 2704
This seems important. Student Health Services will brief attendees on the danger, effects and prevention of the virus.
Friday Sep. 9
When: 12-3 p.m.
Where: Arena, Building 34
When: 6-9 p.m, 10:30 a.m. – 10 p.m. Saturday, 10:30 a.m. – 9 p.m. Sunday
Where: Student Union, Building 58W
When: 6:30 PM – 8:30 PM
Where: Building 58, Student Union 3703 – A Section
The AASU (African American Student Union) and LASO (Latin American Student Organization) present a discussion on minority culture in America.
When: 7 p.m. – 9:30 p.m.
Where: Hodges Stadium
The undefeated Ospreys face FIU, fresh off a win over ranked North Carolina State.
When: 7-9 p.m.
Where: Arena, Building 34
The Ospreys (5-3) look to build on solid performances from their open three weeks of play.This game kicks off the Best Western Osprey Invite. We got Best Western to sponsored this? Damn

Clubhouse Friday featuring Friday Night Live
When: 8-11 p.m.
Where: Osprey Clubhouse
Stop by the clubhouse where Campus Life will screen the Syracuse vs. Louisville college football game.
When: 9-11 p.m.
Where: Science and Engineering, Building 50 (the roof)
Check out the stars with the Physics department's new 14'' inch telescope. Only students with reservations can view from 9-10 p.m. After that walk-ins are welcome from  from 10-11 p.m. Reservations are made through Eventbrite.
Saturday Sep. 10
When: 7:30-11 a.m.
Where: UNF Golf Complex at the Hayt Learning Center
The North Florida Cross Country teams host their annual Invitational race. Do you know that anyone can run unattached in the race for $25?
When: 4-6 p.m.
Where: Arena, Building 34
—
For more information or news tips, or if you see an error in this story or have any compliments or concerns, contact [email protected].