Women's Soccer holds momentum throughout the Friday's loss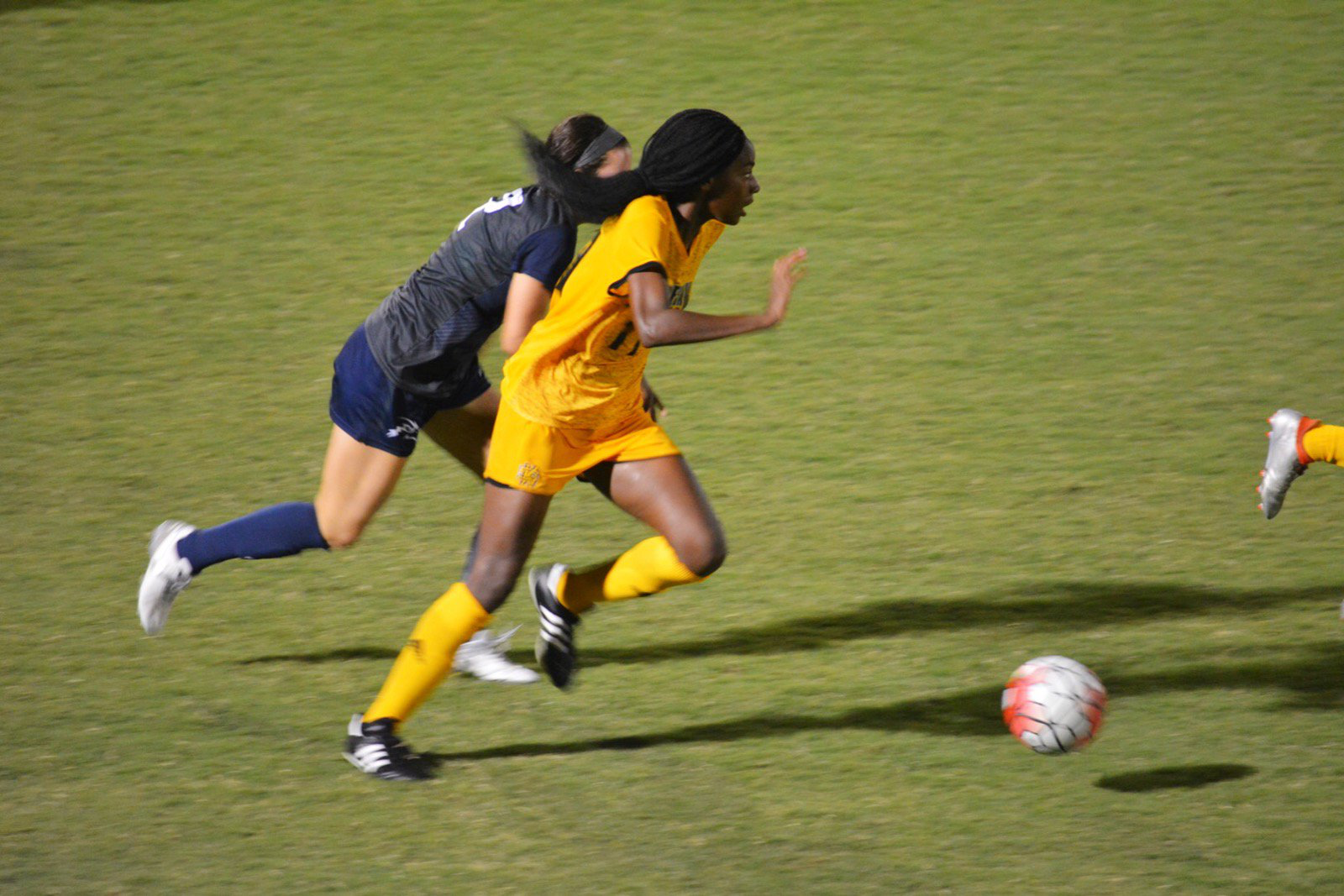 Friday night lights dawned Hodges Stadium and gave a new light to the UNF Women's soccer team. As the women played Friday night's match against Kennesaw State they did not give up hope in the 2-1 loss.
Many fouls slowed Kennesaw State (6-5-1 overall, 1-1 ASUN) early in the match, but were able to overcome the Ospreys' attacks.
At the ten minute mark, Kennesaw State scored first with a tap in to get past Senior goalie Victoria Ekeli.
As halftime came around, UNF (4-5-2 overall, 0-2 ASUN) picked up speed with corners and aggressive attacks.
Ekeli held direct shots and dropped down low to cover ground assaults to keep defense high. The UNF's backfield defended corner shots by deflecting back to their attack.
Junior, Sarah Wasser, made several plays Friday night to keep up UNF vigor.
"We played a really good first half. We had a lot of confidence," Wasser said. "Keeping up confidence is key, especially while giving high performance 90 minutes per game."
Wasser took multiple corner kicks with potential to score, but was deflected away by defenders.
At the 39th minute, a tough miss that went high was the result of a penalty kick that was taken by Gabrielle Liguori.
However, in the 66th minute,  Liguori redeemed herself with another penalty kick that was converted into a goal to tie the score midway through second half.
Kennesaw State answered rather quickly with a new goal at the 68th minute to cement the lead at 2-1.
Liguori says there are ways to get wins at these conference games.
"If we could just play our wide players faster and move forward and actually get up the field faster it's going to be a much more productive game," Liguori said.
The ladies return to Hodges Stadium Sunday afternoon for a matchup against Lipscomb.
—
For more information or news tips, or if you see an error in this story or have any compliments or concerns, contact [email protected].