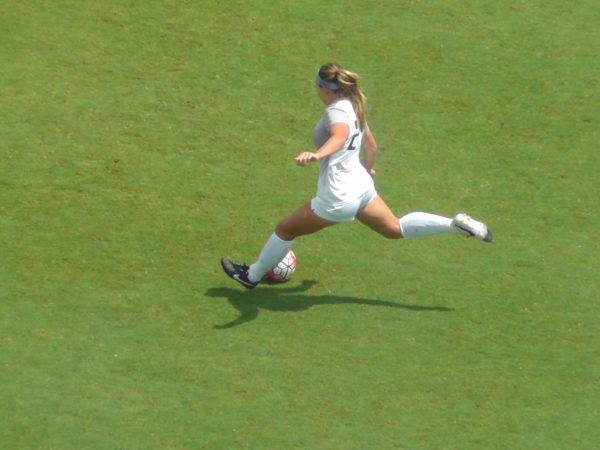 With the season on the verge of ruin, North Florida women's soccer (6-6-2 overall, 2-3 ASUN) desperately needed to snap its three-game losing streak in conference play. The Ospreys responded by winning the first two of their three road games and getting back in the ASUN race.
Its first road test was in Newark, New Jersey in a showdown against the NJIT Highlanders (5-7-2 overall, 1-3 ASUN.) North Florida made it clear it would not lose four straight without a fight by getting almost twice as many shots at NJIT on the game with 13-7.
However, the first actual goal of the game didn't occur until the 36th minute when junior midfielder Katy Mixon broke the silence. The Highlanders quickly managed to tie the game just before halftime thanks to a penalty kick by Melanie Zrno.
With the game at a crossroads, North Florida knew that it would have to not just beat NJIT, but have to bury them. That's exactly what happened.
At minute 76, sophomore defender Kelli Crowley got one in the net, but the team wasn't finished. The Ospreys had to prevent another late goal by the Highlanders, but Mixon made that a mute point soon after. Mixon managed to seal a 3-1 win by scoring one last goal at minute 82.
Two days later on October 9th, the Ospreys had one last test for the weekend against USC Upstate (0-12-3 overall, 0-4-1 ASUN.)
After a scoreless first half, the defensive battle quickly became a shootout with two quick goals by now-rising star Katy Mixon in minutes 46 and 49. The goals now tie Mixon with Alexis Bredeau as the team's leading scorers on the season.
The Spartans responded with three unanswered goals to go up 3-2 with only eight minutes to play. With the comeback win almost complete, North Florida managed to get in one last goal by sophomore forward Krista Colubiale to force overtime.
With the game and possibly the season on the line, the Ospreys answered the call at the 97th minute with the game winning goal by Sarah Wasser. The Ospreys won the game 4-3, but more importantly they have quite possibly witnessed a star being born with Mixon not only leading the team in goals for both of this weekend's games, but she also had the assist for both of North Florida's final scores in the Upstate match.
The Ospreys finish its road stretch against Stetson on Oct 15.