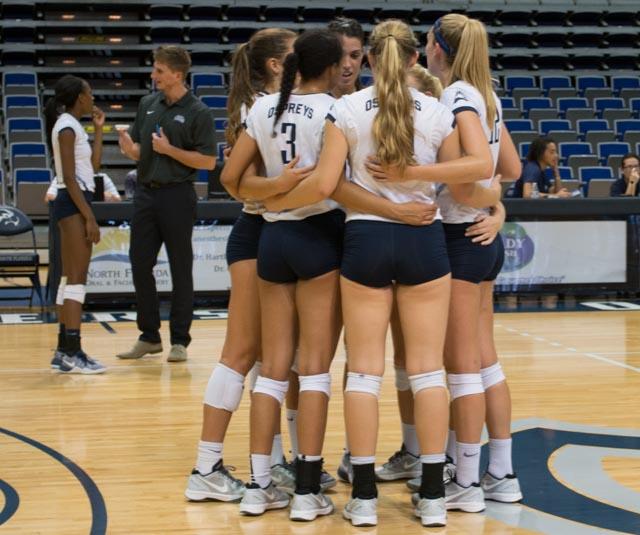 Over the weekend, the volleyball team split its two ASUN roadgames bringing its conference record to 4-3 and overall to 14-9.
STETSON (25-21,19-25, 25-21, 25-21)
The Ospreys took the short trip to Deland, FL on Friday night to face the Stetson Hatters.
UNF came out eager for its fourth straight win.
Early on the play at the net was even. UNF had 13 kills in the first set to Stetson's 12.
ASUN Conference Freshmen of the Week Gabby O'Connell had a team high 14 kills. This is the third time that O'Connell has earned this accolade.
The Ospreys won the first set 25-21.
Stetson came into the second set a different team. The two teams were almost even in every category. The Hatters took the set 25-19. The squads went into halftime tied at one set.
Out of the break, the Ospreys had no mercy. They out killed the Hatters by 10.
Three UNF players had double figures in kills. O'Connell had 14, Katarina Raicevic had 11, and Erin Edwards had 10.  UNF won the third set 25-21.
Setter Madilyn McCarty earned a double double with 52 assist and 12 digs and teammate Raicevic had 11 kills and 10 digs. UNF took the match 25-21, and the game 3-1 sets.
Florida Gulf Coast University (22-25, 20-25, 12-25)
On Saturday, UNF faced the FGCU Eagles in Fort Myers, FL. The birds of prey went head-to-head in this evening match up.
The first set was tight as both teams competed for the win. The set was tied 12 times, but the Eagles went on a 7-2 run to to win the set 25-22.
No Ospreys were in double figures for kills and the team had a total of 32 kills.
The second set was a similar story. The teams were evenly matched, but FGCU had an edge over UNF and won the set 25-20.
UNF came out of halftime cold. They only had 7 kills to FGCU's 13 kills. The Eagles took the third set 25-12, and the game in three straight sets.
This win brought the Eagle's ASUN record to 6-1.
With that FGCU snapped UNF's four-game win streak.
The Ospreys' ASUN record is now 4-3, as they continue conference play later this week.
Next the Ospreys face its city rival Jacksonville University on Oct. 21 at 7 p.m. at the UNF Arena.
The Ospreys won the first meeting of the River City Rumble in five sets, so this game is going to be a good one as the Ospreys look for the sweep.
—
For more information or news tips, or if you see an error in this story or have any compliments or concerns, contact [email protected].