Dallas Moore, Ospreys incinerate Edward Waters 109-73
Video by Ronnetha Rogers and Joslyn Simmons
With a 6-1 record in home openers, North Florida (1-1) Head Coach Matt Driscoll looked to pad his record against in-town opponent Edward Waters (1-3.) The Ospreys have dominated the series against the Tigers 15-3 including a 98-69 rout last time these teams met in 2015.
In the opening minutes of the game, senior guard Dallas Moore erupted to get the team's first 10 points and had 12 in only the first four minutes. Moore went on to dominate the game with 37 points, but was pulled from the game before he could be the first osprey to drop a 40-burger since 2012.
Right before halftime, Edward Waters' Jonathan Hart was called with a technical foul and the Ospreys got and converted four free throws. This combined with two free throws for Davenport on a separate foul meant the Ospreys scored 6 points in the final 3.5 seconds of the half.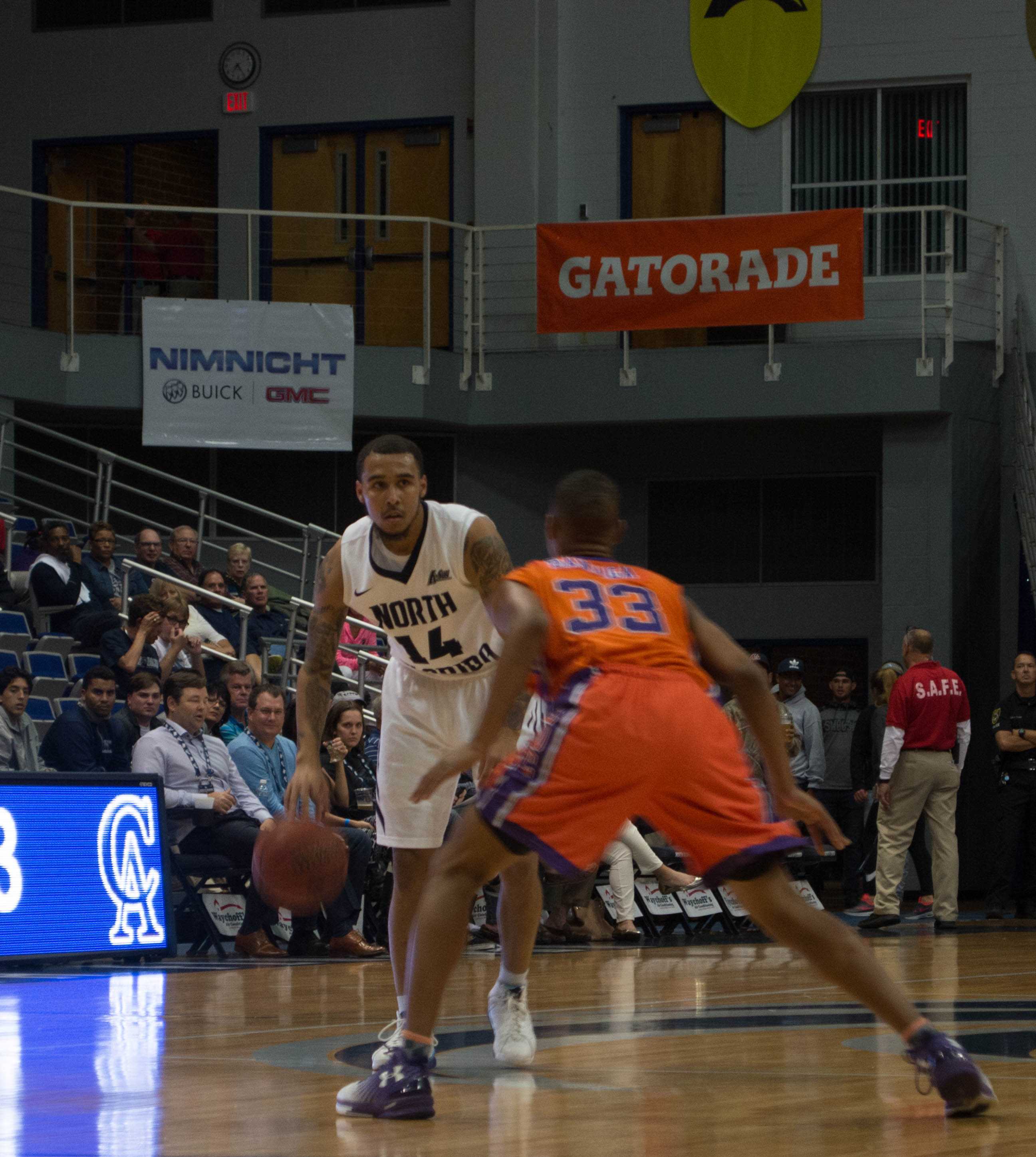 "Melo tapped 44 and he [Hart] flopped," Moore said. "I guess the rule is now that if you flop you get a technical foul."
Other key players in the first half included senior forward Chris Davenport who had a game-high 6 rebounds in the first half (8 total) and Romelo Banks who missed last season with an injury who had 16 points and one rebound shy of a double-double.
However it wasn't all positives for the Ospreys. Removing Moore's 5-10 performance from beyond the arc, the rest of the team only converted 1 of 20 3-pointers.
What the Birds of Trey lacked in three pointers they made up for in the paint. North Florida dominated the Tigers below the basket 54-16.
Additionally the bench accounted for 40 points (including Chase Driscoll's first career point) to help seal a 109-73 win. To address the mistakes and the successes of the night, Coach Driscoll encouraged his team to keep things simple and try not to do too much.
"We tell the guys to be Derek Jeter," Driscoll said. "He hits singles and doubles and Joker's in the hall of fame. You don't have to hit home runs just hit singles or doubles. When you have this much offensive firepower in the system we play *whew!"
North Florida takes on Miami on Nov.16 at 7 pm at the UNF Arena.
—
For more information or news tips, or if you see an error in this story or have any compliments or concerns, contact [email protected].