Romelo Banks: The journey back to the court
"Out for the season" is a phrase no athlete ever wants to hear. All the work: from early morning workouts, intense practices and late night shootarounds stops like a car in five o'clock traffic. They can easily become discouraged and some may just quit the sport altogether.
Others see this as a challenge that will push them to the next level.
After being sidelined for the 2015-2016 season, Romelo Banks is ready to be the towering presence smack in the center of the paint for the Ospreys again. His journey is more than just bouncing back from an aggravating ankle injury and picking up from where he left off two seasons before.
For those who know Banks, he is more than just a six-foot-eleven center that can play a fluent game in between the black line of the court. Banks was a key piece for North Florida during its historic run to March Madness in 2014-2015. His energy is calming and his smile is big: no injury could change that.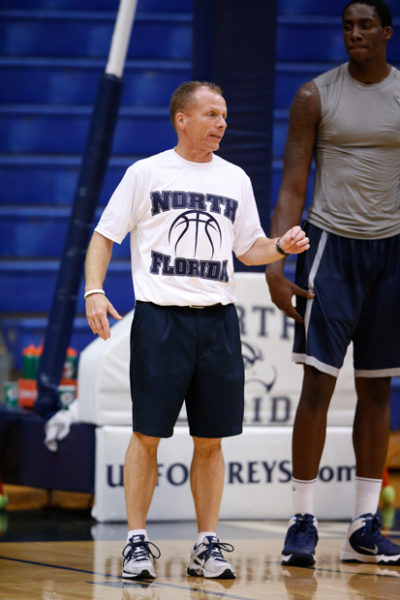 Men's basketball head coach Matthew Driscoll described Banks as being a team guy.
"I think the guys are most excited because they love Romelo," Driscoll said. "They're mostly excited because they know Romelo missed and felt a little bit bad and or guilty he wasn't out there to help us in certain situations."
| | |
| --- | --- |
| Games Started | 35 |
| Minutes per game average | 16.9 |
| Field goal % | .477 |
| Free throw percentage | .549 |
| Offensive rebounds | 39 |
| Defensive rebounds | 60 |
| Blocks | 18 |
| Points per game average | 5.3 |
On the outside, it seemed everything was going as planned. But then his progress came to a stop louder than squeaking shoes scuffing the court. In Banks' case, his ankle began to become a recurring problem until finally his body had enough.
"We were going to the NCAA tournament and I just kept on playing on it. I got treatment here and there, but I wasn't getting as much treatment as I needed," Banks said. "The scar tissue kept building up in my ankle."
Injuries are routine in a sport that carries on for months, with players' bodies bearing the brunt of the wear and tear of the season. Six weeks out turned into eight weeks out, and then finally two surgeries, the second of which doctors removed a bone that sat on his heel. By taking this bone out, Banks' season was over.
"It was tough at first, as the season went along it's just, I came to acceptance with it," Banks said. "At first I was just angry, I was just like you know I was working up to that point and then I felt like it was a big setback. But I kept on telling myself, that this setback is going to create something that is going to be greater than what it was."
Last season, Banks gained a new perspective on basketball. The Ospreys' couldn't go to him for his average of 19 minutes a game. But that didn't stop him. As he sat on the bench in his North Florida's warmup suit, he studied. Every possession from the fast breaks lead by teammate Dallas Moore, to the hot-handed shooting of Beau Beech and the forced turnovers late in games.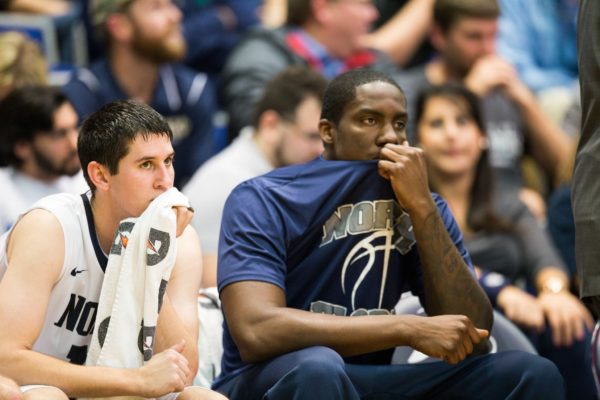 "And I just kept on cheering on my teammates, helping them any way I can and whatever I could work out, the stuff I was allowed to do, I was trying to do it 110 percent," Banks said.
Coach Driscoll believes Banks used his time to become an even better player mentally.
"So we are really, really, really pleased how he not only came out of it from a rehab situation, but actually how he grew on," Driscoll said. "He was able to take that time to utilize becoming stronger."
A mentality that drove Banks to make great strides during his intense rehab process to get back on the court. During post game press-conferences, Driscoll and teammates updated Banks' status by describing him as bigger than he was his sophomore year. No longer was he a 212 pound freshman reserve, now he's a muscular 245 pounds.
"It was tough at first you know just like always," Banks said. "Then as my body [got] used to the process and I started getting used to the process mentality, everything got easier. Now it's like second nature, I know I just have to take care of my body."
With Banks off the court, his team had its own journey to travel. At times, adversity was met head-on. Against bigger teams, North Florida struggled by being out rebounded. Just like Banks, the squad was knocked down but they fought back.
When one member of the family goes down, everyone feels the pain and when they come back, it all fits like a puzzle. Throughout the recovery process, the team has kept up with Banks and his progression as the year rolls into a new season on the court.
Driscoll described Banks' skills as the guidelines of what his expectations are this season comparing Banks' jump hook second to Ekpe Udoh, sixth pick in the 2010 draft.
"But [Banks'] jump hook is phenomenal, phenomenal however his ability to rebound, move, handle the ball," Driscoll said. "He can pass way better than people know because he is such a team guy and has the ability to play that team. Our expectations for him are in line with his abilities."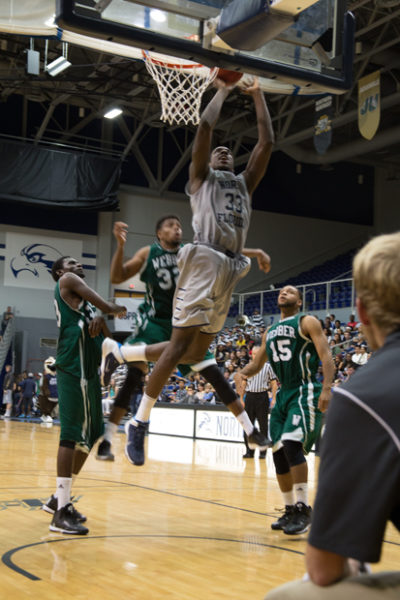 Two surgeries and rehab can't keep Banks down. He can complement the offensive threat of Moore and the versatility of forward Chris Davenport. This season, Banks is back to take a load off a team in transition. Now that sixth man Demarcus Daniels and sharpshooters Trent Mackey and Beech are gone, the team's dynamic has changed.  
Now Banks is ready for his return.
__
For more information or news tips, or if you see an error in this story or have any compliments or concerns, contact [email protected].