Three double-doubles not enough to extend championship play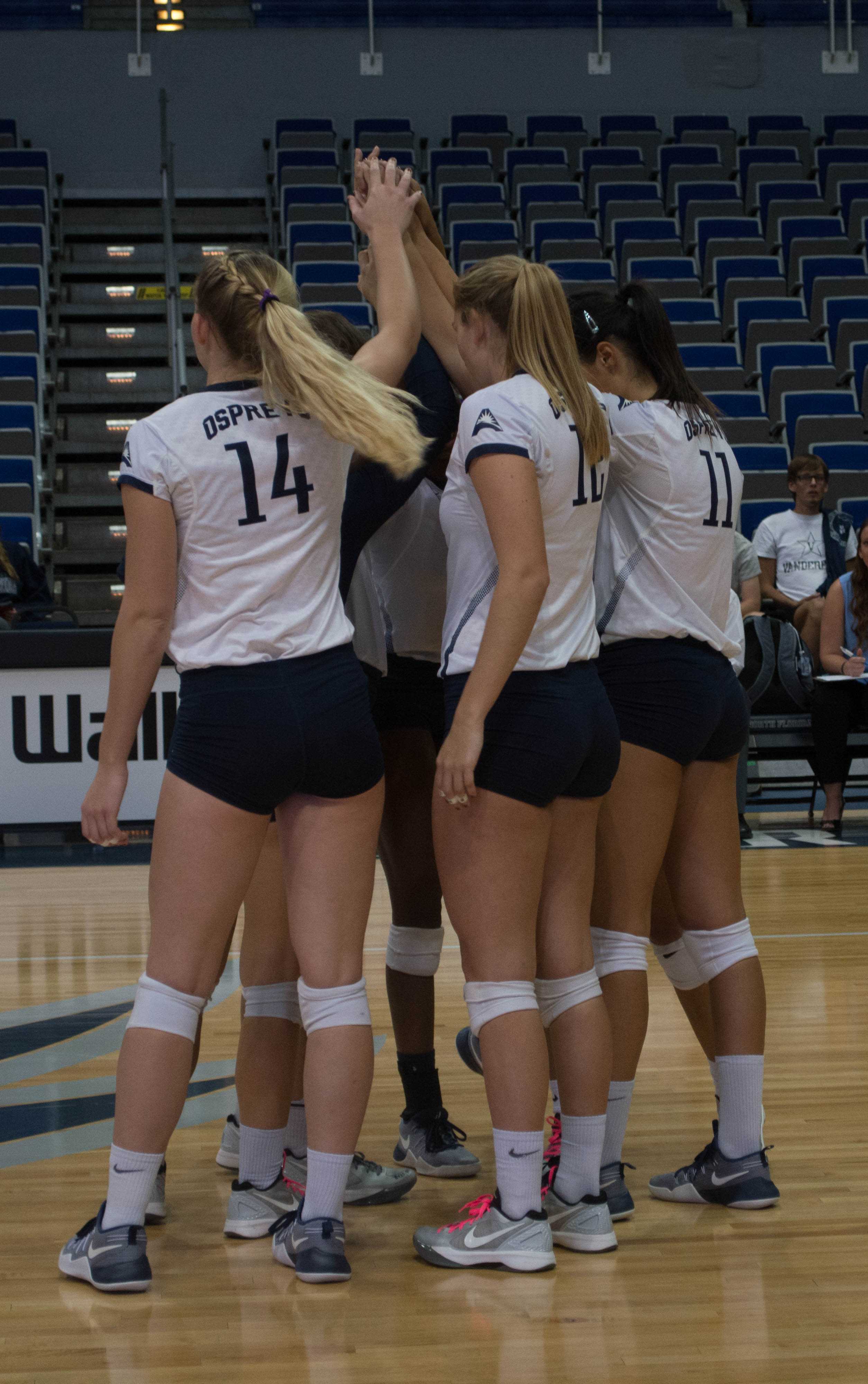 Even with three Ospreys earning double-doubles, it was not enough for UNF to advance further into the ASUN Volleyball Tournament.  
Ospreys (Overall 18-14, ASUN 8-6), the fourth seed, lost to USC Upstate (overall 14-18, ASUN 5-9) the fifth seed, in four sets. This loss ended North Florida's season in the first round of the tournament.
Both teams had swept each other in straight sets earlier during the season, splitting the two meetings between the squads.
The fourth-seeded Ospreys fought hard against the Spartans. ASUN Freshman of the Year Gabby O'Connell earned her thirteenth double-double this season with a game-high 21 kills and 15 digs.
The first set had nine tied scores and four lead changes, but the Spartans took the set 25-21.
Starting the second set, North Florida jumped out to a 6-4 lead, but were unable to hold on to it. Upstate took the second set 25-23, going into halftime with a two set lead over the Ospreys.
Katarina Raicevic also earned her third double-double of the season with a career best 20 digs and 11 kills.
Out of the half, the Ospreys looked refreshed and came to compete during the third set.
Setter Madilyn McCarty had a game-high 55 assists and 13 digs, also giving her a double-double.
The teams were even out of the break. UNF went on a five point run, causing the Spartans to take a timeout in order to slow the Ospreys down.
Carrine Turner returned for UNF for her first game since Oct. 29, with an unspecified leg injury. The setter had a quiet comeback with three kills and seven digs.
UNF swooped up the set, escaping elimination by winning the set, 25-21, forcing a fourth set.  
The fourth set was tightly contested with 10 tie scores and eight lead changes. After UNF took a 12-10 lead, the Spartans call a timeout.
Senior Kimberly Ferguson had a game and career- high 36 digs during her final game on the hardwood. She now has the third most digs in UNF history, with 1,028 career digs.  
The momentum switched to Upstate's side, and they were able to take the set, 25-22, and the game in 3-1 sets.
This win was the first postseason win for the Spartans. They will face Lipscomb Nov. 18 at 5 p.m. in the Allen Arena.
The Ospreys lose seniors Morgan Van Alstine, Erin Edwards and Kimberly Ferguson, three key starters, to graduation.      
—
For more information or news tips, or if you see an error in this story or have any compliments or concerns, contact [email protected].