Season-high turnovers slow down North Florida women's basketball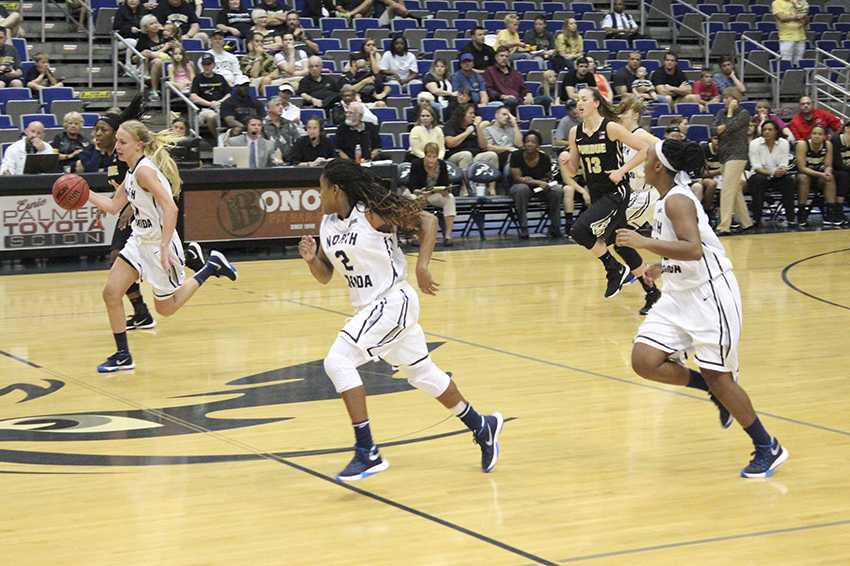 North Florida women's basketball team suffered a 78-52 loss on Sunday to the North Carolina State Wolfpack on the road.
NC State (7-2) lead the entire game over UNF (5-4). The Wolfpack lead in many key stats including field goal percentage and rebounds.
Despite the loss, three North Florida starters had double-digit scoring. Junior guard Sierra Shepherd had a team-high 13 points and two steals.
Simone Brown had a great all-around game. The redshirt-junior had 12 points and a game-high nine rebounds. The forward was only one rebound away from a double-double.
Senior guard Claire Ioannidis had 11 points in addition to three assists.
But North Florida needed more production from the bench. The reserves combined for only six points on the game while NC State had 27 points off the bench.
The Wolfpack had four players in double-figure scoring to the Ospreys three.
UNF had a season-high 27 turnovers, and NC State capitalized off of them scoring 29 points on the other end of the court. Without the points off turnovers, North Florida would have won the game 52-49.
Ultimately, North Florida's low scoring and high turnovers cost them the game.
Next the Ospreys look to bounce back against  Edward Waters College in the UNF Arena at 1 p.m. on Dec. 10.
—
For more information or news tips, or if you see an error in this story or have any compliments or concerns, contact [email protected].