How racer twins from UNF now compete in the big leagues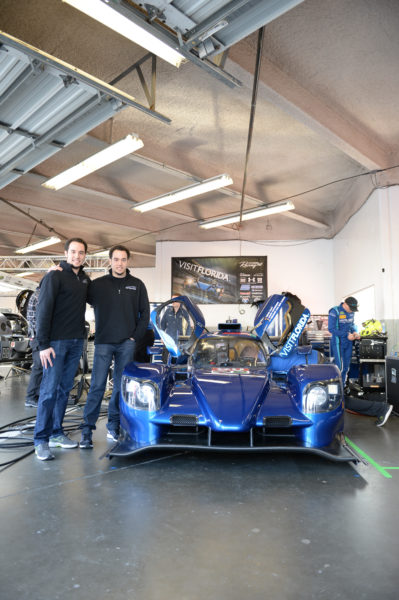 Just over a year ago, twin brothers Nick and Sky Squillace were building a race-car with their fellow Ospreys as part of the UNF Society of Automotive Engineers (SAE).
Today, the brothers have returned from a trip to Daytona where an LMP2 race-car they helped design and build for Visit Florida Racing, has finished on the podium of the Rolex 24 hour race.
This race-car was designed and manufactured by Riley Technologies, the company the brothers now work for. Riley Technologies is located in Mooresville, North Carolina, and is the sole prototype manufacturer in North America.
In 2016, Nick and Sky attended the IMSA test leading up to the Rolex 24 in search of jobs in racing. After networking and handing out resumes around the paddock, they were introduced to renowned prototype manufacturer, Bill Riley. He took their resumes and later invited them to the shop.
"We knew this was what we wanted to do," said Sky. "It's a very niche field to get into so we couldn't pass this up."
Nick was hired at Riley Technologies as part of the manufacturing department while Sky found his place at Riley as a design engineer.
It was their time spent with Formula SAE, a program at UNF, that helped them find a direction for their future careers.
Formula SAE is an inter-collegiate design series where students design and build an open-wheel race-car for competition in May of each year.
In their first year with Osprey Racing, Nick and Sky were part of the chassis and steering design teams. Using 3D Computer Aided Design software, a program that allows users to model, simulate and prototype design concepts, the car was created as part of a group effort with fellow students from various disciplines.
It was the work done in Osprey Racing that elevated their interest in what they were learning in the classroom.
"It was a very good way to get hands-on experience that you won't get in the classroom," said Sky.
After the car was completed, SAE members traveled to the Michigan International Speedway to compete against 125 other schools from around the world.
Their senior year, Nick and Sky took the roll of co-captains of the UNF Formula SAE team, and their success only reached greater heights from there, leading UNF to its highest engineering design score and overall finish in the program's four year history.
This past weekend, the twins traveled to Daytona with other members of the Riley Technologies team for the 24 hour race.
The team didn't expect the car to even reach the end of the first hour due to minimal testing, but they were pleasantly surprised when the car finished the race, completing 658 laps of the 3.56 mile circuit.
Currently, Visit Florida Racing is the only full-time customer team with the global spec LMP2 car. Riley Technologies expects a boost in sales figures thanks to the results of their car during this past weekend's race.
The brothers attribute their career in part to their time spent with UNF's Formula SAE team, which allowed them to gain valuable hands-on experience. They recommend the program to anyone interested in this field of work.
"The amount of time we spent in that club was incredible," said Sky. "It gives you great opportunity for hands-on experience that are applicable to concepts learned in the classroom."
__
For more information or news tips, or if you see an error in this story or have any compliments or concerns, contact [email protected].