North Florida falls to Hatters 62-44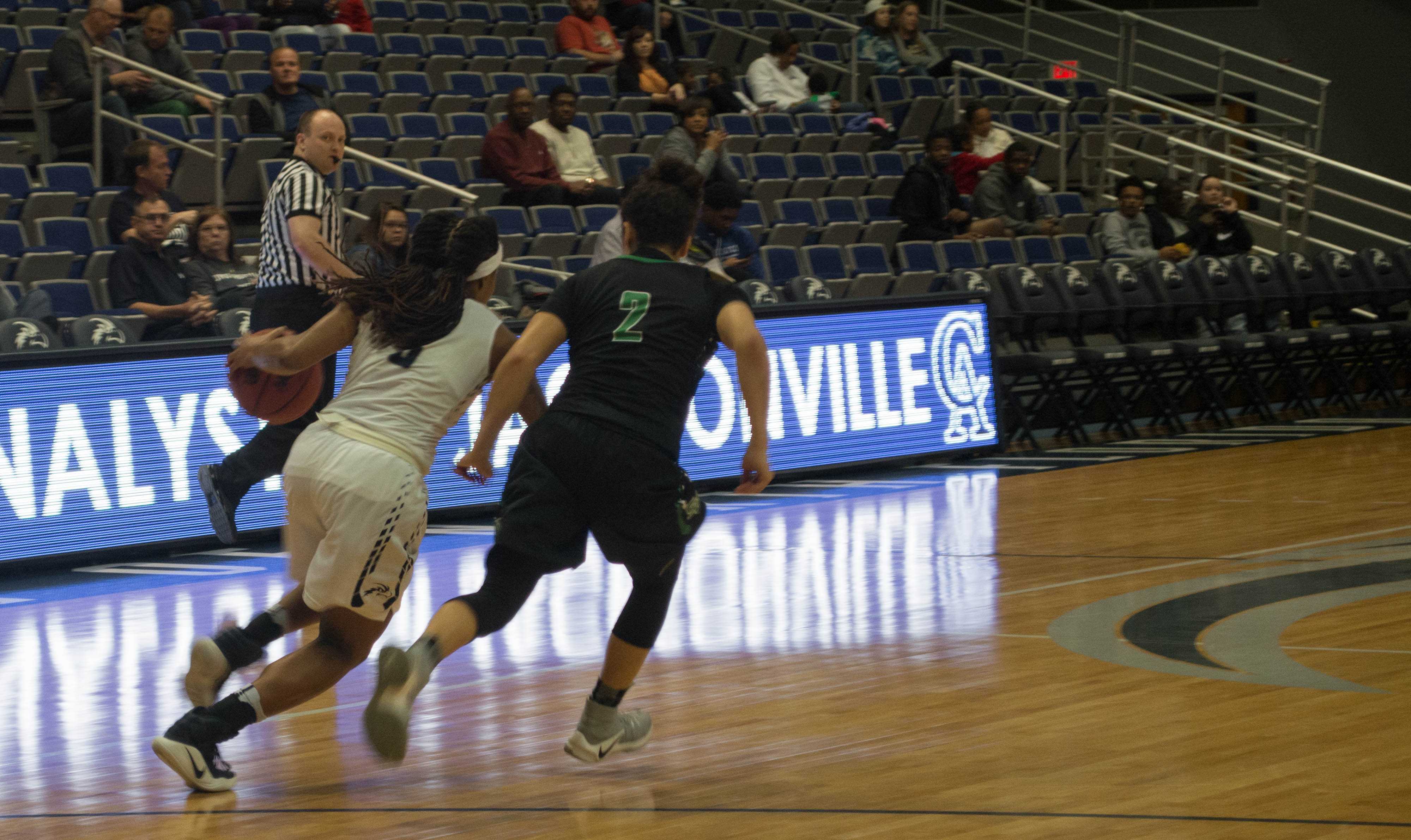 Stetson's superb post play and low North Florida scoring gave the Hatters the win 62-44.
UNF (8-15, ASUN 1-7) continued their spiral, starting their second half of ASUN play with a loss on Saturday to Stetson (18-5, ASUN 7-1).
Head Coach Darrick Gibbs spoke on the play as of late.
"It comes down to consistency and making sure that we do the positive more than the negative and right now we're struggling with that a bit," said Gibbs.
Low point production really hindered the Ospreys. The starting five combined for 18 points, and one starter did not score. No North Florida player had double-digits in scoring.
Stetson on the other hand had three players in double-digit scoring. Sarah Sagerer of the Hatters had a game-high 19 points, most of which came in the paint, and a game-high nine rebounds. She played like a woman amongst girls dominating the paint, and scoring almost every time she touched the ball.
Gibbs spoke on what the team could have done better on Sagerer.
"Guard her," said Gibbs. "You can't give touches to good post players."
UNF's Maiya Rumph and Jaiveonna Norris put up nine points each during the game. Rumph also grabbed a team-high seven rebounds.
Tesh Hanson took two hard falls during the game and "aggravated" her back, she would not return. This was Hanson's second game back after bruising her back during the Kennesaw State game back in January. Hanson would end the game with five rebounds and two points.
"The game came down to a couple things," said Gibbs, "which was offensive rebounds and turnovers."
Turnovers plagued UNF again. The team had 21 and the Hatters converted that into 19 points.
Stetson capitalized off of their paint presence and outscored the Osprey by 23 in the paint. UNF also never got going constantly on the offensive end of the court. Stetson won the game 62-44, handing the Ospreys their fifth straight loss.
Next UNF travels to face FGCU on Feb. 8 at 7 p.m.
—
For more information or news tips, or if you see an error in this story or have any compliments or concerns, contact [email protected].