UNF basketball faces off against Kennesaw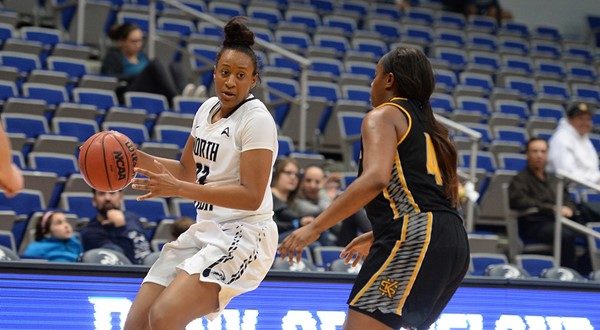 The UNF men's and women's basketball teams faced off against Kennesaw State over the weekend, giving up two hard-fought losses.
Men's Basketball
Kennesaw State downed North Florida in a team effort 85-68. Four Owls had double-digit scores, but only one player had more than 20 points, and he wore an Osprey jersey.
Senior Chris Davenport's career-high 28 points and team-high nine rebounds were not enough for the Ospreys to take the win on Saturday.  
KSU led for most of the game. The Owls capitalized on UNF's turnovers. KSU scored 20 points off UNF's 19 turnovers.
Dallas Moore scored just 15 points thanks to efforts from Kennesaw, and the senior shot only 29 percent from the field.
The Owls would go on to win the game 85-68.
North Florida will play their final regular season game in part two of the River City Rumble on Feb. 23. UNF takes on Jacksonville University at 7 p.m. in the UNF Arena.
Women's Basketball
Even with three North Florida players in double-digit scoring, Kennesaw State was able to edge the Ospreys 52-48.
The Ospreys had a higher free throw and field goal percentage than the Owls and dominated the paint 28 to 18. KSU was able to hit the shots that they needed.
Jaiveonna Norris tied for a team-high 11 points and grabbed a team-high five rebounds. Norris shot lights-out from the field, as she was the only player to go 100 percent from the field.
Simone Brown added on 10 points of her own and dished out a game-high five assists.  
This was a closely contested matchup. There were 10 lead changes and seven ties during the game.
UNF was able to go up 46-44 in the final quarter thanks to a steal and lay up by Adrienne Jackson. Jackson ended the game tied for a team-high 11 points.
The Owls would go on to sink a three regaining the lead. Free throws ultimately gave KSU the win 52-48.
Next the Ospreys will go on their final regular season away game as they face Lipscomb on Feb. 20 at 6:30 p.m.
—
For more information or news tips, or if you see an error in this story or have any compliments or concerns, contact [email protected].