Osprey tennis home opener brings three wins and a loss
The Osprey men's and women's tennis teams took on opponents at home this weekend. The men's team faced a victory and a loss, and the women's team won both their matches.
Men's tennis
After a sweeping Charleston, 6-0 the day before, the UNF men's tennis team(5-5) fell to South Alabama in a close 4-3 lose on Feb. 19.
The Ospreys were able to lock in the doubles point after sophomore duo Jonathan Deautriell and Sahil Deshmukh were able to clinch one doubles win. And senior Jack Findel-Hawkins and junior Jefta Kecic grab the other doubles win. This marks the fourth consecutive doubles win for Findel-Hawkins and Kecic, and the 10th straight doubles point win for the team.
During the singles match, it was a tough battle for victory. All six singles matches were completed and the Jaguars won four of the six singles matches to close out the game.
The loss to the Jaguars was the first time since the Ospreys played them in 2007.
They will hit the road and prepare to face long-time rival East Tennessee State University in Johnson City, Tenn. on March 3.
Women's tennis
After blanking Bethune Cookman 7-0 the day before, the UNF women's tennis team (5-4) faced Troy, in a victorious 6-1 match on Feb. 19 at the UNF Tennis Complex.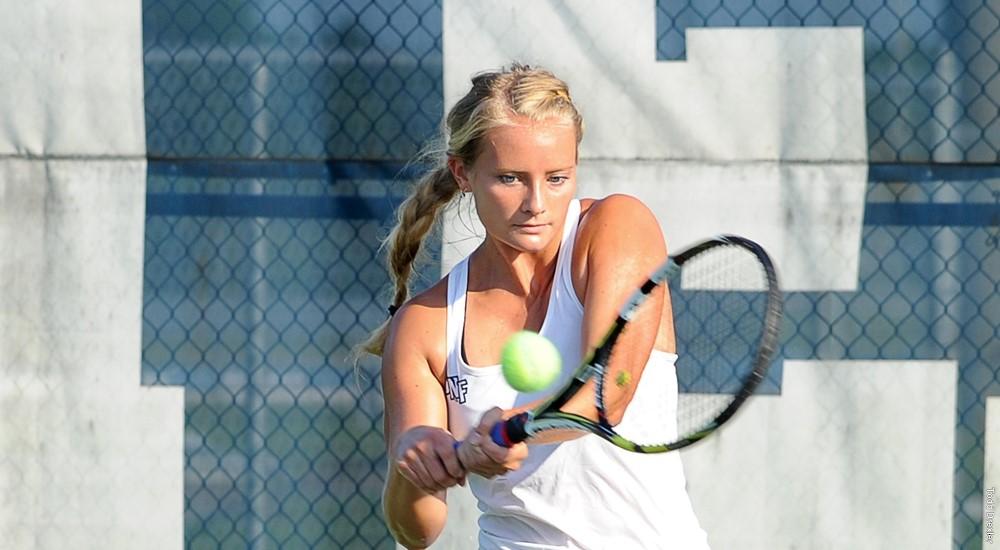 For the doubles match, the Ospreys won two of the three matches to come away with the doubles point. In the No. 1 doubles position, senior Quetzali Vazquez and junior Luise Intert defeated the Trojans 7-5. Doubles pair Michelle Valdez and Kinga Gartner, also defeated the Trojans 6-1.
The Trojans continued to struggle against the Ospreys when it came time for singles matches.
Every Osprey win from the match was won in consecutive sets. Of the six singles matches, the Ospreys won five of them to hand Troy a defeat.
A tremendous singles win by sophomore Rafaela Gomez moves her to a five-match win streak, a team best.
With a win under their belt, the Ospreys move their record to 5-4 this season.
The Ospreys will hit the road to take on USF on March 4.
—
For more information or news tips, or if you see an error in this story or have any compliments or concerns, contact [email protected].