"Coming in he might have the best talent package that we've ever recruited."
Head Coach Matthew Driscoll spoke these words on freshman Wajid Aminu during media day and has continued to praise him ever since. Al-Wajid Aminu is no stranger to pressure and so far has shined under it.
The 6'7 true freshman, who hails from "parts unknown" according to Driscoll, or "everywhere" as Aminu likes to say, has been a pivotal factor in the Ospreys play this season.
Aminu started playing basketball at the age of seven, He was already a couple inches taller than his peers, and was a standout. This would foreshadow and translate to his play at UNF.
This happy and positive player is used to performing under pressure. Aminu's older brothers both play basketball professionally, Alade in Israel and Al-Farouq for the Portland Trailblazers.
"I used to [feel pressure] when I was younger, but my brothers taught me that people are just people," said Aminu, "[and] I should try to reach my own goals instead of trying to surpass my family."
But Aminu is definitely making a name for himself on and off the court with his incredible play and loveable personality. He's always smiling and is great with people.
Aminu was once again put under pressure when he had to start in place of senior Chris Davenport after being suspended by Driscoll.
"It was definitely pressure I felt, but my coaches talked to me, and I felt we practiced hard. I felt that I'd be able to step in and make a good impact," Aminu said.
The freshman started his first collegiate game against the then ranked number 24 Florida Gators. He has started 22 games since then, and has played in all 30 games this season.
The 18-year-old is an all-around player — or "hybrid," as the coach calls him — and was recruited specifically for his rebounding abilities. He is second on the team in rebounds per-game, snatching down an average of 6.2 this season, and is fourth on the team in scoring, averaging 9.1 points a game.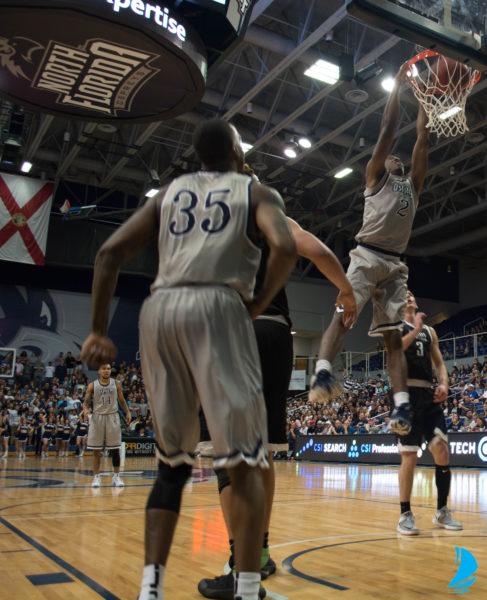 Aminu says he wants to better develop his perimeter play and his decision making. The self described "over thinker" wants to play more off his instinct.
He says the best advice that Driscoll has given him is "not to think," and to let your instincts make decisions for you.
The international business major is very humble and down to earth. He joked about it not being that big of a big deal that he's starting and making a difference on the court as a true freshman.
However, Driscoll had wonderful things to say about his future star player.
"Al-Wajid Aminu is really special," said Driscoll. "He's unbelievable."
When asked for his thoughts on how well his first season was going, Aminu was still in disbelief.
"I don't think that I expected it to this magnitude," Aminu said.
The self-described Buddhist has this wish for the future, a goal that surpasses anything he could ever do on the court.
"[I want to] instill peaceful and happy ways to live on people. Hopefully I get to that point one day," said Aminu.          
—
For more information or news tips, or if you see an error in this story or have any compliments or concerns, contact [email protected].