Oz Music Festival lineup announced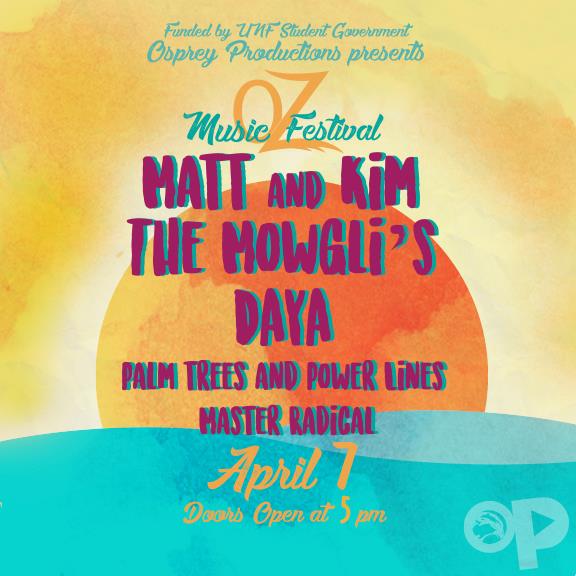 Osprey Productions is bringing five artists to the Coxwell Amphitheater stage in April.
18-year-old pop star Daya is known for her hit singles "Hide Away" and "Sit Still Look Pretty." Born in Pittsburgh, she also won a Grammy for Best Dance Recording for her part in the Chainsmoker's "Don't Let Me Down."
West coast folk-pop group The Mowgli's will also play. The band is made of six members and has been playing since 2010. Check out their song "San Francisco" for a taste of their music.
You'll probably recognize indie-electronic duo Matt & Kim for their 2008 hit "Daylight." The Brooklyn-based group featuring Matt Johnson on vocals and keyboards and Kim Schifino on drums has amounted five albums since 2006.
If you went to Jacksonville's Warped Tour date in 2015, you might have heard Palm Trees and Power Lines. Comprised of four Florida natives, Palm Trees and Power Lines' first EP, High Hopes, landed them gigs on stage opening for bands like Panic! At the Disco and 311. You might even recognize their vocalist, Josh Cravey, as he himself was once an Osprey.  
Jacksonville band Master Radical blend funk indie rock and Americana. Listen to them here.
Catch all these bands outside the UNF Student Union on April 7, from 5 p.m. to 9:45.
If none of these bands excite you, there's still plenty to enjoy. Red Bull, carnival rides, henna, airbrush tattoos and tarot card readings will all readily available at your service during the Oz Music Festival.
—
For more information or news tips, or if you see an error in this story or have any compliments or concerns, contact [email protected].