Preview: Ospreys head to Lipscomb in semifinals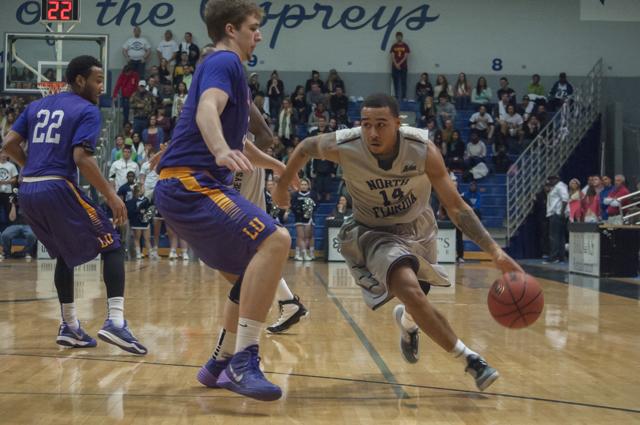 No. 3 seed North Florida men's basketball hit the road to face No. 2 seed Lipscomb in the ASUN semifinals Thursday night.
The Ospreys swept the Bisons in the regular season with 93-82 and 90-84 victories at the Allen Arena and UNF Arena.
In the opening round of the tournament, UNF survived its battle with cross town rival No. 6 seed Jacksonville University, 77-74. Two-time ASUN player of the year Dallas Moore carried the Ospreys with 37 points at the rocking arena.
Lipscomb dominated at home over No. 7 seed NJIT Highlanders 97-66. The Bisons started out quick and continued to pour on the points throughout the night. Bisons' sophomore guard Garrison Matthews scored 30 points for the third time this season.
In both matchups this season, Moore had 30-plus point performances with 36 at home and 39 on the road.
During the first meeting, the Ospreys shot 51.7 percent from the field compared to Bisons' 35.4 percent. Moore racked up 14 consecutive points during a five-minute span in the first half to help extend the Ospreys' lead.
Romelo Banks' presence on boards with 12 points gave the Ospreys a 47-40 rebounding advantage. The Bisons trimmed to lead to four with under two minutes left but multiple UNF's free throws sealed the victory.
For the second meeting, the Bisons came out of the gate quick as Ospreys battled through turnovers problems. Banks started an early run to retake the lead in the first half. The game remained tightly contested until the Ospreys secured a double-digit lead with four minutes remaining.  
In this matchup, keep an eye out for fast paced shooting, multiple players in double figures and defensive plays by both teams.
Coming off of a hot shooting game, Moore's efficiency will help produce offense from all over the court. Freshmen Wajid Aminu and Garrett Sams (Sams hit the three to clinch the win over JU) are both weapons to use late in a tight game with their abilities to make plays on both ends of the floor. Forward Chris Davenport's presence adds vocal, senior leadership as he contributes with assists and defensive plays to help energize the Ospreys.
For the Bisons, a different player can step up on a given night. Josh Williams and Rob Marberry were top contributors against the Ospreys in the previous meetings.
To advance to the championship round, the amount of turnovers have to remain under control, make free throws and have multiple players in double figures.
—
For more information or news tips, or if you see an error in this story or have any compliments or concerns, contact [email protected].