OZ Fest: A Q&A with the person who makes it happen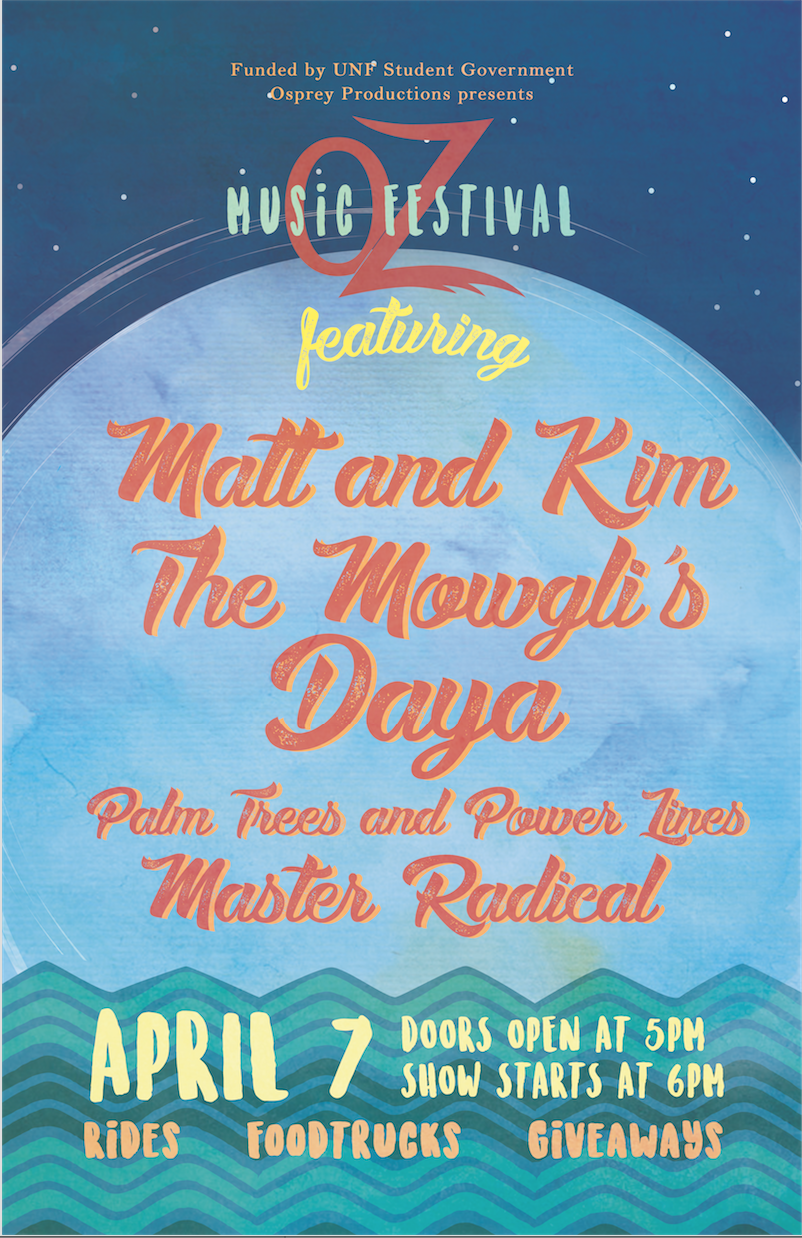 This year's OZ Fest comes packed with pop singers, indie sensations, carnival rides and even an oxygen bar. I sat down with Osprey Productions Director, Junine Castin, to learn the ins and outs of OZ Fest, what it entails and how 2017's concert came about.
WB: So OZ Fest, give me a brief rundown of it.
JC: It's going to be on April 7, in the Coxwell Amphitheater. The doors open at 5 p.m. and the shows are slated to end around 9:30 p.m. to 9:45 p.m. but the event ends at 10 p.m., so all of the rides and stuff are slated to end around then.
We'll be featuring five different artists: Daya, The Mowglis and Matt & Kim are our major headliners and we're going to have local performances by Palm Trees and Power Lines, as well as Master Radical.
The more festival portion will be in the same area. There will be a ferris wheel, a gravitron, which is kind of like a pod that you spin really fast in. We're also going to have henna art, airbrush tattoos, body art and then while you wait in line for the body art, there will be people making balloon creatures. Beyond that, there will be an oxygen bar, tarot card readings and more.
WB: What kind of food offerings will be available to students during the festival?
JC: There will be three food trucks, with one of them being Nitro Creameries, which is an ice-cream food truck. The Happy Grilled Cheese will also be there and so will Delish Kabobs, who offer vegetarian and vegan options.
WB: How can students obtain their tickets?
JC: To obtain your tickets, and you guys wrote a really great article about it, students just bring their ID to the box office, fill out a liability form and then they'll receive their ticket which will get them into the venue.
WB: How do you guys decide to bring things like the oxygen bar and tarot card readings to OZ Fest?
JC: I knew with this one, I wanted it to have some sort of music festival feel so I did some research into things like Bonaroo and other festivals. Essentially, I wanted to feature some things that were feasible for us to obtain in the area and most importantly, fun for students. I chose things that students love and found popular in the past and just went from there.
WB: What do you think students are anticipating most, music aside? For me, it's the oxygen bar. I've only heard of them so I'm excited to try one.
JC: So I went to a NACA (National Association of Campus Activities) conference last year, and I got to see some things featured like the oxygen bar and it was really cool and fun. You get to smell different fun smells.
WB: Wait, what? They have different smells?
JC: Oh yeah! That's the whole point! You get to choose different smells and just inhale them for a while and it's super fun!
Anyway, if I were coming in as a student, I'd probably be most anticipating the food.
WB: Same. How does the selection of artists come about?
JC: Well, it's a huge mixture of a lot. In the past, we've had a lot of rap artists come to UNF and we wanted to bring something that would expand our habit. Not that we haven't had other types of artists; we had Rodney Atkins and last spring, we had Steve Aoki and the spring before that, we had Sublime with Rome, so I think we've done a good job of getting those different genres involved.
We also reached out to some students and we held something like a closed focus group because we wanted to see, after Ludacris, where students' thoughts were. What did they want from Osprey Productions and what they wanted to see in springs and we got a lot of really good feedback.
We landed on our artists for this year when we were handed a really great offer by The Represent Tour, which is The Mowglis, Daya and Matt & Kim. As soon as I heard that offer, and took into consideration the feedback we received, I knew I wanted them.
Once we got them, I wanted to nail the music festival theme and I just became really married to it. I thought that it would be a great opportunity for students who might not know these artists to come to the event, enjoy it and become exposed to the music.
I wanted this festival to have something for everyone to enjoy and that's really what I wanted to end the year on in regards to main stages.
WB: Anything else you want students to know?
JC: I really do hope that everyone comes out and gets something out of it. There is a lot for all students to do and it's free for them and pretty cheap for non-unf people ($20). We are also doing competitions that allow students to receive extra tickets for friends and others that would otherwise have to pay.
—
For more information or news tips, or if you see an error in this story or have any compliments or concerns, contact [email protected].