Track athlete upbeat, looking forward after career-ending crash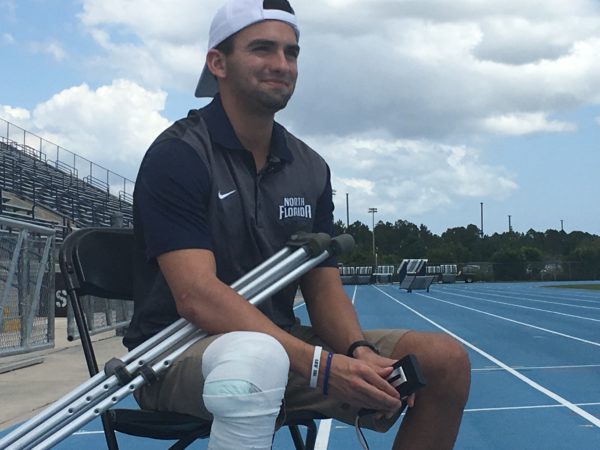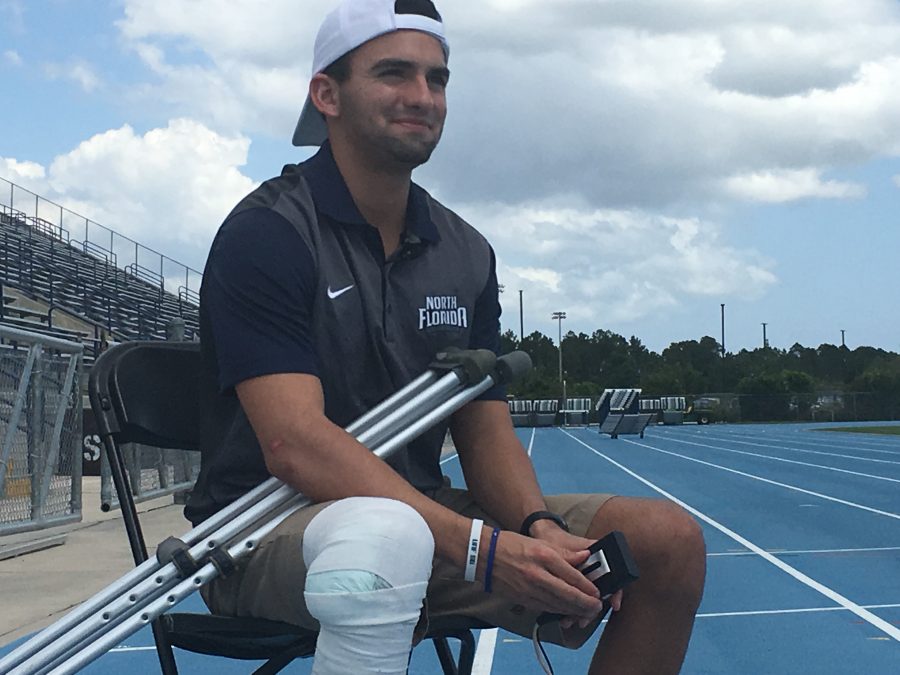 Manny Velasquez stayed conscious after he was struck by a truck towing a trailer, after a track meet in North Carolina. He remembered saving his head from being run over, but his legs were crushed by the wheels.
"I felt a huge bump on my back. Before I felt the bump, I saw a truck coming off pretty hard. It felt like a big bar hit my back," Velasquez said of the Feburary accident. "The bar that I felt ended up being a tractor trailer that was attached to the truck."
His coach stayed by his side as Velasquez waited 20 minutes for medics to arrive. Once the ambulance arrived, Velasquez was relieved to find out he was not paralyzed after the firefighter touched Velasquez foot and asked if he could feel it.
He did.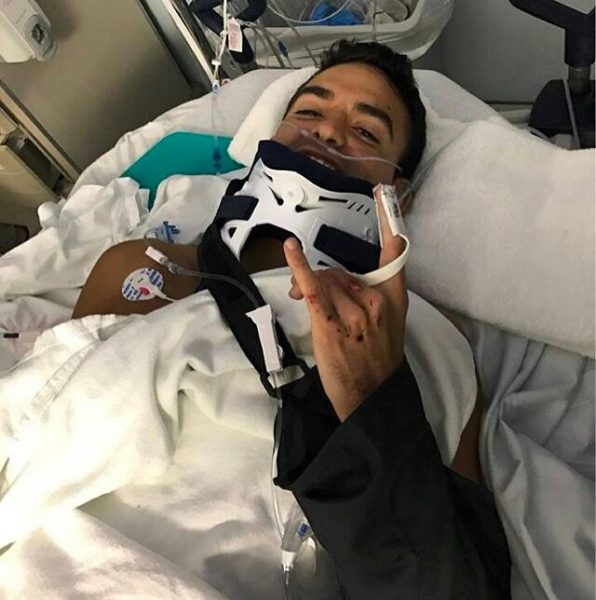 Unfortunately, Velasquez's lungs were punctured badly, causing him to struggle while trying to breathe. He underwent immediate surgery on his spleen as it was discovered that he was bleeding internally.
At the hospital, Velasquez learned of his laundry list injuries: a broken collarbone, pelvis, lower back, torn anterior cruciate ligament (ACL), a torn lateral collateral ligament (LCL), a crushed knee and a torn spleen. He would need skin grafts on his legs, and reconstructive knee surgery.
Velasquez had two surgeries on his crushed knee already and will have to have two more. After a recent visit to the doctor, Velasquez found out that his college career as a track star was over.
"I saw the doctor the other day and he told me I am not going to be able to run in college again which is a big heartbreak for me. At the same time I need to be thankful for the fact that I am going to be able to walk again," said Velasquez. "It's kind of a miracle, as much as it does hurt."
As an athlete, Velasquez had had in UNF history. Velasquez was also the 2015 and 2016 runner up in the steeplechase event at the ASUN Track and Field Championships.
The urge to walk again has been a huge motivation for Velasquez. He hoped that all his surgeries go well and that in about five weeks, he will be able to walk again for the first time in three months.
Another motivation pushing Velasquez forward is his friends and family. Velasquez said he doesn't like to see his friends and family sad, so even when he's in pain or feeling down around them, he does his best to keep a smile on his face.
Manny's back!!! Working on his rehab and getting stronger everyday! pic.twitter.com/b5peFhYZBp

— NorthFloridaTrack XC (@UNF_Track_XC) March 10, 2017
The Osprey community has been with Velasquez every step of the way. He has received support from his teammates, coaches, sororities, fraternities and random people he's never met.
"I don't even know some people and they have just come up to me and told me how I inspire them and that they like my grit and courage," said Velasquez. "Those words have helped so much in getting through these first couple of months since the accident."
Velasquez knew that he won't be able to run anytime soon, but he does have high hopes for the future.
"Probably about a year from now, I'll be running hopefully," said Velasquez. "I still have a few more surgeries but if everything works out and I recover well, hopefully, I'll be back on the track one day."
—
For more information or news tips, or if you see an error in this story or have any compliments or concerns, contact [email protected].