Osprey's bid farewell to nine seniors, drop game 3 to JU 4-0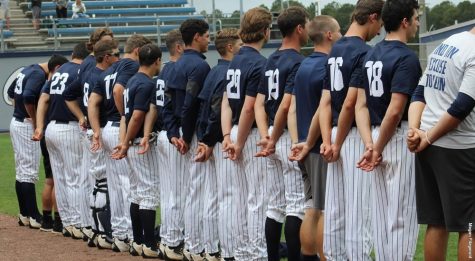 Photo courtesy of UNF Athletics.
Coming in with the series tied 1-1, the JU Dolphins beat the UNF Ospreys on Senior Day with a crowd of over 500 in attendance prepared to say goodbye to nine seniors playing their last game in Harmon Stadium.
The seniors : Anthony Delaney, Christian Diaz, Tyler DuPont, Patrick Ervin, Austin Howze, Alex Merritt, Matthew Naylor, Alex Smith and Chris Thibideau. Of the nine seniors leaving four of them are starters.
Naylor, a right-handed pitcher, tied the school record for all-time career appearances with 86 games.
Ready to start game three, the Ospreys were hoping to bring in the last win of the River City Rumble. Unfortunately for the Ospreys, they fell short 4-0 from a lack of offense.
The game started off slow with neither team scoring in the first inning. The Dolphins were able to get two hits from their first two batters, but after three straight outs, the Ospreys had a chance at bat.
Ervin singled down left field making it to first base. After a fly out by Yahir Gurrola, Thibideau was walked, leaving the Ospreys with runners on first and second. The Ospreys wouldn't be able to hold on and got two more outs, ending the first inning.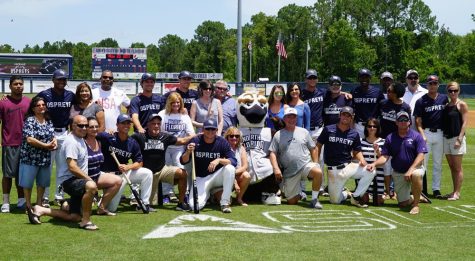 The senior Ospreys celebrating Senior Day. Photo courtesy of UNF Athletics.
The Dolphins led 1-0 by the end on the second inning. They scored the first run of the night after a runner on second ran home from a single hit down center field. The Dolphin fans in Harmon Stadium cheered as the Ospreys fans sat silently.
At the top of the third, the Ospreys decided to switch things up and change pitchers as junior Brad Deppermann came to pitch. Deppermann would walk his first batter, putting a runner on first. After a wild pitch the runner advanced to second. After two singles the Dolphins brought in the second run of the afternoon making the score 2-0.
For the fourth and fifth innings neither team were able to score. During that time there was only one hit which was by the Dolphins in the top of fifth inning. The Dolphins scored two more runs before the end of the game including one in the top of the sixth and another in the top of the eighth. In the end, the Dolphins outhit the Ospreys 16 to four.
After dropping the last game of the regular season 4-0, the Ospreys will now prepare for ASUN post-season play. They will travel to DeLand, Fla. to face the FGCU Eagles in the first round of the ASUN Championship on May 25.
__
For more information or news tips, or if you see an error in this story or have any compliments or concerns, contact [email protected].