Findel-Hawkins upsets #15 Benitez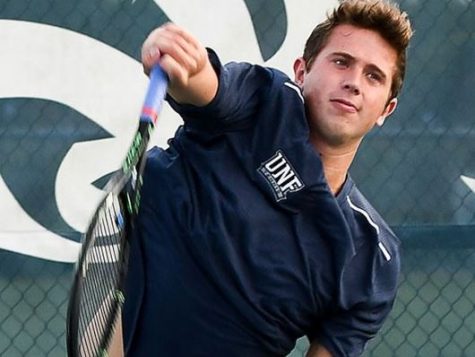 Jack Findel-Hawkins grabbed his first-ever NCAA win on May 24 after upsetting Juan Benitez of Baylor, ranked 15th in the nation, in singles.
The Osprey was named the Intercollegiate Tennis Association Southeast Region Senior Player of the Year just before traveling to Athens, Ga. to battle in the NCAA tournament in singles and doubles.
Findel-Hawkins, ranked 69th in the nation, had a slow start in his match. He lagged behind Benitez early on, but he didn't give up. Making a great comeback in the first set to tie the score 6-all, the senior took the tiebreaker winning the first set.
Keeping the energy going, Findel-Hawkins brought in another victory in the second set giving him his first-ever NCAA victory.
The Great Britain native continues to make history as he becomes the first player from the ASUN to win in the NCAA singles bracket in three years.
Findel-Hawkins will now battle USF senior Sasha Gozun on Thursday May 25 after playing his doubles match.
—
If you have any compliments or concerns regarding this article, please email [email protected].