Kyle Nasta: From UNF soccer to the Jacksonville Armada
From childhood dreams to living out his dreams, Kyle Nasta, a Jacksonville Armada goalkeeper became the first player to move from the development squad to the official Armada roster.
"It's a unique experience because I am the first player to come out of the youth system from Jacksonville," Nasta said. "I grew up here, I played at the same field that the Armada are playing at, so it's a very cool experience and it's very satisfying to grow up in your hometown and to play for the professional team."
Nasta joined the Armada in 2016 after being on their U-23 development squad. Armada Head Coach Mark Lowry witnessed him progress from a backup to a potential starter.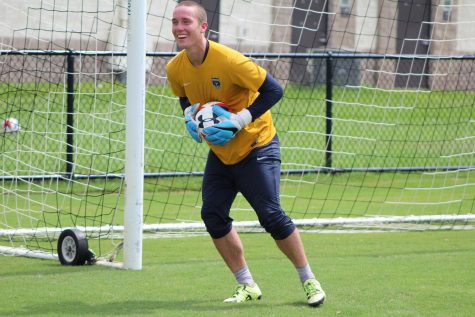 "He is somebody that definitely has the ability," Lowry said.  "It's going to be fun, it's going to be interesting to see him grow and mature over the next couple of months and next couple of years."
Before the Armada, the Jacksonville native played for four years as an Osprey at Hodges Stadium. While at UNF, Nasta earned the 2014 ASUN Goalkeeper of the Year, two-time NSCAA All-Region selection and ASUN All-Conference accolades.
Nasta was the career leader at UNF with 18 wins, 150 saves, and 10 shutouts.
Nasta still calls Hodges Stadium home even though he plays for the Armada, who recently moved to the facility.  As an Armada goalkeeper, he made seven saves in the for 112 minutes played.
"To be able to get those minutes against the top team in the league is huge for my confidence and huge for my abilities know that I can do it at the highest level. So it was big time," Nasta said.
He was called to the starting role with the Armada for the June 17 match against Miami after Caleb Patterson-Sewell was red carded in the previous match and forced to sit out.
"[I was] extremely nervous. I mean I had butterflies the whole week leading up the game so just to be able to get out on that field then the nerves kind of dissipated and then I was just in the moment," Nasta said.
The UNF alum leaves these words for younger soccer players.
"Just keep working no matter who is watching, no matter what you are doing just work on your own focus on yourself, be a team player and everything will fall into place. You just work hard and that the recipe for success. And a good attitude,"Nasta said.
You can catch Nasta and the rest of the Armada at the Hodges Stadium for the remaining spring and fall slate.
—
For more information or news tips, or if you see an error in this story or have any compliments or concerns, contact [email protected].