The students behind the Terminus movies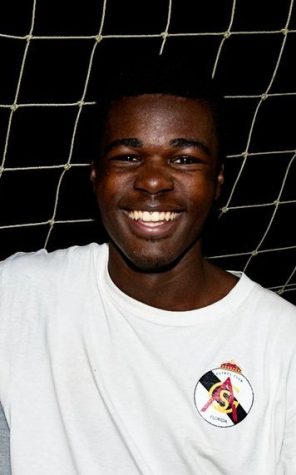 Levi Jawara: College.
Levi Jawara is a senior majoring in computer information systems and minoring in business. He is your average college student who studies, goes to work, plays video games and enjoys naps whenever he can fit one in.
In March, Jawara decided to make a film for Campus MovieFest that was relatable to all college students.
He created a film on the struggle of college students rushing to their rescheduled test. It was a school favorite as students think back to the classes they have gone to only to be cancelled last minute.
"It's happened to everyone at least once, but to me it has happened three times." Jawara said.
Jawara made it a point not to include dialogue in his film. He wanted to create a silent film/music video featuring his favorite band, Polyphia.
"I listen to a lot of different types of music," Jawara said. "There are a number of songs that I listen to that when you listen to it you can put a story together in your head."
He reached out to the band when he attended one of their concerts, and was able to ask for permission to use their song "Aviator." To Jawara, Polyphia plays the song "Aviator" to make it sound like a plane taking off and then crashing down. So, he wanted to put his own story of taking off and getting ready for school to only crash down when he saw his test was rescheduled in the end.
Jawara's film did get screened at Terminus, though he wasn't able to attend. It did not win any awards, but he plans on participating in Campus MovieFest next year.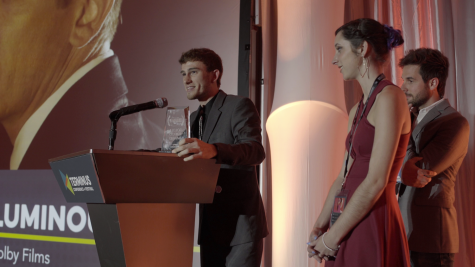 Connor Dolby: Luminous
Macklemore was right when he said "one man's trash, that's another man's come-up" in his song Thrift Shop.
Connor Dolby was thrift shopping when a black suitcase caught his eye. He decided to base his film around the suitcase, so he wrote a story centralized on this prop. Dolby went through several scripts with different plots.
"You have to have the right idea," Dolby said. "Every night I would go to sleep thinking of things, then I woke up with an idea."
The film of the man who trapped people in his suitcase left viewers with many questions.
"I wanted to make it feel that it's bigger than what it really was, and that there was more to the story than there really was," Dolby said.
Dolby and his friends were discussing a possible sequel for this film, but nothing is set in stone as of now.
Dolby attended the film festival in Atlanta with his crew. There he got to meet a lot of people from across the country with the same passion for filmmaking. He attended several presentations at the conference like a fight coordination and scheduling presentation.
At Terminus, Dolby found out about a partnership between PlayStation and Campus MovieFest, where they are looking for five story ideas to turn into pilot series. According to the PlayStation Emerging Filmmakers Program website, these pilot series will receive around $500,000 towards production, and can continue as an ongoing series if successful enough.
"If we can somehow turn Luminous into some kind of series, that would be really awesome," Dolby said.
His film did extremely well in Terminus. It was the only UNF film to win a Golden Tripod for Best Sound, and was a runner-up for Best Cinematography. It was also chosen as the Campus MovieFest Best Drama and received third place in the Picture This contest.
"Those are really surprising because you don't even know you are nominated for anything before you actually get there because it is announced as they do it, and we are really proud," Dolby said.
Dolby will be submitting Luminous into the Student Academy Awards. He is currently under consideration until July 17th.
Dolby is currently a junior studying graphic design. He is planning on participating in next year's Campus MovieFest.
"I'm hesitant," Dolby said. "I'm so nervous because this one did so well. I have to keep up with that. I enjoy it, so it doesn't matter."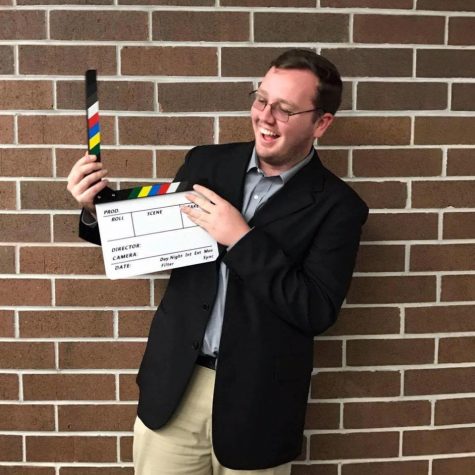 James Donlon: Cake
While attending a funeral, James Donlon saw something rather peculiar, a cake. The cake was an ordinary, plain Publix sheet cake. It was covered with white icing and had a blue trimming on the borders of the cake.
He took this odd concept of a cake at a funeral, and made it into a five minute short film that competed nationally at the world's largest student film festival, Terminus.
"I don't know how it became what it became," Donlon said. "I thought it would be a good idea to take the idea of cake being weird at a funeral like that's the unusual thing, and show how it's probably not that unusual because cake is like so many other things in our lives."
Cake did extremely well at the Campus MovieFest in March. The film won a Jury Award and the Silver Tripod Winner for it's story. As a bonus, Donlon and his friends got to enjoy a cake and some cake balls from the cake that kept being re-iced in the film.
Donlon is not currently working on any other productions, but he has several ideas.
"I always got something," Donlon said. "I'm in that process where I have a bunch of things I want to do, but I have to find the one that is the most fruitful because I like to use big words."
Donlon is Spinnaker Radio's general manager, and was previously the television entertainment director. He is questionably a junior who is working towards a degree in journalism.
The film Cake didn't win any awards at Terminus. However, it was one of the runner-ups for the Best Story Golden Tripod Award.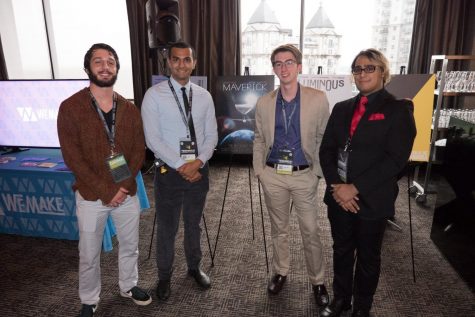 Lee Giat: Maverick
At the age of seven, Lee Giat created his first movie. His mother held the camera while he and his brother would re-enact an action movie. From there, he only fell more in love with video production.
"I've been making videos for as long as I can remember. That was my thing," Giat said. "I love using it to express different things and to share different things. I have the power to control it."
For Campus MovieFest, Giat created the film Maverick, which told the story of a young woman who flew to space by herself on a plane after her proposal was rejected by NASA. Giat wanted to show people how young people can do adult things.
"Personally, I've been rejected many opportunities because of my age," Giat said. "Nobody really gives me a chance to show them what I have."
Though Giat is only 19, he is a licensed private pilot and certified scuba diver. He is also a NASA Night Sky certified astronomer. By the age of 15, Giat started his own videography business named D.L.G. Studios. He competed in several video competitions, and has won several prizes like flying in zero gravity. He was the president of the largest TV program for students in the country, and was able to travel to Russia to promote international journalism with the Eurasia Foundation.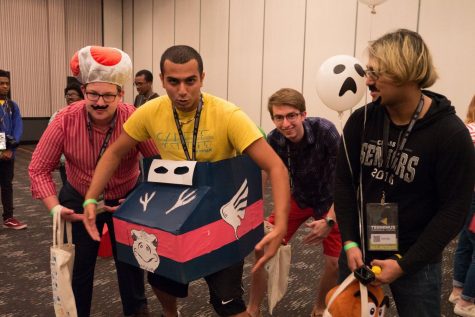 "If you are so young and have so much to offer, why aren't you putting it out there in the real world?" Giat said. "It's just this theme of you are never too young to do something amazing and to make a difference."
At Campus MovieFest, the film won Best Production Design, Silver Tripod, Best Performance and a Jury Award, which sent them to Terminus. At Terminus, Giat had several networking opportunities where he met with a lot of passionate people. He recorded his experience at Terminus in his vlog.
Though his film did not win any awards, his team won the Mario Kart Field Day tournament. He sold the prize, a 3DS XL, and donated the money towards fighting climate change. He will continue to participate at Campus MovieFest.
"The Maverick team was an all freshmen team, so this was a great first experience," Giat said. "I can't wait to see what next year and the following years will bring to our team…the sky's the limit."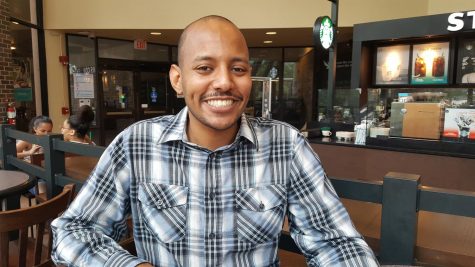 Yohana Tesfazgi: PYR
Though his film wasn't part of the top four films to make it to Terminus, Yohana Tesfazgi impressed the jurors to get his film to Terminus.
His film PYR was inspired by Edward Snowden, a former CIA employee who leaked information from the NSA. Tesfazgi shows the moment when Snowden reveals this information and his arrest afterwards.
Pyr is a Greek word that means fire. The word is supposed to symbolize self-sacrifice in the film. Tesfazgi tried to link it to the mythological Greek Titan Prometheus, who suffered a cruel eternal punishment for stealing fire and giving it to mankind. Similarly, Snowden sacrificed his job and life.
He was unable to go to Terminus, but Tesfazgi has a huge passion for cinematography and directing. He especially loves character developments in films. He also loves photography, and posts some of his pictures on Instagram.
"Everything about filmmaking really excites me," Tesfazgi said. "There's a lot of technical knowledge required and a lot of artistic knowledge…Whenever you get to test the left side and the right side of the brain, I think that's when something is really engaging."
His film did not win any awards at Terminus, but Tesfazgi hopes to be able to compete again with his team at Campus MovieFest next year.
"Movies aren't just made with cameras. They are made with people," Tesfazgi said.
—
For more information or news tips, or if you see an error in this story or have any compliments or concerns, contact [email protected].